Thinkific free trial is one of the best ways to understand whether Thinkific is the right platform to share your knowledge with the world and build your education empire.
It might be tempting to see what the biggest and most popular platform provides, but the expensive pricing plans can make you doubtful about your decision. Fortunately, you can put your worry at ease by trying Thinkific for free!
In this article, we will help you claim your Thinkific free trial. In addition, we also have a bonus Thinkific free plan guide inside.
So, keep reading until the end to get your hands on one of the leading online course platforms!
Thinkific Free Trial -30 Days
Thinkific provides a 30-day free trial on ALL its plans. You can claim your free trial on the Basic, Start, and Grow plan. During the trial, you get access to all the features of the plan you picked. Once the trial ends, you will be automatically charged for the plan you picked.
However, you can cancel the subscription anytime in between the trial to avoid getting charged.
Since Thinkific offers three plans, it is the free trial is the best way to explore Thinkific's features. If you need help in picking the right plan, here is a quick overview of them.
| | |
| --- | --- |
| Plan | Best For |
| Basic | Best for kick-starting your course creation journey by launching your first course. |
| Start | A complete plan with excellent tools to create your course and enhance your student's experience. |
| Grow | For experienced users who are already into teaching but want the right set of tools to upscale their education empire. |
How to Redeem Your Free Trial?
The good news is that you don't have to go through a complex process to claim your Thinkific free trial. Below we have mentioned a step-by-step guide on how you can claim your free trial and get started in no time!
Step #1: Open the official Thinkific site.
Step #2: Now, you can see an email address box on your screen. Enter your email address in the box.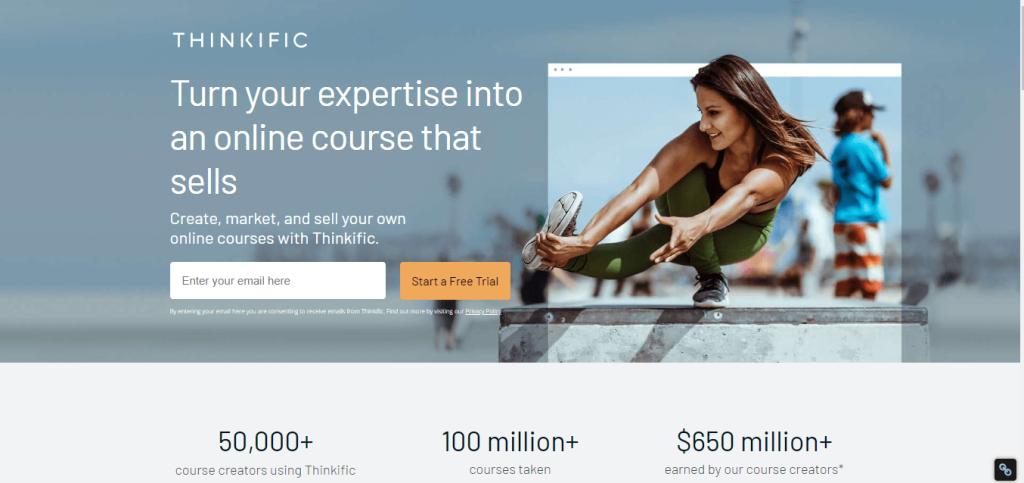 Step #3: Wait for a few seconds until Thinkific redirects you to its Signup page. Once it does, enter your name, password, country, and postal code.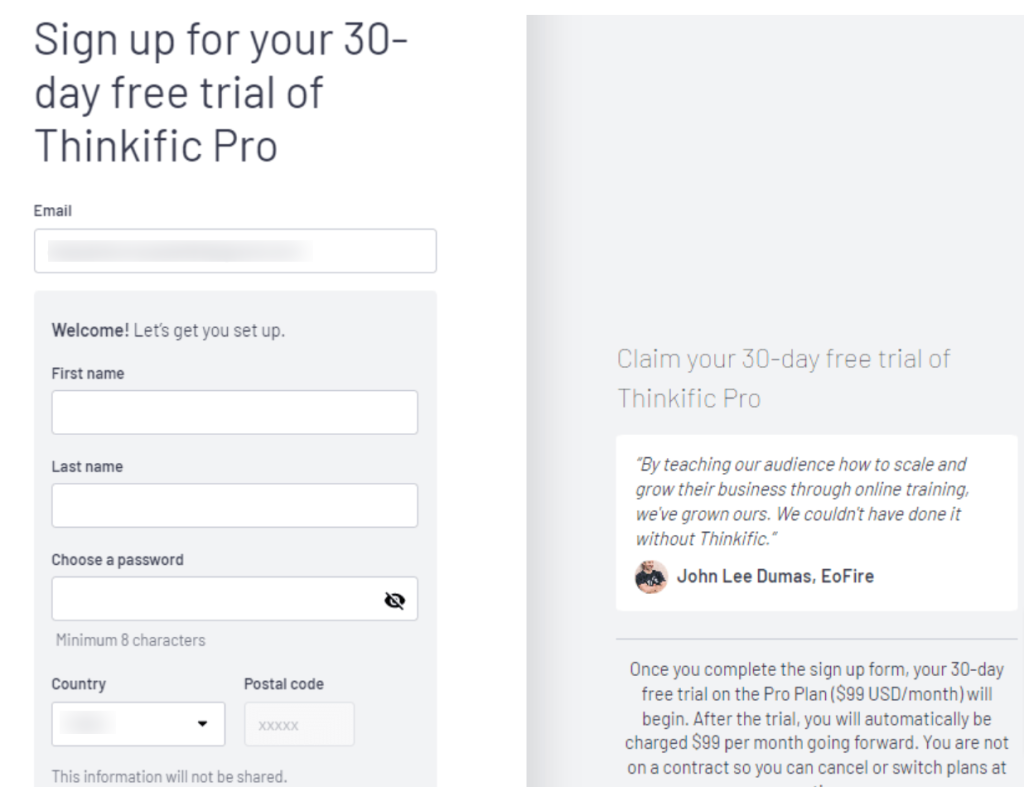 Note: Make sure you double-check your personal details as they will be used to signup into Thinkific.
Step #4: Next, enter your credit or debit card details. Note that Thinkific doesn't charge you until you complete your free trial. The card details will be securely saved to automate your payment as soon as the trial ends.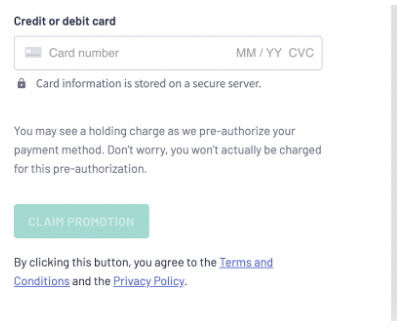 Step #5: Confirm your payment.
Congratulations! You now have access to your Thinkific Pro for the next 30 days.
Note: Thinkific will automatically deduct the charges once your trial ends. So, in case you don't want to get charged, you can cancel your subscription anytime in between.
Thinkific Free Plan – Get FOREVER Free Plan!
If you are just getting started and are skeptical about paying Thinkific, there is good news for you. Thinkific allows users to explore its features to decide whether it's right for them with the free plan.
The plan is forever free, which means you can use it to create your course and sell it without paying a single dollar for life. However, the free plan comes with limited features. The course creation features are limited compared to the paid plans (that goes without saying), but it lets you enroll as many students as you desire without any restrictions. While you can provide surveys and quizzes, it will be limited to simple courses.
So, if you want to build a short and simple course, the free plan would work best.
How to Redeem Thinkific Free Plan?
Here is a simple guide on redeeming your Thinkific free plan.
Step #1: Go to the pricing section of Thinkific pricing page. 
Visit the official website of Thinkific and go to the pricing page.
Step #2: After Choosing your plan you will be redirected to the signup page. 
It would be best to choose a plan suitable to your requirements. After selecting the plan, you will be directed to the Thinkific signup page.
Step #3: Create your account by adding your email address, first and last name, and password. Once you enter your information, click on the create your account option.
Step #4: Complete setting up your account by answering the questions on your screen. These four questions will help Thinkific understand you better and help you accordingly.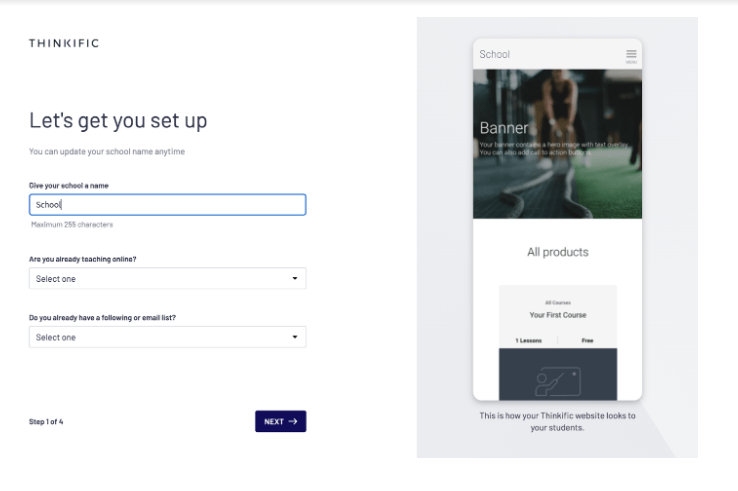 Congratulations! You can now see your dashboard with all the information on the left. You can use the plan as long as you want and choose to upgrade anytime.
Thinkific Overview:
Thinkific is one of the best software which gives you a platform to create and sell online courses. On Thinkific, you don't need any coding experience to set up your course; choose from a collection of features, and make it customization. They also help you to see the progress graph and get a report and get to know how you have progressed in a particular course.
So, if you want to upload any videos and quizzes on the course that you have created, use its drag-and-drop builder to organize your content the way you want. You can automate the content and create a helpful learning experience that runs smoothly without any hassle.
Thinkific Pricing And Plans
Thinkific offer four different plans for users. Let us take a quick look at the pricing plans below.
| | | | |
| --- | --- | --- | --- |
| Plan | Standout features | Price | Who is it Best for? |
| Free | Limited course creation features. One course. Unlimited students. Quizzes and surveys. Shopify App. SEO | $0/month | Beginners who want to launch their first course without any advanced features. |
| Basic | Unlimited courses. Unlimited students. Custom domain. Coupons. Email integrations. Email students. | $36/month | Beginners who want to create fully-fledged courses. |
| Start | 2-site admin account. Private and hidden courses. Zoom live sessions. Completion certificates. Membership and bundles. | $74/month | A complete plan for beginners and professionals. |
| Grow | Five site admin accounts. Unlimited growth packages. 15 group analysts. WEB Hooks. | $149/month | Enterprises who want to expand their courses. |
Pros & Cons Of Thinkific:
Here are some pros & cons of Thinkick that you should know. Let's have a look.
Pros:
Create Stunning Sales Pages
Seamless automation
Solid Integration
White Labeling
Unlimited Content and Students
Powerful Customization
Course Templates
Millions of courses to take
Cons:
It doesn't have a coding snippet
Need to improve customer support
Related Read;
Final Thoughts: Thinkific Free Trial (2023)
Undoubtedly, Thinkific is always on our list of best online course creation platforms. Packed with exceptional features, it allows anyone to create, sell, and market their online courses in no time.
Thanks to the free trial and free plan, you can now use Thinkific for free and kick-start your journey without disturbing your bank account.
So, what are you waiting for? Go ahead and claim your free trial for Thinkific right away!
FAQs: Thinkific Free Trial
Can I get Thinkific free trial without entering my credit card details?
Unfortunately, Thinkific requires users to add payment details when redeeming the free trial. However, you are not charged until your trial ends. You can opt for the free plan if you want to get started with Thinkific without entering your card details. 
Can I get Thinkific free trial if I'm already a user?
No. You cannot get a free trial if you are an existing user. However, you can signup and create a different account if you want to use Thinkific for free. 
How can I stop Thinkific from charging me automatically after the free trial?
If you cancel your plan before your free trial ends, Thinkific will not charge you. Since you are not in contract with Thinkific, you are allowed to discontinue anytime. 
Will my free trial end the same day when I cancel my plan?
No. You can use your Thinkific free trial for 30 days, starting from the day of your signing up. Even if you cancel in the middle, you can use it until you complete 30 days. 
Will I lose my data if I cancel my free trial?
Until your free trial ends, you will have your data even if you cancel your plan. However, once your trial ends, you will lose your data. But, you can upgrade or downgrade your plan to retrieve your account or avoid losing any data.