Looking for the Best Online Course Platforms? Then You are at the right place. On your way to look for the best online course platforms to create and sell your courses? Well, you have landed on the correct article!
Internet services today have made knowledge easily accessible. Anyone can brief you about something by uploading a YouTube video. But it takes more than a youtube video or an Instagram reel to study a topic in depth. Online learning has seemed to grow significantly due to the pandemic. It has had a massive impact on people's approach to gaining knowledge. For establishing a community and sourcing income by creating online courses, it is crucial to select the right platform.
With all the options available to create online course platforms, finding the best platforms that go easy on your pockets and fulfill your demands is challenging. Therefore, in this article, we have listed down more than five online course platforms which we think are great based on personal experience to promote your online courses.
By the end of this article, you can pick your favorite online course platforms without any hassle! So, let's get into the details.
10+ Best Online Course Platforms to Create and Sell Online Courses
| | | |
| --- | --- | --- |
| Sr. No. | Platforms | Unique Selling Point |
| 1. | Thinkific | Best platform to build your brand from scratch |
| 2. | LearnWorlds | Offer excellent customer support in several languages |
| 3. | Teachable | Best platform for beginners. User-friendly |
| 4. | Kajabi | Can create premium-level detailed courses, and podcasts |
| 5. | Podia | Convenient for managing students |
| 6. | LearnDash | Holds several plugins making it user-friendly |
| 7. | SkillShare | Best platform for creative learning and teaching |
| 8. | Mighty Network | Easy online course creation platform |
| 9. | LearnPress | Easily and quickly create courses |
| 10. | Udemy | Great Video Quality Content |
Top 10+ Online Course Platforms In 2023
We have shared that here are the 10+ best online course platforms there.
1. Thinkific
Thinkific is one of the best online platforms to grow your online courses. It provides easy access to create, market, and sell your online courses. Thinkific is a community with more than 200 people at their HQ and 50,000+ course creators. The best thing about Thinkific is that it is a one-stop destination for all your needs. If you are a beginner, planning to launch your first online course can be overwhelming. Thinkific has a range of suggestions and automation that helps you decide what is best for you.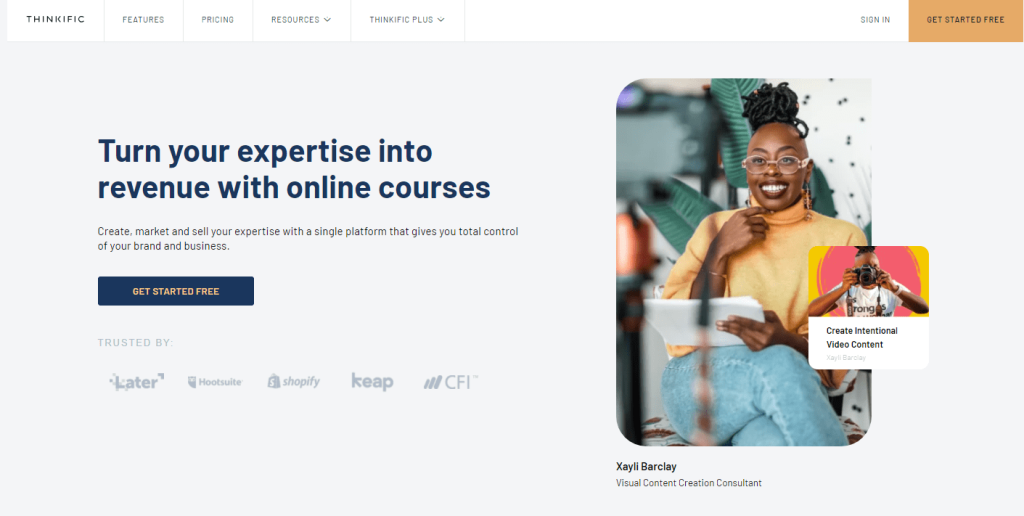 If you are a professional and like things in a specific manner, Thinkfic has a variety of customization options with which you can design your course as per your requirements.
Key features
Thinkific has the most user-friendly website builder. Select pages of your choice that you want to include a theme to go with it, add your copy, and it is done!
You can add testimonials on your website by turning on student reviews for your course and selecting and adding the reviews you like on your main page.
Customizable themes according to your courses.
You can easily customize your course with their drag and drop feature. You can assemble your course designs and add digital downloads.
They have unlimited paid courses for your various needs.
You can set an expiry date for each course using their course expiry feature.
Pricing: Thinkific has four plans for its users, starting from $39 a month.
---
2. LearnWorlds
LearnWorlds has several features which enable interaction between students and you. You can build high-quality courses with ease. It's a great tool for publishers as it meets their digital needs. They provide you with resources to build high-quality courses and pages to shoot your sales up.
Key features
You have access to javascript or CSS for editing your courses.
They offer excellent customer support in several languages.
They have a built-in network where you can communicate with your students.
They provide different customizable certificates for each course.
Several quizzes, assignments, and much more for a better understanding of the students.
Pricing: Monthly subscription includes three plans and starts somewhere from $24.
---
3. Teachable
Teachable is specially designed for beginners with a user-friendly interface. They have more than 100,000 users who have earned great profits up to $500 million altogether. Furthermore, Teachable has a very trustworthy reputation. Reputable organizations like the New York times and John Lee Dumas trust Teachable with their work. Everything from payment to course sales can be set up according to your preferences.

Key features
Online certification for students who complete your course.
Easy content importation from google drive or one drive into your course.
Payments can be received in over 130 currencies.
Get feedback from your students through google forms and work on them.
Pricing: They have various beneficial plans for their users, which mostly have a monthly subscription ranging from $29 to $249. Additionally, it also offers a free plan that you can try out without paying a single dollar!
---
4. Kajabi
Kajabi is a time-saving, high-end online course platform. It is the best platform for you if you are a student or work part-time. It has a feature called Pipelines which enables your to design your course with the least effort and time. This features consists of three stages.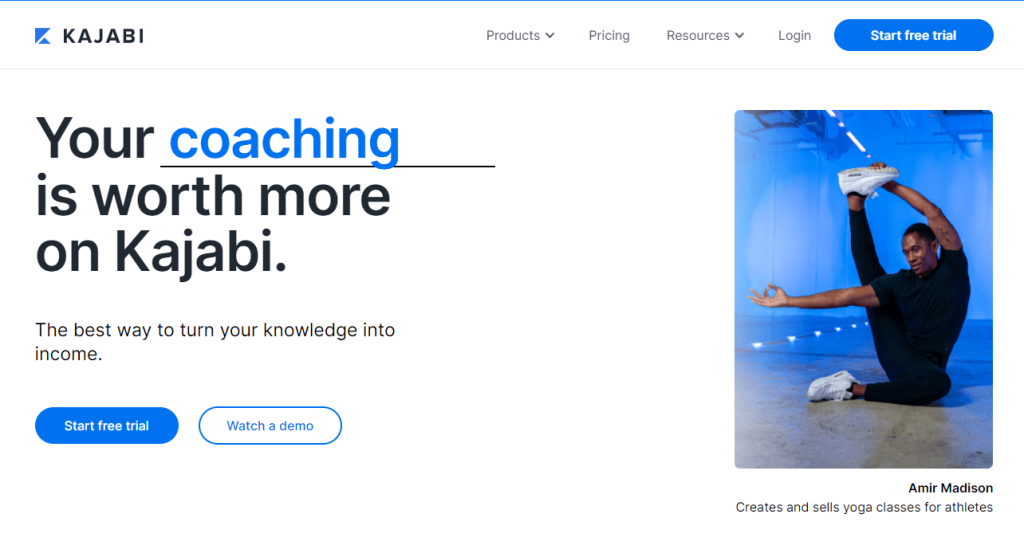 First, the visitors come to your landing page, where they exchange their emails for ebooks, pdfs, etc. Next, they open their email where you can scale your courses. If they enroll for the course, they are landed on Thank you page.
Key features
Efficient marketing and business tools.
Create your templates and set automation.
Has an email provider helping you keep track of your email statistics.
Pricing: Kajabi makes sure to meet all your professional meets and has designed its monthly subscription plans accordingly. Starting from $149, they have three plans.
---
5. Podia
Podia is a convenient platform for creating and selling online courses. It has unique features like live chat with a student, where you can communicate with students on live chat and increase student-teacher interaction. Along with this unique feature, they also offer you to conduct webinars, downloadable features for your content, etc.
Key features
You can combine similar category courses into one.
You can restrict your content to a specific student.
Lock your content from a student you wish should see your courses.
Enables you to download digital content like PDFs, ebooks, etc
Podia provides email automation.
Pricing: Podia has a wide range of plans for all types of courses, costing approximately $33 onwards.
---
6. LearnDash
Another platform that works the best to create and sell online courses is LearnDash. The unique part about LearnDash is that it is an LMS WordPress plugin that enables you to sell courses through a WordPress website. Focus Mode has a unique feature that disables all the distractions and notifications when a student attends a course lecture.
Key features
Students can be awarded for completing the quiz successfully.
Complex quizzes and assignments can be created.
Prevent students from skipping their lectures before they have completed a certain stage.
The sleek Profile area feature lets you keep track of the progress of students who enrolled in your course.
Pricing: The plan starts at $159 and goes to $329, depending on your requirements.
---
7. SkillShare
Last but not least on our list is SkillShare! Skillshare is the best online course platform for creative learning. It provides a wide range of graphic designing, cooking, and music courses. Analytics, eCommerce,etc. They have some distinctive courses on how to earn money from blogging and content writing and how you can make money from YouTube.

Moreover, you can also make money through their reference feature, where if you refer it to a friend and they register, you get a $10 referral membership fee.
Key features
Skillshare has a feature where you can actively encourage your student to interact with your video.
It is mobile-friendly, which means you can access it anywhere and on any device.
You can earn monthly through courses.
You can prived your social media links on the platform to increase your reach and exposure.
Pricing: The plans start from $159 per month.
---
8. Mighty Network:
Mighty Network is one of the best online course platforms that help you to create a dynamic and active paid community throughout your online course. This platform is widely focused on community building that includes events, paid groups, and many more.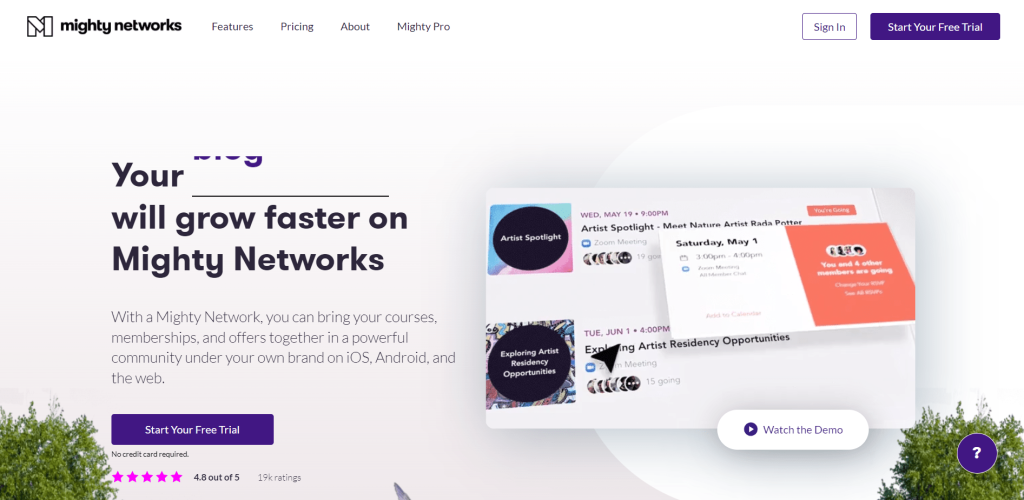 It is a cloud-based software that helps you to manage and create an online community for your own website. You can also generate private space for your community members so that you can easily connect and discuss with each other under one roof.
Key Features:
Access permissions and controls
Application Management
Communication Management
Role-based permissions
Social Media Integration
eCommerce Management
Self-Service Content Curation
Third-Party Integration
Statistics and Reporting
Real-Time Notification
Multi User Collaboration
Pricing: The pricing plan of Mighty Networks starts at $33 per month to $99 per month.
---
9. LearnPress:
LearnPress is the best learning management platform for WordPress which you can use to create and sell courses using your WordPress website. It also comes with all the basic features which include student management, course builder, and eCommerce features for free. It is a powerful plugin which helps you to create lessons, quizzes, and courses for your students with its easy-to-use interface. This platform helps you to create courses without knowing any coding skills.
LearnPress allows you to easily and quickly create an online school, education, and online course website. It is a free platform but you can still sell your courses with many payment methods like PayPal, Stripe, and many more. So it is a useful plugin with full features which is best for creating courses with WordPress.
Key Features:
Number of useful add-ons
Easily and quickly create courses
Support multiple payment methods
Pricing: LearnPress is the free plugin, but some of his add-ons are charged separately.
10. Udemy
One of the best learning platform if not the best in the world. They have brought the world experts to teach you and help you learn the skill you want and they have done quite a brilliant job with that. The video quality and content is indeed great. It does offer few free courses which are pretty good and then there are paid courses too which has great quality. It offers certification too at the end of the course which can be beneficial to you.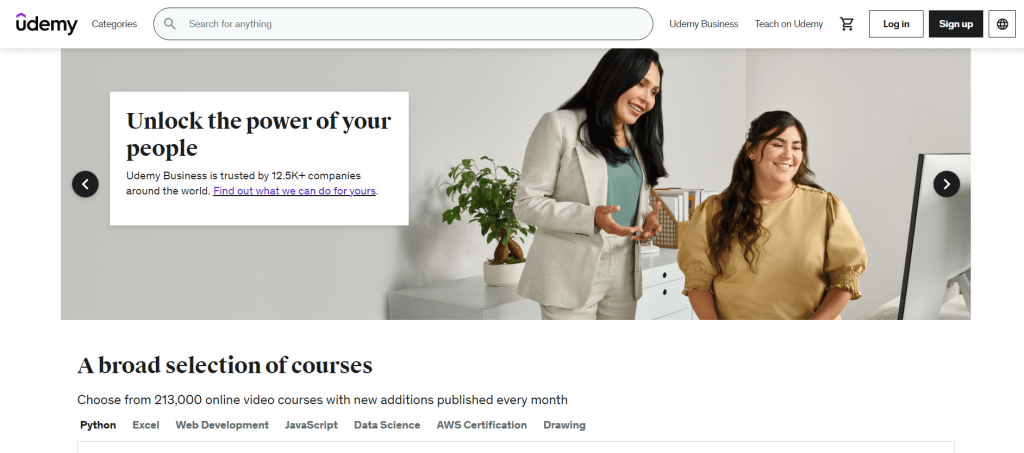 Key Features :
Great Video Quality Content
Learn at your Own Pace
Certification at the end of the Course
Courses not so Expensive
Pricing : Few Courses are for free on Udemy. Paid Courses vary with the different pricing for different courses.
Related Read:
Wrapping Up! Best Online Course Platforms (2023)
Given above are our topmost picks for online course platforms. We have listed platforms that have worked best for us. So you can trust us when we say that these are the most user-friendly and appropriate price platforms.
All the platforms mentioned are reliable and potential platforms, according to our personal experience. However, if you are overwhelmed with our list of best online course platforms and need a quick recommendation, we suggest trying Thinkfic or LearnDash.
Either way, you can decide which platforms work the best for you depending on your needs and budget!
We hope this article helped you find the best online course platforms to boost your online business and create empowering courses that you can sell globally. Over to you, which platform are you picking? Let us know in the comments section below!