Want to learn about the best Blogs for Women? Or If you wish to have some Beauty, Fashion, Lifestyle, Wealth, Health, Travel, decor ideas, and more? Then this article is for you.
In this article, you will understand all the best and top-listed Blogs for Women that are worth reading and can make you learn about so many things.
So without any delays, let's find out the best and top Blogs for Women.
List of 23+ Most Popular Blogs For Women In 2023
Before we get to the detailed list of 23 amazing blogs for women in 2023, here is a table showing the top 9 picks from our list!
| | |
| --- | --- |
| Blog | Person Behind The Blog |
| TheBlondeAbroad.com | kiersten rich |
| HelloGiggles.Com | David Zinczenko |
| The EveryGirl.Com | Danielle Moss |
| 9 to 5 Chic | Anh Sundstorm |
| One Big Happy Life | Scarlett & Joseph Cochran |
| Oneika The Traveler | Oneika Raymond |
| On Better Living | Unknown |
| Madame Noire | Tanay Hudson |
| Twins Mommy | Elna Cain |
Let's get into the details now!
1. TheBlondeAbroad.com
The Blonde Abroad blog has more than 20000 followers, and it's the best award-winning and solo female travel blog that features packaging guides, travel tips, videos, and photography from all around the world.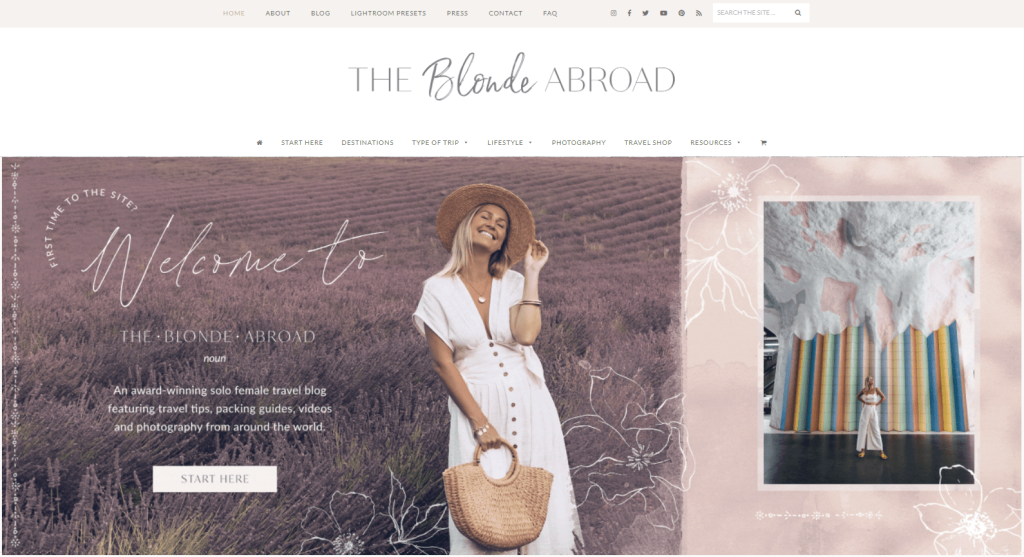 The blog has some top and most-read articles on the Best places to travel in the US right now, 30 Trips to take in your 30s, a Travel Bucket list for 2023, and Top 10 Experiences for Female solo travelers, etc.
2. HelloGiggles.Com
HelloGiggles is a blog that includes Beauty, Fashion, Lifestyle, Love Entertainment, and News. This blog has all the expert tips and professional advice that helps you meet your money and lifestyle goals.
It is analyzed as the most positive community-built online, especially for women that help in getting the most genuine advice.
3. The EveryGirl.Com
The EveryGirl is one of the most famous blogs that include Career & Finance, Fashion, Beauty, Home, Lifestyle, Sex & Relationships, Culture, Wellness, and more.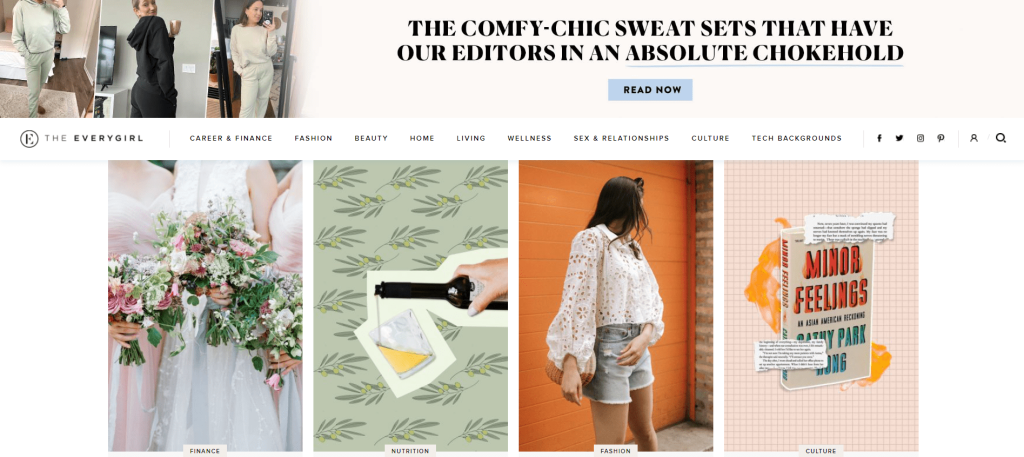 This blog helps in motivating millions of women around the world. This blog also has some exciting recipes and tips related to career and finances.
4. 9 to 5 Chic
If you love fashion and like to explore fashion games, then 9 to 5 Chic is for you. This blog guides you about the trending fashion style. You can easily explore this blog by the categories, including, Blazers, Beauty, Fall/ Winter, Jeans, Weekends, Trousers, Spring/ Summer, and many more.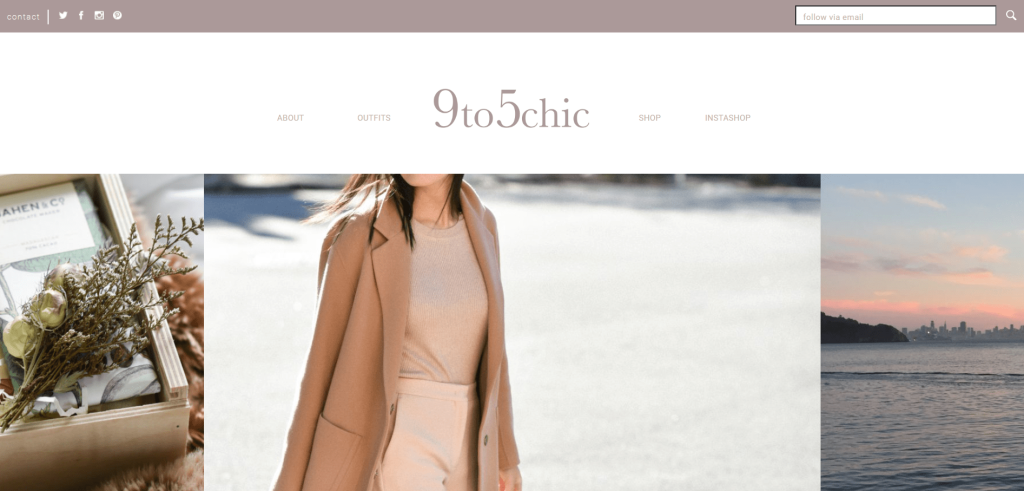 This site gives you millions of ideas regarding outfits that will make you fall in love with fashion and styling.
5. One Big Happy Life
If you are someone who wants to live a happy life in a chaotic world, don't worry, One Big Happy Life gives you practical advice that will help you find control over your life and will guide you on how you can manage Money, jobs, and Kids all at one time.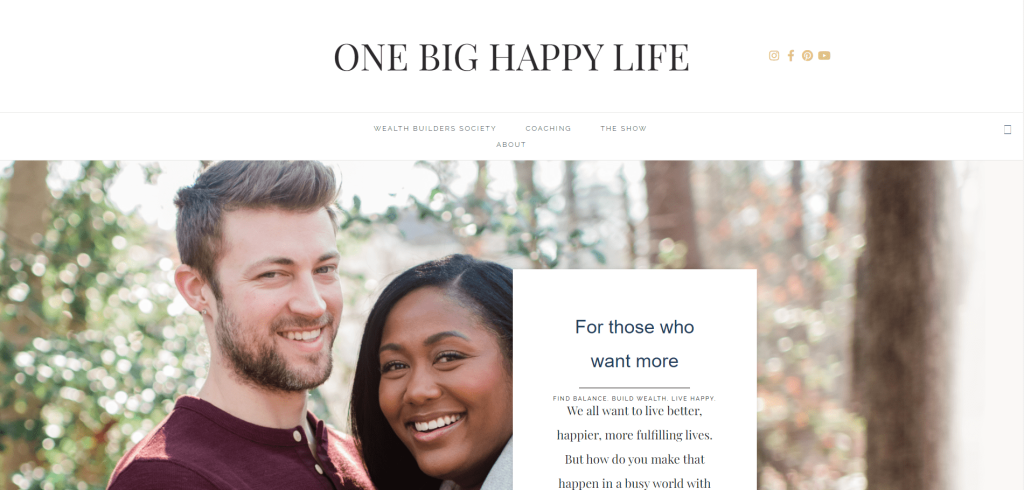 One Big Happy Life helps you build the life of your dreams, inspiring millions of women and parents to live One Big Happy Life.
6. Oneika The Traveler
Oneika, the Traveler, is a fun site one should visit. Its talks about new and exciting travel experiences. Oneika is an award-winning journalist who has visited more than 120 countries and guided you about travel and exciting locations.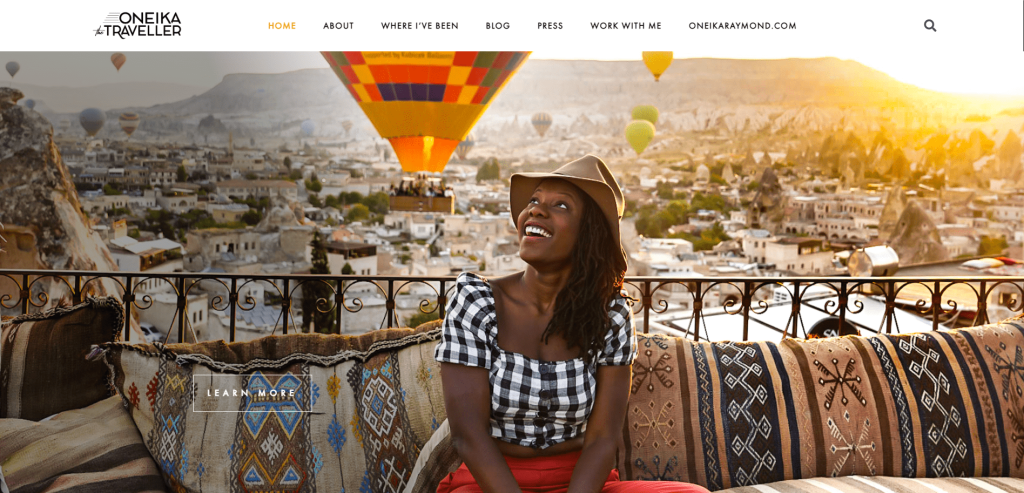 So if you are someone who loves traveling and exploring new places, then this site is definitely for you.
7. On Better Living
If you are looking for some fascinating recipes and family advice to feel inspired by, then the On Better Living blog is for you.
On Better Living inspires you with its latest trends and home design, delicious recipes that you can try at home.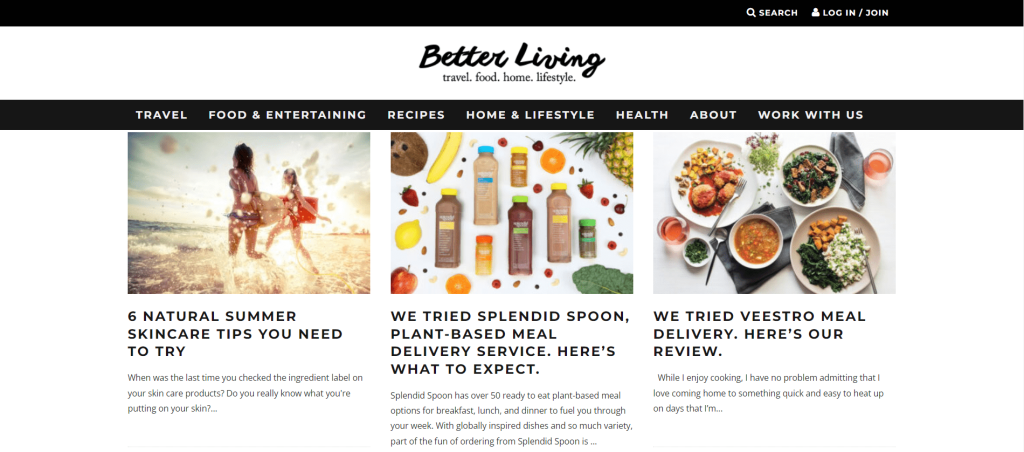 So if you are looking for home renovation, recipes, vacations, and more, On Better Living is a great site.
8. Madame Noire
Madame Noire is the site that helps empower millennial women, and it covers topics like Fashion, Beauty, Career, Parenting, Entertainment, Health, and more.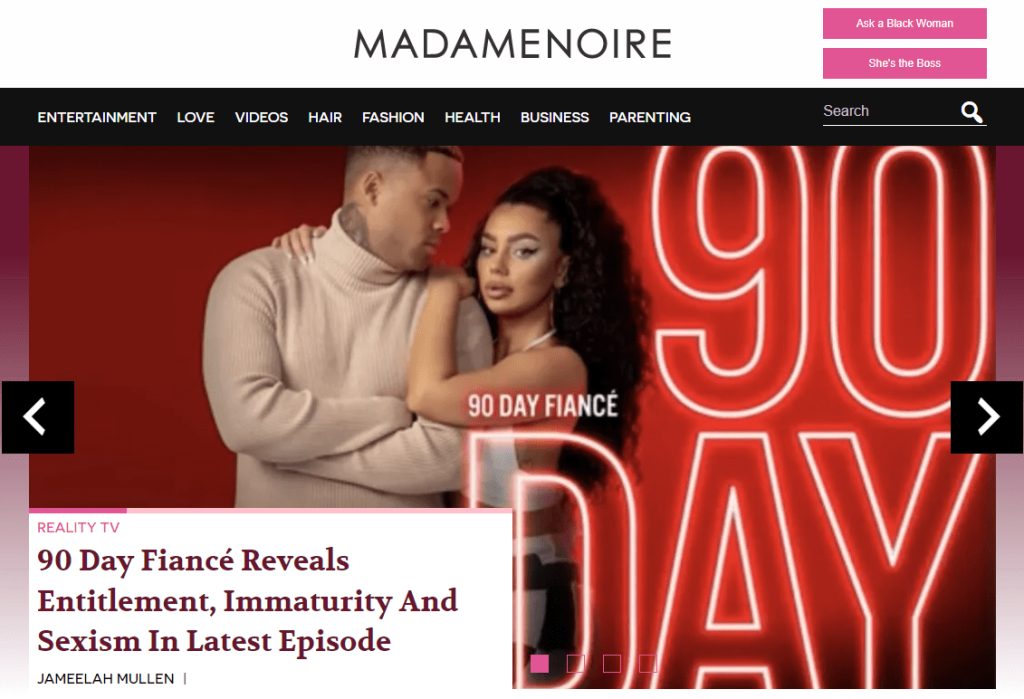 The blog loves to inspire women and give them multiple ideas that will surely help you live a better life.
9. Twins Mommy
Twins Mommy is an inspirational blog started by Elna, a mom to incredible twins. It is one of the best blogs that help aspiring bloggers and writers.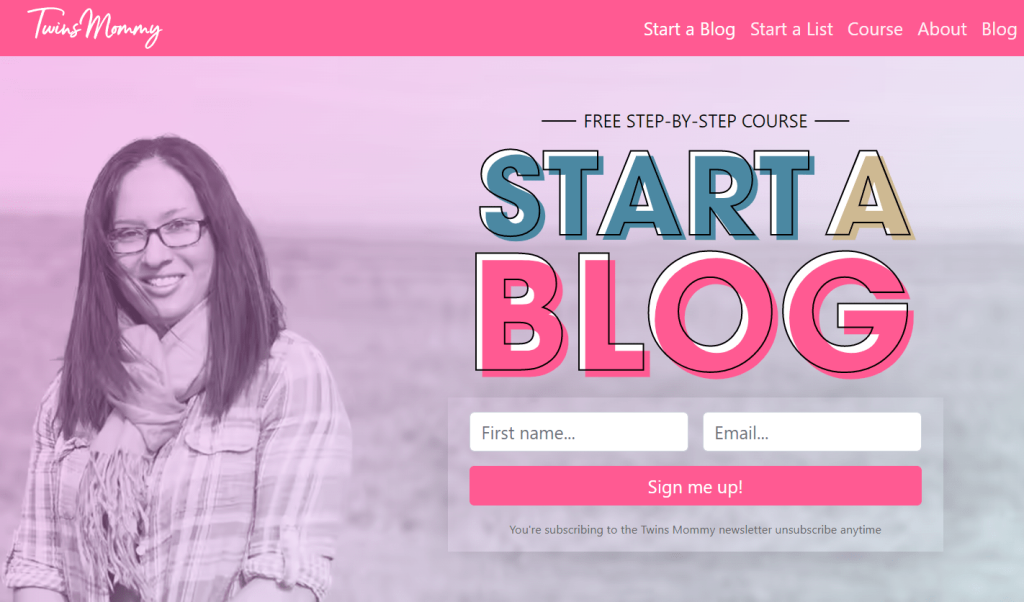 Elena shares the best parenting advice and guides you to start your own business. The blog provides the best information that helps moms to start a blog and live a dream life.
10. Well + Good
Well + Good is one of the most preferred lifestyle blogs that guides you in building happy relationships in every aspect of your life. The blog covers topics like exercise, nutrition, skincare, career, finance, relationships, and more.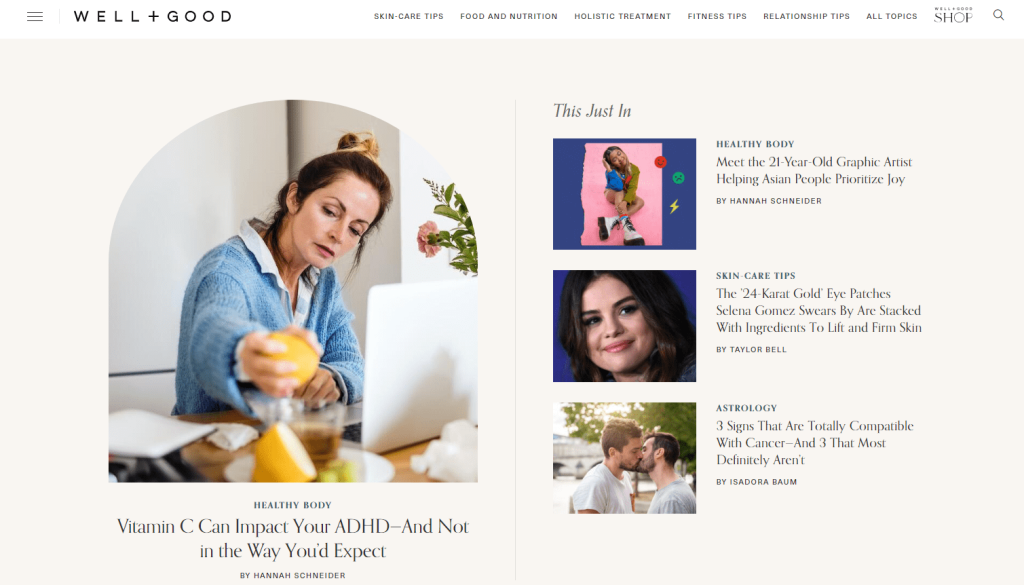 This blog is for you if you are looking to live a healthy life with a healthy mind.
11. Cherish 365
Cherish blog is one of the most loved blogs that inspires moms to cherish each day of their life. The blog has focused on parenting, inspiring life lessons, photo and videography tips, etc.

The blog has been awarded many times, including the best photography blog and Mom blog of the year award.
12. Workout Mommy
As the name says, Workout Mommy is a blog started by Lisa that talks about health and fitness blogs for moms. Inspiring millions of moms to live a healthy and fit lifestyle.
It challenges women to stay motivated and prioritize their health.
13. Sixty and Me
Sixty and Me is definitely the blog that inspires women over 60 to live a fulfilled and joyful life.
The blog shares blogs on lifestyle, dating, travel, and money management, and it is one of the top blog pages for senior women.
14. Retro Flame
Retro Flame is a must-follow blog page for young and dedicated women who love to get inspired by fashion and lifestyle.
It is one of the most popular fashion and lifestyle blogs that help you follow the most trendy fashion games.
15. iBelieve
iBelieve is the most popular, and it's aimed at helping women overcome challenges and doubts and help bring them close to spirituality.

The blogs include well-experienced counselors and teachers that guide you and help you iBelieve in spirituality and devotion.
16. A Cup Of Jo
A Cup of Jo is the most famous lifestyle blog for women that covers topics like Parenting, Fashion, Designs, Travel, Food, Relationships, and more.
The blog is filled with various informative articles that guide you in living a joyful life.
17. Marie Forleo
Marie Forleo is a famous female blogger and motivational speaker who is the owner of Marie Falreo's blog. She inspires women to create a Big and extraordinary life. She is one of the most inspiring women, and the blog has millions of viewers and has an audience of over 200 countries.
18. Corporette
Corporette is the most followed fashion and lifestyle blog that give you advice on professional fashion outfits and styles.

So if you are working in a corporate job, in a firm, law firm, you can surely visit the blog to get inspiring ideas to look fashionable yet professional.
19. HerCampus.com
Her Campus is a blog built by three college students. The blog is mainly designed for young women in their 20s.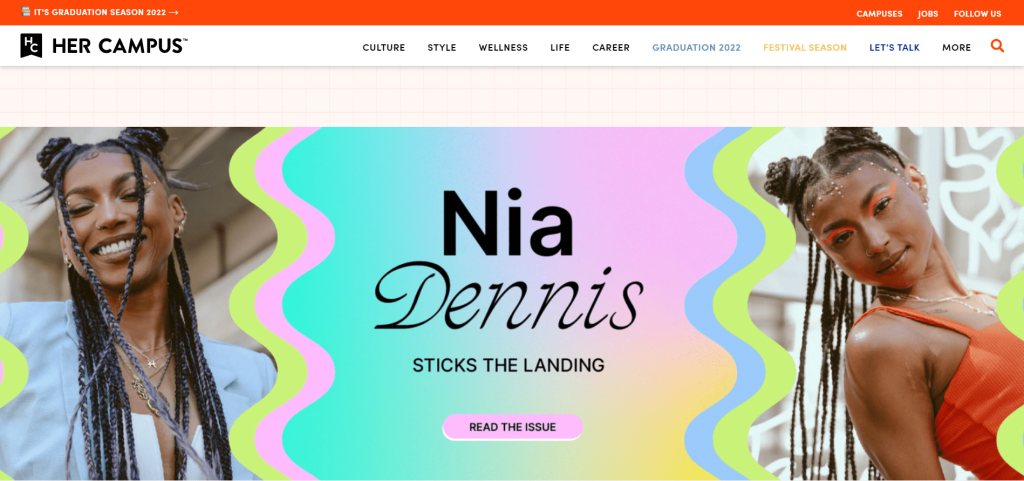 The blog talks about Fashion, lifestyles, Motivation, Careers, and Skincare, focusing on inspiring and empowering young women. The blog inspires millions of women and helps them in finding their dream jobs.
20. GirlBoss.com
Girl Boss is one of the best blogs and has an inspiring community of young and ambitious women. The founder of GirlBoss is also a bestselling author in the New York Times, a great Entrepreneur, and an educator.
The blogs focus on inspiring young women looking for some solid work guidance, money management, career advice, and more.
21. DailyBurn.com:
DailyBurn is the most popular fitness blog for women of all ages. The main aim of this blog is to make people active and fit.

It also streams live videos every morning, where you can select a number of fitness programs and thousands of workouts.
22. Prime Women
Prime Women is a popular online magazine that caters to women who are above 50 years. One can read from various categories like health, relationship, fashion, beauty, fitness, and career.

Articles on Prime Women are written by women for women. It mainly aims to defy stereotypes of aging.
23. The Mom Edit
The Mom Edit is a platform where Moms can find everything that revolves around their life, from home and mom life to travel. The Mom Edit gives fashion and advice to (anyone in need) moms and finds the right outfits that are stylish and comfortable.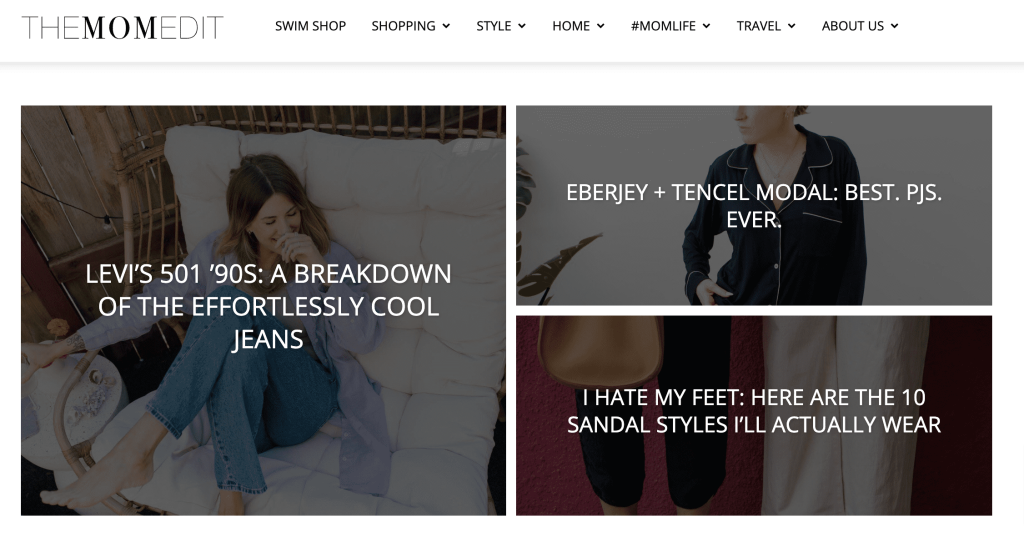 They also have a vast collection of clothing and decor, where one can shop from their website.
Final Verdict: Blogs for Women (2023)
So There you go! The list of most Inspiring and best 21 Blogs for Women. You can find everything about Life, Fashion, Health, Fitness, Finance, Business, and much more from these blogs.
So to get inspired in life and to seek any pieces of advice, you can visit the blog mentioned above pages.
FAQs: Blogs For Women
Which is the best blog for fashion and lifestyle?
Retro Flame has the best blogs on fashion and lifestyle.
Which is the best blog for fitness?
DailyBurn.com is the best fitness blogger, which aims to make women fit and active. They also upload videos demonstrating the exercises. 
Is there any blog that motivates women?
Many blogs uplift and motivate women. Some of them are Marie Forleo, GirlBoss.co, and iBelieve.
Is there any career blogs that can help women?
Career Contessa is a community where you can uplift your career by advising and mentoring you and providing necessary resources.