Want to know which online course creation platform is better: Thinkific or Teachable? I have done a thorough Thinkific vs Teachable comparison to clear all your doubts and confusions to help you choose the best tool for yourself.
Nowadays, people usually gain knowledge through online learning because it is flexible and easily accessible to everyone. According to a study, it is projected that the eLearning industry will be worth $645 billion at the end of 2030. Thinkific and Teachable are the two dedicated tools to help you if you're looking to get into the course creation industry.
But choosing one over the other is a challenging task. To help you, I've compared both of these tools on their course creation capabilities, pricing, marketing & security features, and more. Read until the end to find out which will be best for you.
Let's get started.
Key Differences Between Thinkific and Teachable
In this section, I will explain the key differences between Thinkific and Teachable:
With the free plan of Teachable, you can create unlimited courses and add unlimited students to it. Thinkific also offers a free plan, but you can only create limited courses in this plan.
In the free plan of Teachable, you have to pay $1+10% transaction per transaction, but in Thinkific, you don't need to pay any transaction fee in any of its plans.
Thikific offers a content lock feature where your student can not skip a lesson to watch the next lesson, but there is no such feature available on Teachable.
Teachable offers blog functionality where you can create a blog on your website, but Thinkifc does not offer a blog feature.
Thinkific vs Teachable: Overview
In this section, I will explain what Thinkific and Teachable are all about.
Thinkific: Overview
Over 50,000 creators have already created their online courses using Thinkific and made a lot of money along the way. Thinkific is a platform that gives you the capability to create membership sites and sell online courses. Thinkific has over 100 employees, and they are serving course creators worldwide in over 15 countries.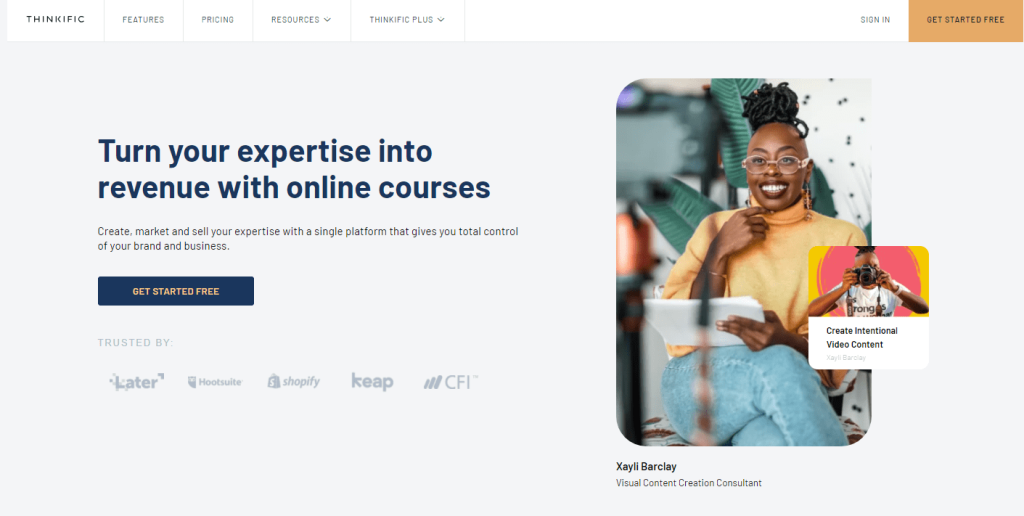 It offers excellent assignment and video-based learning tools to help you provide the best curriculum to your students. Thinkific provides you with absolute control over your courses & content. You don't need to learn HTML or CSS to customize your website or courses because Thinkific gives you fantastic web design options.
Teachable: Overview
Over 100,000 creators have already joined Teachable to create online courses and generated over $1 billion in revenue. Thinkific is considered to be the second-best eLearning platform worldwide. Teachable offers unique marketing features that can help you reach out to your potential students.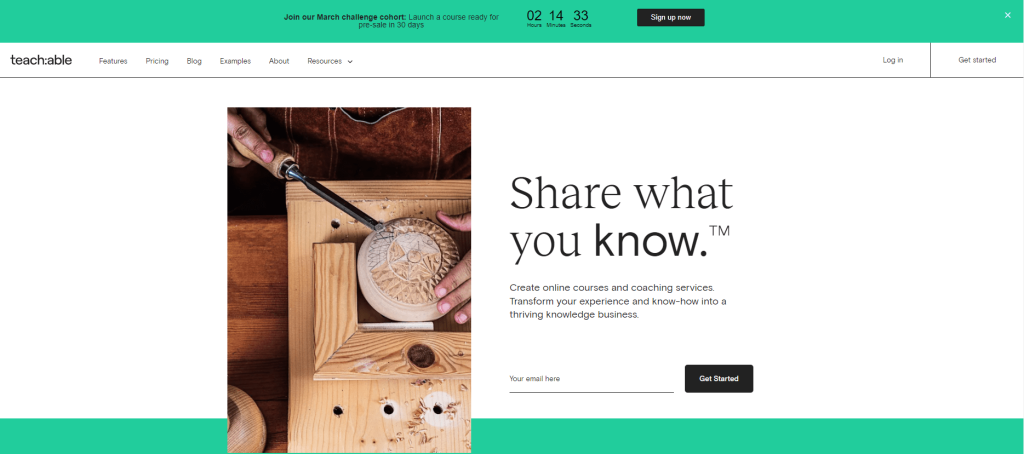 With Teachable's drag & drop editor, you can easily create the website in the way you want. The analytics tools of Teachable help you calculate your ROI. It gives you a landing page builder to help you create attractive landing pages, eventually increasing conversions.
Note: We have already done a detailed Kajabi vs Teachable comparison here.
Thinkific vs Teachable: Detailed Comparison
In this section, I will compare Thinkific and Teachable based on various aspects.
Course Creation
Thinkific offers a lot of features for course creation. With its drag & drop feature, you can easily upload content in any part of your course and manage the structure of the course before launching it. To customize your course website, you don't need to have any coding skills. You can upload any media content you want in your courses. Use the pre-built themes to launch your course website quickly.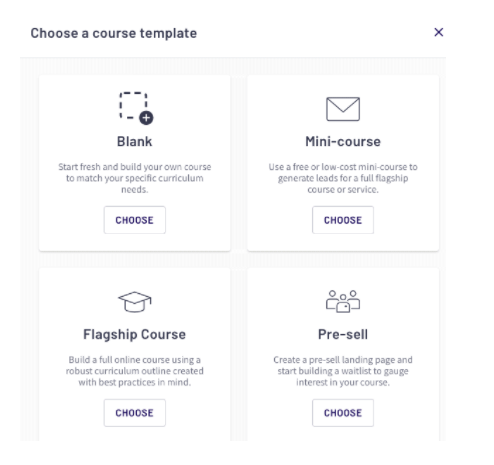 With Teachable's drag-and-drop builder, you can create highly functional & engaging websites. Teachable allows you to add text, video, audio, and PDF files directly from any cloud storage to your courses. You can add new pages directly to your courses with the page editor. You can also modify the language of your courses to make them more comfortable for your international students.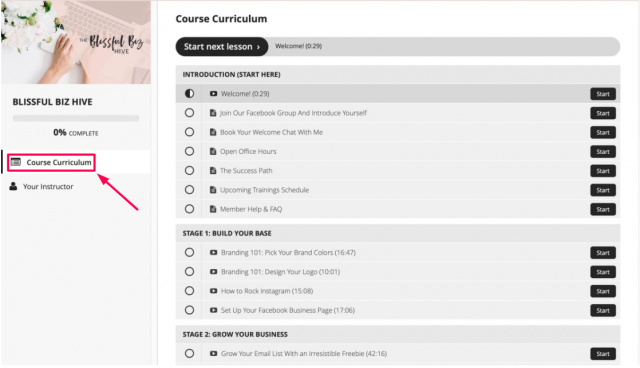 Verdict: Teachable offers better and more features for course creation than Thinkific, so when it comes to course creation, Teachable is the better option.
Uptime & Performance
It would be an absolute nightmare if your website faces any issues and there is no one to help you. You can lose a lot of revenue in a short span of time because of these issues. But Thinkific offers top-notch customer support services 24*7, and they claim that your website's uptime will be 99.9%. Even if you face any issues, you can contact their customer support team, and they will solve your problem on priority.
Teachable also monitors your websites so that you don't face any unexpected issues on your website. Suppose you want to know whether all Teachable's features are operational, then visit status.teachable.com. You can see on the website that Teachable has faced many issues in the past, but they've also solved them as soon as possible.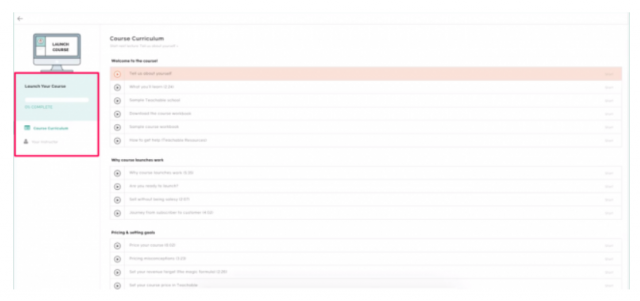 Verdict: Thinkific offers much better uptime & performance than Teachable, and they also claim to offer 99.9% uptime.
Marketing Features
Your course will not generate a lot of revenue even if it offers the best content possible if you don't use a good marketing strategy. With Thinkific, you can use different affiliate programs for your courses and earn a lot of revenue. Thinkific offers integration with over 1000 marketing tools that can help you run your marketing campaigns efficiently. You can also monitor your ad campaigns from a single dashboard.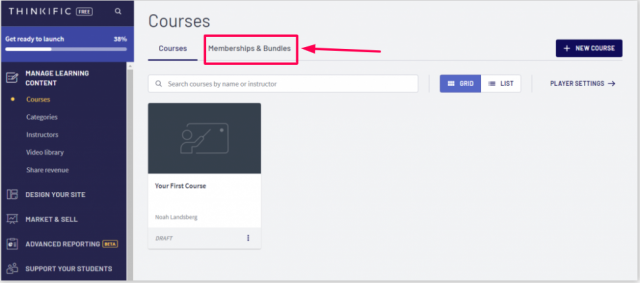 Teachable also offers a built-in affiliate program management tool where you can manage your affiliates from a single dashboard. It also allows you to create coupon codes for your courses that can help you get more conversions. The landing page builder helps you create attractive landing pages to boost your revenue. Teachable offers integration with excellent marketing tools such as Infusionsoft, MailChimp, and more.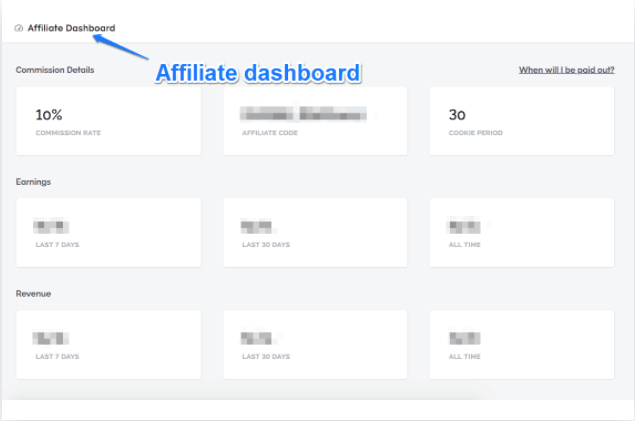 Verdict: Teachable offers better marketing features than Thinkific. With its features, you can efficiently run highly converting marketing campaigns and manage everything from one place.
Security Features
Security is the most crucial aspect of any website. Thinkific offers a lot of security features. You get cloud hosting on your website to secure your website 24*7. To avoid any data loss, they offer automatic backups. You also get an SSL certificate to store your content on secured servers. They also push regular security updates to provide better security.
Teachable offers integration with PCI level-1 compliant providers for payments to maintain data security. Your student's data gets secured through a 2048-bit SSL certificate. You will receive automatic updates as well so that you get updated with recent security measures. Teachable gives you complete control over your data.
Verdict: Both of these platforms offer top-notch security features to their users. But Thinkific has a slight edge over Teachable because of their uptime.
Data Analytics
All industries in this era are data-driven, and user analytics help marketers run effective marketing campaigns. Thinkific offers integration with data analytics tools such as Facebook, Google Adwords, and others tools. You can apply specific filters to check your students' data. You can also select a specific group to send email broadcasts from the user base.
One can directly check the student signups on the dashboard of Teachable. You can also check the average time a student is spending on lectures and organize them into student account types. You can export student information and revenue data to get actionable insights for your marketing campaigns.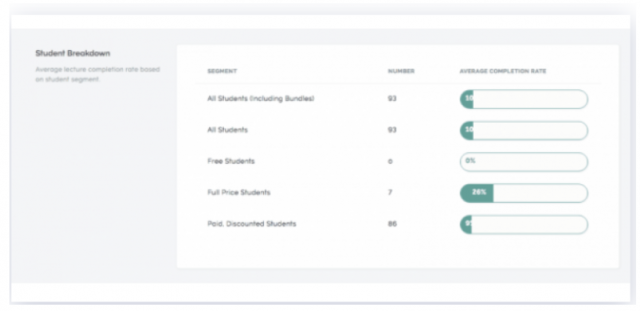 Verdict: Teachable offers better data analytics tools than Thinkific. With their robust data, you can get insights to run successful marketing campaigns.
Payment Integrations
It is vital to have a secure payment integration on your website so that your students can safely buy your courses. Thinkific and Teachable both offer secure payment integrations with Stripe and PayPal. Thinkific also offers integration with Stunning, and it is a third-party app that prevents failed transactions via Stripe.

It means your students will face less downtime and failed transaction issues on Thinkific. With Stunning integration, you can provide better customer satisfaction than ever. Teachable is better equipped to handle VAT taxes.
Verdict: Thinkific offers unique third-party integrations for payment, such as Stunning. That's why it is much more reliable than Teachable.
Customization
Thinkific offers a prerequisite feature where a student can request a lesson or course in advance. Use multiple course instructors to teach all kinds of your students and boost your revenue along the way. Create memberships within your courses and manage every membership type from a single dashboard.
Teachable gives you the feature to create engaging multimedia lectures to teach your students in a better way. Embed quizzes at the end of every lecture so that a student can test what they have learned from the lesson. Customize your course pages without using any coding and partner up with thousands of instructors of Teachable to provide the best quality content to your students.
Verdict: Thinkific offers various themes to help you create customizable course pages within a few clicks. It gives you more customization features than Teachable, so it is clearly a winner of this round.
Customer Support
To create a course website and set up everything, you will need customer support. Because you can not do everything all by yourself, you will need help. Whenever you face a problem, you need robust customer support services that can quickly help you resolve that problem. Both Thinkific and Teachable offer robust customer support services.
Both of these platforms provide vast resources of online tutorials where you can find the solution to almost any problem. If you don't have the solution, then you can raise your query through a support ticket. You can ask questions on the Facebook community, and other users of Thinkific and Teachable will definitely help you out.
Verdict: It is definitely a draw between Thinkific and Teachable when it comes to customer support services because both of them are amazing at it. They provide resources to help you encounter any problems in creating your courses or membership sites.
Thinkific vs Teachable: Pricing Comparison
In this section, I will be comparing the pricing plans of Thinkific and Teachable.
Thinkific Pricing Plans
Thinkific offers four pricing options, and they are:

1. Free Plan: The free plan has no validity, so you can use it as long as you want. In this plan, you will get one site admin account, one course, one community with two spaces, unlimited students, a drag & drop course builder, and so on.
2. Basic Plan: The basic plan costs $49/month or $36/month annually. This plan includes all the free plan features. You will also get unlimited courses, one community with five spaces, email and live chat support, a custom domain, affiliate selling, etc.
3. Start Plan: The pro plan costs $99/month or $74/month annually. This plan includes all the basic plan features. You will also get one site admin account, one community with ten spaces, private & hidden courses, advanced course building, live lessons, and so on.
4. Grow Plan: The premier plan costs $199/month or $149/month annually. This plan includes all the pro-plan features. You will also get two site admin accounts, priority phone, and email support, three communities with twenty spaces, API access, white labeling, and so on.
Thinkific also offer a free trial, here is a step-by-step guide to Thinkific free trial.
Teachable Pricing Plans
Teachable also offers four pricing options, and they are:
1. Free Plan: The free plan of Teachable also offers no validity. It gives you features like course design templates, unlimited students, one course, email support, tax handling, third-party integrations, etc.
2. Basic Plan: The basic plan starts at $59/month or $39/month annually. This plan includes all the free plan features. It also provides two admin-level users, five courses, email marketing, access to private communities, and so on.
3. Pro Plan: The pro plan starts at $159/month or $119/month annually. This plan includes all the basic plan features. It also gives you premium features like unlimited courses, zero transaction fees, graded quizzes, affiliate marketing, course completion certificates, free access to public API, five admin-level users, group coaching calls, and so on.
4. Business Plan: The business plan starts at $299/mo or $249/mo annually. This plan includes all the pro-plan features. It also gives you features like custom user roles, no transaction fees, advanced themes to customize, group coaching calls, priority support, and you can customize the admin-level users according to your organization, and so on.
Verdict: If you want an affordable course creation platform with excellent features, then Teachable is the best choice for you. But Thinkific gives you advanced features to take your course creation to the next level, and its pricing is not that expensive compared to Teachable.
Thinkific vs Teachable: Pros & Cons
Below we have given the pros & cone cons of both Thinkific and Teachable. Let's get inside it.
Thinkific Pros:
Create a stunning sales page
Course Templates
Unlimited content & students
Seamless automation
White Labeling
Solid Integration
Powerful customization
Thinkific Cons:
No coding snippet
Little bit costly for the beginners
Teachable Pros:
Built-in marketing tool
Stunning page builder
Easy-to-use interface
Bulk coupon generator
24/7 customer support
Coding snippets
Email template editor
Teachable Cons:
Transaction charges
Limitations in the free plan
Final Verdict: Which One Should You Choose — Thinkific vs Teachable?
So this is my comparison between Thinkific and Teachable, and now the only question remains: Which platform is right for you?
If you are looking at these platforms from a price point of view, then Teachable is the right choice for you, and their free plan offers better features than Thinkific's free plan. So if you want to go with the freemium plan of one of these platforms, then choose Teachable. But if you want to scale to the next level, then you will need the advanced features of Thinkific, so it is also a viable choice.
All in all, it comes down to your requirements. I hope you can choose between these two platforms with this Thinkific vs Teachable comparison. Let me know your thoughts on both of these platforms in the comment section below.
Related Reads:
Frequently Asked Questions:
Between Thinkific and Teachable, who provide the best course creation?
It is very easy and simple to create a course on both Thinkific and Teachable. They offer unrestricted storage for text, videos, and PDFs. It has the ability to organize the course materials into the chapter and lessons.
Can I use Thinkific for free?
Thinkific is the most reliable course provider, it offers a free plan with some basic features.
Is there any refund policy on Thinkific?
Thinkific offers 30 day of risk-free refund policy. If you find that Thinkific does not provide the value that you want, then you can claim your full refund.
Does Teachable offer any discount?
Teachable offers a 25% discount on all its annual plans.
Does Teachable allows live group coaching?
Yes, Teachable allows live group coaching with Teachable Pro and Business Plan.

Does Teachable provide priority support?
Teachable provides priority support only to the Teachable Business Plan.