The shift of skills over experience has been happening fast over the world. People are getting more comfortable working from home every day. Regardless of anyone's age and education, women must be financially independent and can balance house and personal finances.
Although companies that are both startups and reputed MNCs are now willing to pay the desired amount if the candidate shows the required skills, housewives are not in a position to commute and work.
But wait. Do you know there are tons of freelance ideas for housewives that will help you make a good amount while working from your comfort zone?
Continue reading ahead to discover how you can pick up freelancing ideas as a homemaker!
How Can a Housewife Earn Through Freelancing?
The technology we have in our hands today can make no less than wonder if we are truly desired to unleash our potential. But with a pool of diverse jobs available on the internet across different platforms, housewives may land in confusion before actually getting started.
The fundamentals for any housewife to start work on anything we mention hereafter are:
4g mobile or laptop
Internet connection or data packs
Bank account to receive money from clients
They are good enough basic requirements for anyone to start working on freelancing opportunities with the use of the internet.
Let us dive into some freelancing ideas that could work for housewives to become financially independent.
Freelancing Ideas For Housewives
1. Freelance Writing
2. Designing and Editing
3. Selling Photos, Designs, and Art
4. Coaching, Mentoring, and Consultation
5. Event and Travel Planner
6. YouTuber   
7. Affiliate Marketing
1. Freelance Writing
One of the most convenient and universally known works that women and housewives could excel in no time. Without any literary background, one can work well in this industry with a sense of creativity and commitment. Services are numerous in the writing industry, and it is advisable to work on different mediums to find out which works well for you.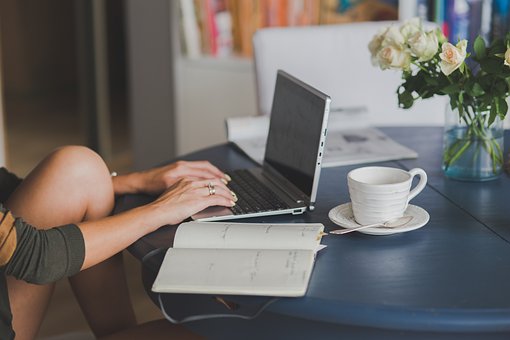 Every business requires content to showcase its product or service performance and acquire its target audience. Even to consider research and development startups are always on a hunt to find professional writers who could write excellent research papers and journals which could help their R&D. SEO writing is also an excellent choice to make a decent living by writing content.
Three essential things that every freelance writer must remember to score well in this industry are:
Try on different niches and settle down to one if possible.
Grow your personal brand on different platforms.
Consider market factors and stay updated according to everyday trends.
Some of the different services in the writing industry are:
Content writing
Blogging
Copywriting
Script and screenplay writing
White papers
Research writing
Ghostwriting
Social media writing
2. Designing and Editing
Audio, photo and video editing are also high-paying skills anyone can excel in a short time. Consider learning different editing techniques from youtube and other paid sources if you are unfamiliar with how everything works. Opting for one premium course would be better because most paid courses are structured to industry standards.
Graphic designing is known for its creativity and individual style to become a professional and successful freelance designer. There are numerous options to find exclusive clients and develop every day. Social media platforms are obvious saviors for designers and editors to showcase their efficient work and grow a huge number in fan following.
Furthermore, designing and editing have been the best freelance jobs for housewives and are recommended by professionals everywhere. One has to be consistent in learning and performing to excel in the skill and make good money.
3. Selling Photos, Designs, and Art
Photos high-quality HD images and personal designs can be sold on different platforms across the internet. This might be a little difficult to be proficient in, but if you are dedicated to learning and growing, selling photos and designs could be an excellent option for housewives.
Anything that is fascinating to look at can attract many audiences, and they'll definitely be interested in buying it. Be it a plain landscape image or virtual art. Some people are ready to buy if it amazes and fascinates them.
Virtual art and art, on the other side, could be widely recognized by people who are into arts and culture. Selling virtual arts as NFTs has become popular in recent times. Unlike cryptocurrencies, NFTs are stable, and they are one-time purchasable. Arts must be unique and represent something beyond one's imagination.
Make your portfolio diverse with different types of designs and art. Reserve your internet time to explore different styles and cultures of expression to understand more about arts. Build a community or grow your image by consistent uploads of your designs and art you make on the platforms you pick.
4. Coaching, Mentoring, and Consultation
Coaching and consultation are different from practicing and executing. Coaching can be anywhere between subjects to programs either you make a course out of it and sell it on multiple online platforms or can teach students who are interested in learning from experts. Consultation is more like mentoring people to pick up the required pace. Consultants can be financial, wellness, spiritual, career, etc.,
All industries, regardless of size and domain, require consultants for various projects. A consultant role may be diverse, but it helps resolve clients' issues with thorough research. On the other hand, remote consulting jobs could begin as small as a freelancer, but one can expand its operations to make a full-fledged consulting firm.
Expert advice would be to become an expert in one particular niche and start making online videos in your free time. They can either work as profile portfolio videos, or you could upload them to the required platforms when you get an opportunity.
5. Event and Travel Planner
It's pretty rare that people plan in a brilliant way for people to experience like never before. Although event planners design the event after visiting the designated location, they can also be done online with the help of this outstanding technology we have.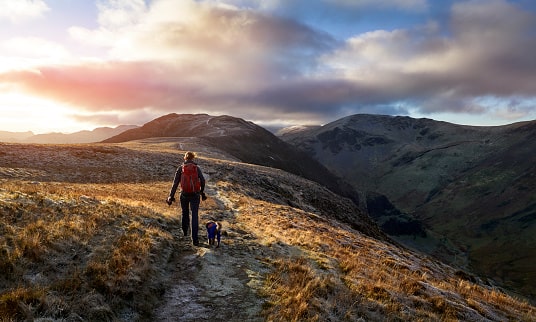 Events planners generally work on teams, but one can start working on small individual projects in the beginning and scale on a business level with time and expertise in the field. Understand the marketing techniques and insights of the industry to become proficient and plan distinct events.
Travel planning is the most underrated job to consider in real time. One can become a travel agent just by sitting at home with some exclusive plans at a cheaper rate. People love to plan their trips to different destinations for moderate prices. There's always confusion between them, from choosing the right destination to the perfect food and staying at their desired prices. You can become an expert planner if you explore culture and customs along with strategies and executions.
6. YouTuber
You wouldn't believe that YouTube channels can eventually become a startup, but that's what is happening right now. Educational and entertainment channels are popularly trending and growing at a never before seen pace in recent times. People are attracted mainly to great content, and you could become a part of this vast creator's economy with time and consistency.
Youtube is something one can be excelled only with dedication and passion towards their service. Never think that you can easily pull large amounts of money from youtube overnight. Be a creator that people love and follow your content. Become an influencer and serve wholeheartedly.
People generally assume that housewives can mostly maintain a cooking channel or beauty channel, but they are far from the sense of reality. Anyone can find interesting content in any sector, and so do women and housewives. Whether in education, finance, fashion, or even health and tutoring, women are making epic content on youtube. Be passionate about something, and creativity will flow with ease.
Google Adsense will take care of your earnings once you hit the right number of subscribers by allowing your channel to display advertisements for your videos.
7. Affiliate Marketing
Affiliate marketing is an arrangement where one can earn a commission or receive pay-outs by referring and promoting the manufacturers' and retailers' products or services. This is undoubtedly for you if you have very little free time.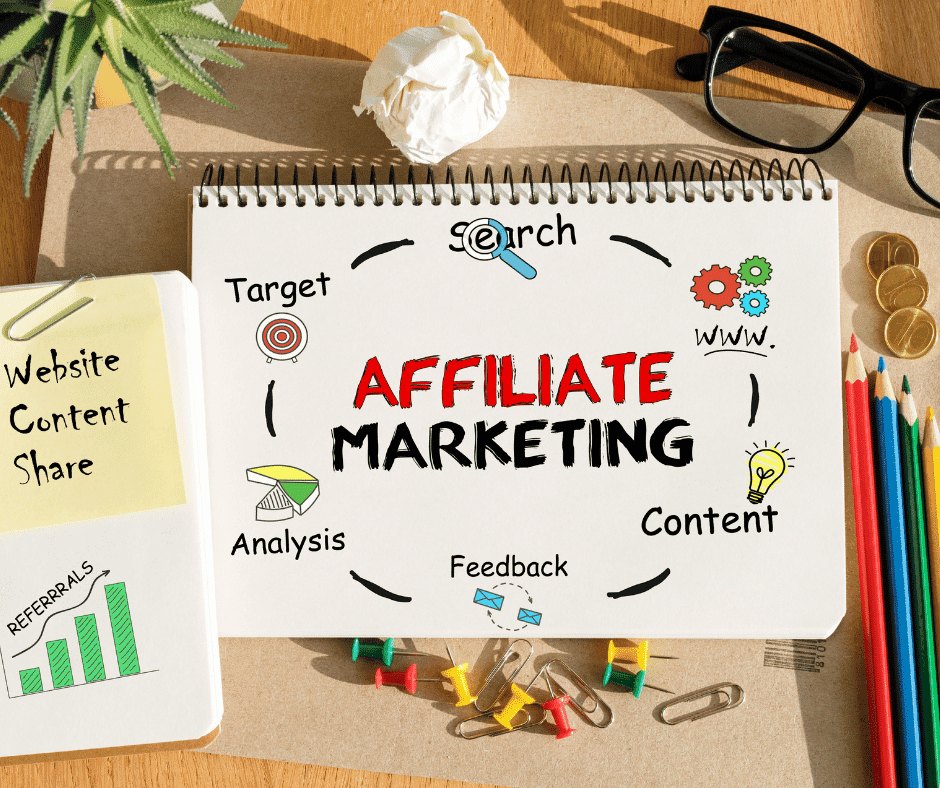 Mostly, affiliate marketing results in sales. But there are some websites and programs which offer a commission on specific results like downloads for an app, generating leads, free-trial users, and clicks on the website.
One can easily make decent money through affiliate marketing. Moreover, it is easy to set up as it is free to join and only requires a good internet connection and a PayPal account. The publisher (affiliate) has to persuade the consumers to buy the products. It can be done via social media, blogs, or email marketing.
You can even formulate different strategies and start earning commissions.You can start your affiliate marketing journeys with Amazon, Flipkart, ShareASale, eBay, and Shopify affiliate programs,
Other Popular Freelancing Ideas
There are various freelancing jobs and business ideas that are suitable for housewives. While some can be easily achievable, some take time to sustain with them. Below are some of the popular ideas that are executed by a few people.
Related Links-
How A Housewife Can Make Money Online
Wrapping Up Freelance Ideas For Housewives
At the end of the day, you must be confident and trust your progression. Never hesitate to lay your hands on different things. Never feel insecure about doing what you wish for. Some people always support your ideas and stay by your side. Become an independent financial earner and happily look after your family.
There are tons of resources available online that are confusing and enlightening simultaneously. Choose wisely and practice consistently to become an expert in the industry.
Some of the platforms you could leverage for freelancing growth are:
Linkedin
Instagram
Fiver
Indeed
Freelancer.com and many more.
So, what is stopping you? Go ahead and kick-start your freelancing journey as a housewife today!