Amazon influencers and its marketplace is only getting bigger and better every day since the pandemic. From being a bookseller online to becoming the biggest e-commerce business platform with an annual revenue of more than 350 billion, Amazon's exponential growth is exceptional.
Social media influencers and online sellers have always had new trends rolling towards them for improving their monetization method, and becoming an Amazon influencer is certainly another big thing for them to grow their personal branding and business.
After hundreds of iterations, Amazon found this new method, the Amazon influencer program, to bring organic traffic to its website that can help generate more revenue for its company along with other sellers and individual personalities who promote businesses.
We all know that algorithms are only improving each day, and Amazon's a10 algorithm is no less to mention in improving its performance. In addition to keyword planning, reviews, and perfect-resolution image uploads, the algorithm now considers brands that bring more external traffic to Amazon to stand out from other competitors.
So, suppose you are an influencer or an aspiring one who wants to leverage this program to monetize more with decent commissions. In that case, this article will help you understand everything about this program from a clean perspective.
What is The Amazon Influencer Program?

Amazon's influencer program is designed and developed for social media influencers with a decent following on numerous social media platforms like Instagram, Youtube, Facebook, Tiktok, etc. Unlike Amazon's affiliate marketing program, this is specifically intended for the social media crowd.
Amazon will help in creating a custom storefront for influencers who can then endorse different products and promote them. The influencer's customized storefront now performs as any other typical e-commerce website by selling products they directly endorse.
Influencers can make money by promoting brands and products that are essentially sold on Amazon through their social media presence. At the end of the day, Amazon is profiting from an increase in their sales purchase and driving more traffic to their website but with a decent twist of increase in influencer's economy.
How Does This Program Work?
By becoming an Amazon influencer, Amazon will help in providing all the required tools to you to choose the best products and services, among others, to promote them to your followers and earn decent commissions on qualifying purchases.
Being an influencer, you can recommend multiple products to your followers under the brand's agreement. Whenever a purchase happens on your storefront, you, along with Amazon and the brand, will profit simultaneously. This program will help brands to promote their products to their direct target audience in an effective way.
All this seems very familiar to the Amazon associate program, but unlike Amazon associates or affiliates who promote brands on their blogs and website, you being an influencer, will directly promote brands and their products to your loyal follower base in all social media accounts.
You can even curate and recommend different products under different categories so your followers can easily identify and purchase the product. Storefronts also come under custom URLs for people to remember them quickly.
Who Can Become an Amazon Influencer?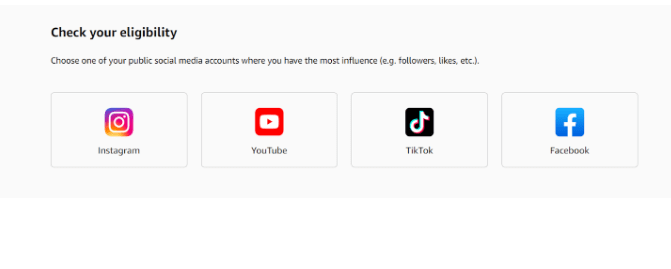 The criteria for becoming an Amazon influencer is pretty rigorous, unlike qualifying for an associate program. The primary thing that Amazon will do is to analyze all your social media accounts across different platforms, and below mentioned are some other standards you must qualify to become an Amazon influencer.
You need to have active accounts on social media platforms like Youtube, Instagram, Facebook, and others.
Your follower count across all platforms must be more than 20K (according to sources),
Your reach must be generic, and the content must be authentic.
You must frequently engage with your audience.
Your content regarding the promotion of the product must be relevant enough.
Influencers who are into specific niches in content creation would be largely benefitted from the Amazon influencer program. If you are an influencer creating content in a particular niche, the chances of having a loyal follower count and a higher engagement ratio with the audience are usually high.
Amazon will also consider other metrics like post count, post consistency, like, shares, and comments on your post. These metrics indicate how your audience responds to your content and how easily you can promote the product and brand you're about to endorse.
How to Apply For the Amazon Influencer Program?
Considering all the limitations mentioned above, if you have a strong profile with many followers engaging with your content, you can apply for the Amazon influencer program. Below is the process for you to go through it.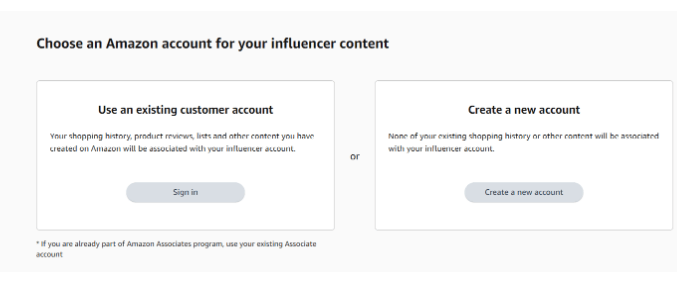 The Amazon influencer program is an exclusive opportunity to consider because the marketplace for influencers is booming right now. Almost 40% of Amazon sellers are looking forward to growing their business with social media presence, and nearly 3% of third-party Amazon sellers are already collaborating with content creator influencers.
Here is a step-by-step guide for applying for the Amazon influencer program!
Step #1: Go to the Homepage
Go to the Amazon influencer program homepage and click 'sign up' to apply.
Step #2: Create a New Account
You'll be asked to create a new account or log in with an existing customer account; if you have one, log in. Otherwise, you need to register with your name, address, email, and password for a new account.
Step #3: Find out whether you are eligible or not
To find out if you are eligible for the program or not, Amazon will now ask you to connect all your social media accounts. Amazon's customer data is fundamental for its influencer program; all the data you fill in will be transferred to the influencer program account.
Step #4: Complete The Registration Process
To complete the registration process, you need to connect one social media account of yours that has the highest lead generation value (an account that has the highest follower base).
Step #5: Complete Your Profile
Enter the name of your choice for the profile and add a profile picture. Then, add your other social connection links to your profile, address, and a short bio about yourself, who you are, and what you want to promote.
Step #6: Choose Your Platform
Choose one single platform you want to go ahead with among the three social media platforms Instagram, Youtube, and Facebook (Twitter has been attached and suspended before). Connecting your Facebook or Youtube account will take only minutes to identify whether you are eligible or not, but if you choose Instagram, the waiting period will be 5 days maximum to know their decision. Also, for Instagram, you need to mention your follower count and published post count.
Creation and Promotion of Your Influencer Storefront.
In this section, you will enter the name and tagline of your storefront. This store is what differentiates you (Amazon influencer) from other Amazon associates. Amazon brand register members can create custom storefronts to improve their marketing performance. Amazon influencers also have access to build custom storefronts.
People who have become successful Amazon influencers mentioned that it is best to promote brands and products that you use on a daily basis, area of your expertise, or that connects with your content creation. Unlike traditional influencer marketing, this program will allow influencers to extend their choice of promotion out of their branch.
After adding the account information, click 'save and finish,' and you'll be moved to the Amazon associate dashboard. Also, make sure to add a profile image and header image for a better presentation. You can start building your storefront even if your application status is pending approval.
Before that, complete the payment and tax information that is required for legal compliance.
Building the storefront
An influencer has full rights to promote whatever products and services they wish to, unlike in an affiliate program. However, below are some sets of indications for your promotion activity.
The type of content you produce
Social platforms that you active
Products in your expertise and your personal favorite.
How much value does it add to your personal branding image?
Not every content creator does the same thing. Some make reels on Instagram, some create long-form content on youtube. Your content ideally decides which brands and products you're about to promote.
Although Amazon picks influencers who perform well in the top three social networking platforms, you can promote brands on whichever platform you wish to. If you have a strong following based on Linkedin or Reddit, you have all permissions from Amazon to make the product there for better sales.
It's okay to recommend products out of your boundary to your audience. Still, the sense of loyalty and authenticity will eventually fade if you keep on pushing brands and products for just high commissions. The product or service must be relatable to your content or personality.
Always promote a brand or product that makes sense with your personal image, products that add value to your growth, and products that could reflect on your target audience.
Click on the 'create content, and you'll have four content options to choose.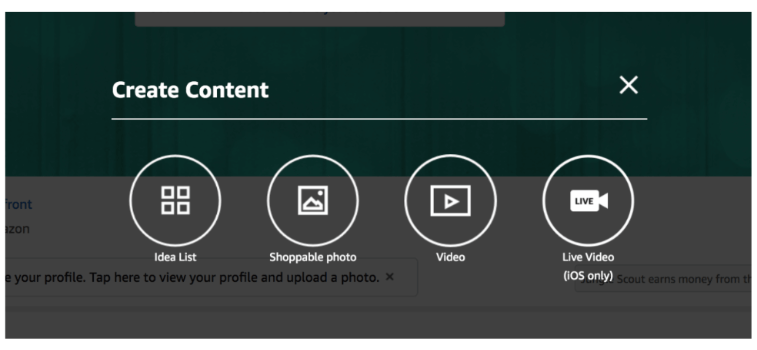 Idea list
Shoppable photo
Video
Live video (for ios only)
Choose one among the four and start adding the products you're promoting.
Influencers can customize their storefront anytime. You can add or remove products before you start promoting them. Organize your products in different categories and always have a check on the products that you are promoting. Some may be removed if they aren't available on Amazon. You can quickly replace them with other products.
Also, track your commissions through the influencer dashboard. You can have access to all the sales information. Commissions generated your performance as an influencer, how effective the Amazon store is working for you, and every other detail under the reports.
Promoting Your Storefront
Now that you are halfway in the journey, promoting your products and progressing is the other half of your journey. With a chunk of a decent follower base, you can now start promoting your store on all the social networks you have at once or one at a time.
Make your audience connect with the products you've curated and listed for them in a specific niche. Many will trust your recommendations if you engage with your audience every now and then. Below mentioned are some of the tips from Amazon for you to promote your store in a proper way to grow your business. 
Amazon Live
Amazon live is just like any other social media networking lives but solely dedicated to promoting products and services. On Amazon live, influencers can start a live stream to promote and recommend products.
You can unbox a product on live, encourage them and engage with them on live. You can discuss the product, ask questions about it and also address their concerns over the product. Audiences can follow influencers' pages to get all the updates regarding their recommended products.
YouTube
Add the link to your influencer page in your channel's 'about section.'
Include the link in various video descriptions of your publishing content. Also, tell your audience to check out the link in your profile and the description of your videos to start shopping.
Instagram
Add the link to your influencer page in the 'profile section' of your page.
Introduce some of the products via posts and reel content to your audience and pin the message to 'follow the link in the description' for all recommendations of your store.
Encourage your followers to shop from your store by collaborating with fellow influencers.
Use Instagram stories in the right way to promote the product. Increase brand authenticity and improve brand performance by engaging with your audience.
Pin high-performing stories in the 'highlight section' of your profile.
Facebook
Add the link to your influencer page in your Facebook page's 'about section.'
Engage with your audience by promoting the product with stories and posts just like you do it on Instagram
Add the 'shop now' clickbait to your profile that redirects your audience to the store.
You can add the link of your influencer page in every post, unlike Instagram.
Website or blog
If you are an influencer who also has a blog post or website, you can add promotional links in the blog posts of your website.
Create content that keeps your audience hooked to it and add the recommended product links wherever necessary.
How are Amazon Influencers Different From Amazon Associates or Affiliates?
Amazon influencer program primarily presents a different shopping experience with Amazon influencers, unlike Amazon associates. Affiliates in general only provide a link that they are promoting to earn commissions, whereas Amazon influencers have a separate storefront for their target audience.
All the storefronts are curated with several products in different categories. Every product or service added to the store intends to fall under a specific niche or industry that matches the influencer's profile. By this, a brand can increase its image with the face of the influencer, and also, the influencer gets benefited with commissions.
A storefront is clean and organized, with a set of products and services delivering the right recommendations to your loyal fanbase.
What Is Amazon Bounty?
Amazon Bounty is nothing but making flat fees, a dedicated payout instead of earning commissions for the product. You can check all the information regarding 'bounties' on the 'bounty program page.' Some of the Amazon products you see on bounties are Amazon Kindle, Prime, Music, Audible, and others. In this program, you must post banners and links on your social media or website. Moreover, it is open to anybody. But make sure to use too many banners to detract the audience.
Here are a few steps to earn bounties:
Go to the official website of Amazon
Create an associate or influencer account
Login into your account
Click on the "Bounty Program" page
Go through the bounties and select the ones that associate with your niche
Click on the "Get banner" or "Get Link" and post it on your website and social media.
How Much Do Influencers Get Paid?
Amazon influencers do get paid well. People may doubt it but they are performing very well in the Amazon marketplace and the payment structure is the same as the Amazon associate program.
Every category has a definitive commission rate fixed for influencers. For instance, if you are promoting a beauty category product, you'll get a commission of 10% for every 10,000 followers. In the case of other categories like gaming, grocery, health, and personal care, you'll have only a 1% commission cut.
Make sure to review the Amazon commission income statement before deciding a specific category to promote. Influencers get paid on a monthly basis after all and most of the influencers are already making more than $1000 bucks per month.
Conclusion
Amazon influencer program is a well-established platform for influencers to make money by promoting businesses and products that favor them by creating custom storefronts. Even after 5 years of its inception, Amazon is still pursuing this program by investing in these channels for more influencers and creators to participate and promote its products.
Whether you are a beginner creator or an established influencer who has a decent fan following across various social media platforms, you can leverage Amazon's influencer program for monetization and increasing your personal brand by collaborating with the right brands and businesses.
But always remember a simple logic that your audience can absolutely hate your choice of brand promotion if you pick all random products outside of your personal image just for the sake of commissions.
Related Reads
FAQs – How To Become An Amazon Influencer
Can anyone become a member of Amazon's influencer program?
It will certainly depend on networking metrics like your social presence, follower count, engagement ratio, likes, shares, comments, and others. The higher the performance, the higher the chances of you getting into the program. 
What is the approximate follower count for becoming an Amazon influencer?
It would be between 1000 and 2000 for each platform from your social media network.