Are you bored with creating your online course from Learnworlds? Are you looking for Learnworlds Alternatives? Have you tried several plugins but are still not satisfied with them? Then you are at the correct place!
If you haven't tried Learworlds yet, we suggest checking Learnworld's free trial to try the platform!
We all agree that the market has so many alternatives but choosing the one that is right for you is always tricky. We always have our fear and doubt. But don't worry; we have tried and tested various platforms for creating online courses and have come up with a list of alternatives that help you design and manage your course more effectively.
In the article, we have covered 10 LearnWorlds alternatives. By the end of the article, you will be able to pick the one that fits the best according to your needs and budget. 
Top 10+ Best LearnWorlds Alternatives 2023 (Handpicked)
LearnDash — Best for selling and making your course.
Thinkfic — Best for creating a course from scratch.
Teachable — Best for establishing the best online school.
TalentLMS — Best for automating the system.
SAP Litmos — Best for Gamifying your online course.
Kajabi— Best for selling a course on autopilot mode.
Udemy Business — Best for selling your course
Simplero — Best for putting all your online courses in one place.
Tovutu LMS— Best for creating online learning platform.
Podia— Best selling content(courses) and products
Here is the list of some best LearnWorlds alternatives there.
1. LearnDash Overview
Being the only LMS system created by e-learning experts, LearnDash is a worldwide popular WordPress plugin that helps you to create online courses. This plugin is also the only WordPress LMS plugin that has ever won the Capterrs Top 20 Training Software Winner making it the first on the list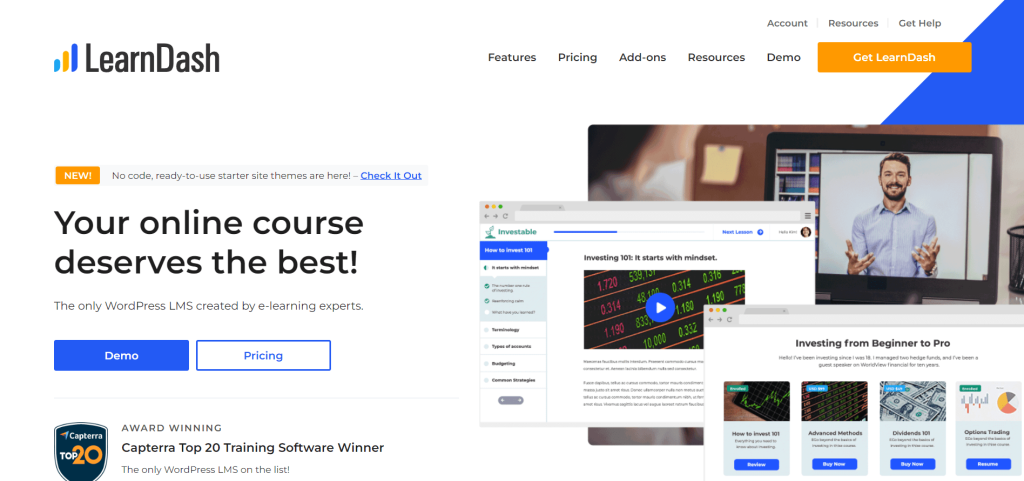 The plugin offers a drag-and-drop builder, which makes the task of making the course simple. LearnDash configures with any theme. It provides you the flexibility of customizing the website according to your need.
LearnDash also helps sell your product in various ways ranging from membership to subscription to your customers. To add more, you can also engage with your students by giving them assignments, providing discussion forums, leaderboards for self-evaluation of the students, and much more.
Key Features:
Set up payment gateways quickly.
Easy integration with several applications.
Advance quizzing and question bank options.
Creates a LearnDash Focus mode to avoid distraction.
Set benchmarks to get access to the next module of the course.
Pricing: The pricing for LearnDash starts from $159/month and goes as high as $329/month. The prices vary according to the number of websites.
2. Thinkific Overview
Note: We have also compared LearnWorlds and Thinkific in detail in our LearnWorlds vs Thinkific comparison.
The following online course creating a tool that we admire is Thinkfic. It assists you in crafting a course that is interactive and engages your customers. The platform is user-friendly, and you can install any website theme and even customize it at zero cost.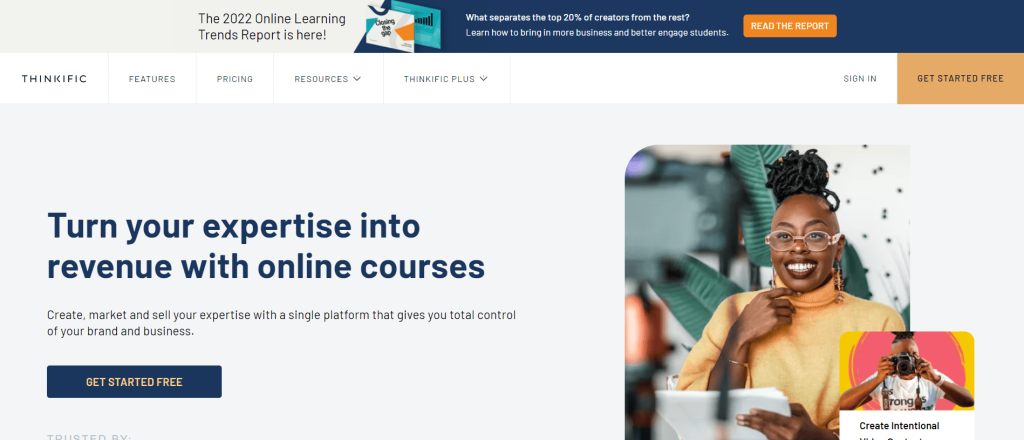 It provides you with free hosting and helps you share your knowledge with the students. The students can attend live sessions, take recorded lectures, evaluate themselves and earn badges and certification as they proceed in the course.
Key Features:
Easy integration with E-Commerce.
Safe cloud-hosting with 24/7 monitoring.
Advance tracking tool for checking the progress.
Conduct live sessions and interactive assessments.
Sell the product flexibly as standalone or bundle courses.
Accept payments from over 100+ countries.
0 % transaction fee.
Pricing: Thinkific provides a free trial to users with basic options. To use the advance options, the customer is charged $49/month for the basic plan, $99/month for the pro plan, and $499/month for the premier plan.
3. Teachable Overview
Teachable is a premium online course creating a platform that has been helping creators to make their courses for the past six years. Teachable allows you to make powerful knowledgeable content with a mix of videos, quizzes, and assessments. Teachable also allows you to create your online school.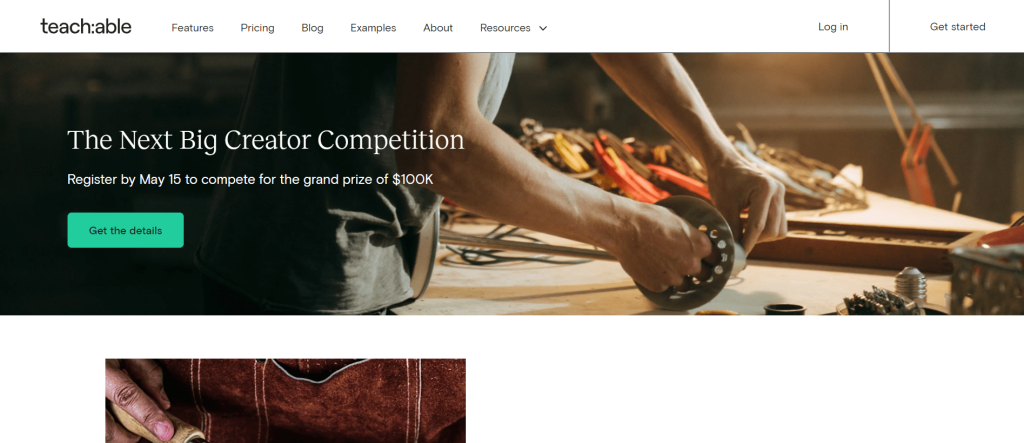 The platform allows you to integrate with other applications to make the product you always aspire to. You can even track the student's sales and progress using the dashboards.
Teachable is the most secure platform as it has a 24/7 monitoring system to protect the system from any threat. You can even integrate the channel with a third-party survey generator to track the performance of your course.
Key Features:
Work with payment partners that are PCI Level-1
2084-bit SSL certification for safe login
Allows to accept over 130+ currencies
Choose your pricing
Gather user experience with feedback forms.
Allows to make money with affiliate marketing
Pricing: The basic monthly plan starts at $39/month and goes up to $119/month. You can even choose yearly billing to get a discount on the monthly plans.
Note: If you want to know more about Thinkific and Teachable, check our Thinkific vs Teachable comparison here.
4. TalentLMS Overview
Whichever course you are selling, you will always get a "Yes" when you design it TalentLMS. The platform is robust and more interactive as it supports xAPI, SCORM, and cmi5 files.
Offering the most excellent flexibility in terms of the website's design as you can use HTML, CSS, and Javascript to add further color variants. Talking about the platform's interface, it is easy to use and enables you to restrict the control of another user by setting up the roles and permission.
Furthermore, to make your life easier, the platform allows you to automate your day-to-day activities, such as sending emails, deactivating the account of inactive users, meeting the deadline, issuing notifications, and a lot more.
Key Features:
Easy to use
Track the process of training in real time.
Create various sub-accounts via one-main account.
Creates a learning path and organizes the course into the group.
Automate tasks like sending e-mails, setting expiration dates
Pricing: TalentLMS offers its starter pack at $59/month. The most popular package is Plus which costs $249/month.
5. SAP Litmos Overview
Another popular LMS is SAP Litmos. SAP has been a renowned company in information technology for over 50 years. The application has been used by over 30 million users across 150 countries, and it supports more than 35 languages.
The platform is known for its quality training programs around the globe. The platform uses a blend of teaching aids to assist the students. It includes assessment, gamification of the task, and videos. Further, if we talk about the website's user interface, it is simple and self-explanatory.
You even get a notification of all the activity you do on the platform, which helps you take corrective steps to be on the right path again. Lastly, the platform works quite efficiently on mobile as well.
Key Features:
Help in automation of tasks.
Personalized learning path in a logical way.
Allows collaboration of various departments.
The cloud-based solution unifies other learning channels.
Allows you to schedule training sessions via Instructor-led Training
Pricing: You need to request them to send you a quotation about the price since they have not been mentioned on the website.
6. Kajabi Overview
Kajabi is an online content creating and selling channel. It has more than 100,000+ successfully built businesses and over 300,000+ products, and these numbers are a clear indication of the channel's popularity.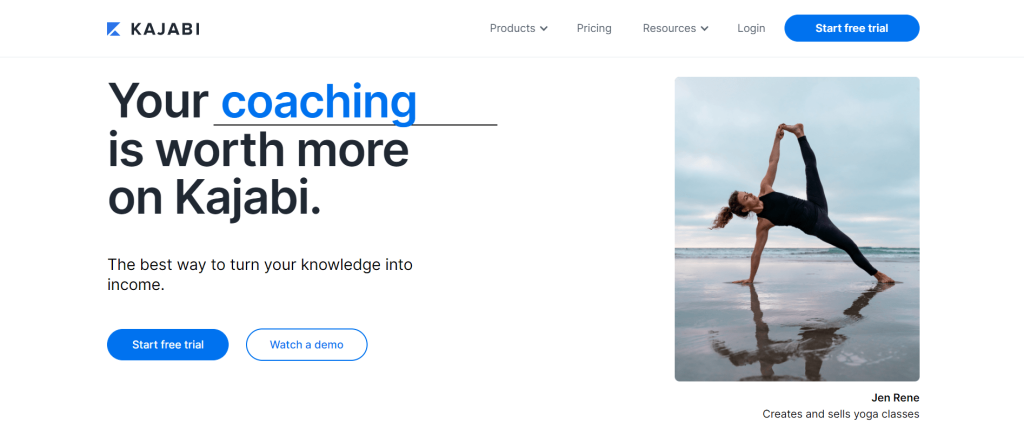 With Kajabi, you can create any course and monetize it to earn money. The platform is mobile-friendly, and users can access it from anywhere without any password. The platform is efficient as it integrates with CRM, emails, analytics, and other channels.
Lastly, the platform is cheaper than other platforms and offers a wide range of services in one place.
Key Features:
Enable you to set up a business.
East integration with other channels.
Access the complete analytics of the growth.
Integrated with Payal and Stripe for payments.
Sell all tye if digital products like photos, videos, e-books, and courses.
Pricing: You can start with as low as $119/month. You can also choose the growth plan, with $159.month. It is the most popular option. If you go for yearly billing, you can get further discounts on this pricing.
7. Udemy Business Overview
The last place on our list goes to Udemy Business. Udemy has a huge market for selling your course, and the platform has over 14.000 courses in 14 languages. Udemy allows the organization to create, evaluate, and assign courses to the organization's employees.
The platform allows the creation of podcasts, videos, courses, and any other types of content to help the employees. You even have the right to change and customize the website as per your need.
Key Features:
Ability to access from anywhere.
Provides insights about the users.
24/7 monitoring and customer support team
Allows integration with other applications within seconds.
Pricing: You need to request them for the quotation.
8. Simplero Overview
Simplero is an LMS that puts all your online course tools under one roof. It offers all the tools you need to run your online business to spend more time making a significant relationship with your customer.
Simplero helps you to create online courses, manage affiliate programs, send emails, and automate. On Simplero, you can run your online business in one place.
Key Features:
It can integrate videos, eBooks, and audio files on the course builder.
You can create a sale funnel.
A website builder is included in it.
Pricing: The pricing plan of Simplero starts at $70.80 per month at goes up to $298.80 per month.
9. Tovutu LMS Overview
Tovutu LMS is the best platform where you can create and spread online learning experiences. This software will help you to create an e-learning platform where you can create lessons and courses to guarantee a linear learning program with complete assessment for your students. If you are new to Tovutu LMS, you will get coaching support that will help you to get started.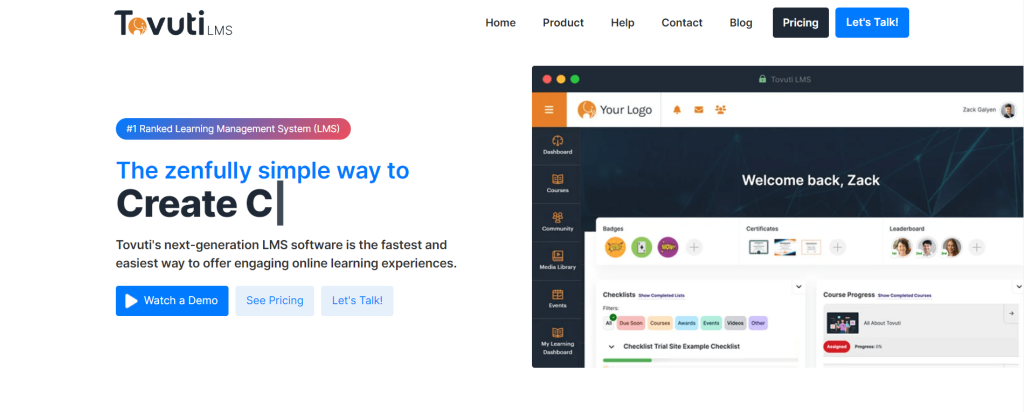 Tovutu LMS offers a tutorial library for experienced and new users. Additionally, you will get full access to professional services, which will increase the usage of this platform. It comes with Zapier integration and a single signal, open API to raise communication across platforms.
Key Features:
Course Authoring
Dual Factor Authentication
Virtual Instructor-Led Training
Mobile Responsive
Hybrid Sessions
PowerPoint Importer
Payment Gateway
Courses & Subscriptions
SOC2 Certification
Pricing: The pricing plan of Tovutu LMS starts at $775 per month and goes up to $1925 per month.
10. Podia
Podia is an online product and content-selling platform. It allows you to sell online lectures, courses, and various digital products. Moreover, one can also monetize webinars and communities, sell subscriptions, and much more.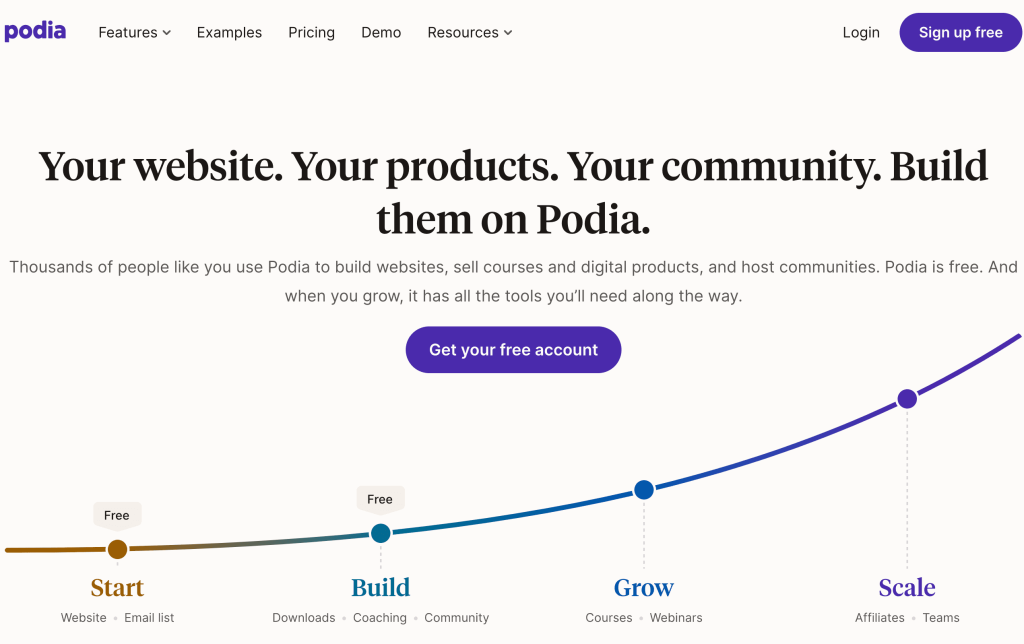 Podia is an all-in-one customer-centric platform with a user-friendly interface where you can host and deliver your content professionally, sell them, and accept payments. Unlike other platforms, Podia allows you complete control over student data, pricing, and refund policy.
Key Features:
Online course builder
Easy website builder and hosting service
Helps in networking communities and webinars
Affiliate marketing
Bulk email and sms marketing
User-friendly interface
14 days free trial
Pricing:
Podia has three different plans you can choose according to your needs.
Podia has a free plan($0/month). Mover plan that costs $33/month if billed annually. And the Shaker plan is a comprehensive plan that costs around $75/month and is billed annually.
Related Reads:
Final Thoughts: Learnworlds Alternatives (2023)
Online Courses have become more popular than ever. The changing scenario has disrupted classroom learning and has forced us to stay at home. This has proved like a "Blessing in Disguise" for the online Ed-Tech industry. COVID-19 has impacted the sale of online courses drastically.
Thus, having a tool that helps you make the best online course has become necessary. All the above alternatives are unique in one or the other way! You can go with any of them as they will help you make and manage your online courses in the best possible way.
Our recommendation for you is LearnDash, as it offers the maximum flexibility in terms of payment methods you can provide to the customers. At the same time, you can make your course more interactive with the quizzing option available on the platform.
You should also keep your budget and usage in mind while selecting any Learnworlds alternative.
Last but not least, we have tried to cover every alternative of Leanworlds WordPress plugin. We hope that this article helped you make making a decision! Which is the best plugin is best according to you? Leave your comment in the comment section!