Looking for 16+ Best Food Bloggers to follow in 2023? You have landed at the right place. Food bloggers and blogs are one of the most popular searches in the Google search engine, and it's no surprise that with the rise of multiple food events and commercial shows over the years, food blogging has become a popular career today.
Honestly, the internet is flooded with famous food bloggers to follow. Some may have started their passion for cooking and creativity, while others may just follow the trend.
Simply put, food bloggers are food enthusiasts who experiment with different styles of food known to be secretive and ¯popular. They add the whole making sequence in the respective channels they have to communicate with their audience.
If you are a food enthusiast looking for inspiration to follow famous food bloggers, you've landed on the right page. We've compiled 16+ Best food bloggers for you to follow in 2023 and get inspired by them.
16+ Best Food Bloggers to Follow (2023): In a Nutshell
We could understand that this overview is for you if you aren't an avid reader to go through the entire article. The below-mentioned table will give you a quick sneak peek at famous food bloggers and what they are good at!
| | | |
| --- | --- | --- |
| Sr. No. | Food blogger | Best known for! |
| 1. | A brown table | Indo-American food |
| 2. | Betty Liu | Storytelling photography blogger |
| 3. | Cookie and kate | Vegetarian wholesome foods |
| 4. | Chocolate covered kate | Cookies, desserts and chocolate bakings |
| 5. | 101 cookbooks | Natural vegan blog |
| 6. | Pitch of yum, Lindsay | Blogger and tutor of natural foods |
| 7. | Budget bytes | Healthy food recipes under budget |
| 8. | Serious eats | Scientifical approach to everyday foods |
| 9. | Smitten kitchen | Famous for international cuisines |
| 10. | Mark Bittman | Legend in cooking industry |
| 11. | Love and lemons | Vegan blog who strives to reduce meat consumption |
| 12. | Food 52 | Community Blogging |
| 13. | Minimalist baker | Minimal ingredients with super fast cooking |
| 14. | Balanced bites | Natural spices and a healthy food blogger |
| 15. | My name is yeh | Desserts, baking and travel blogger |
| 16. | Southern Soufflé | Southern food and biscuits |
Here, you are ready to read the whole article; without any further due, we will present each of them to you. While some are good at cooking, some may be good at taking what they've cooked. Find out what they are good at by sticking to the end.
1. A Brown Table
This blog belongs to an Indo-American food enthusiast whose roots are in India. His dishes are rich in style and confronting at the same time. With a touch of warmth in storytelling, he is famously known for introducing secretive Indian flavors.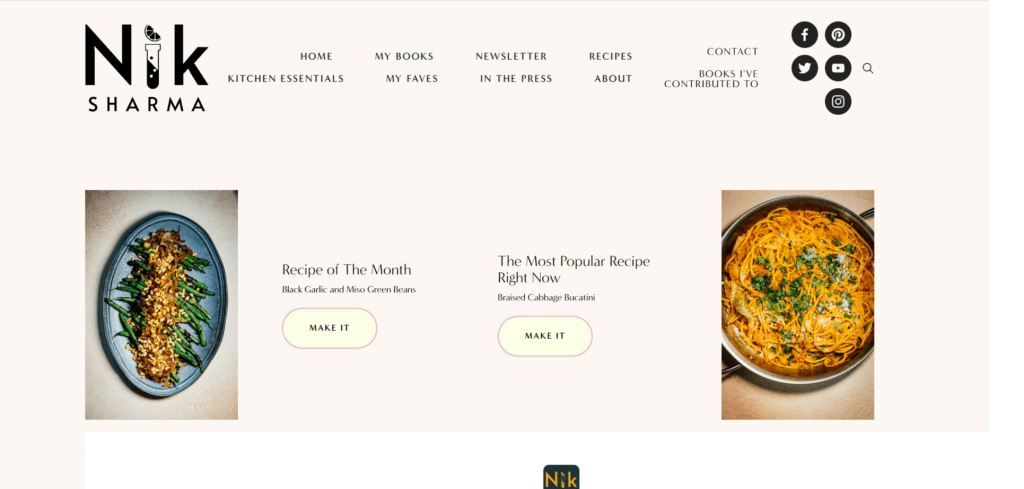 Nick's blog consists of different cooking recipes along with books to read and newsletters to follow. Before unleashing his passion for cooking, he was a molecular biologist, and very soon, he became famous for his cookbook editions. He even has a YouTube channel where you can explore his filmography touch of cooking style.
2. Betty Liu
Betty Liu is an incredible food photographer with a unique storytelling sense in her blog. Her website looks just beautiful, and that's what makes you connect with her in an instant. Although she's a professional photographer in Boston and grown in California, her inspiration for cooking comes from her parents, who both originate from china.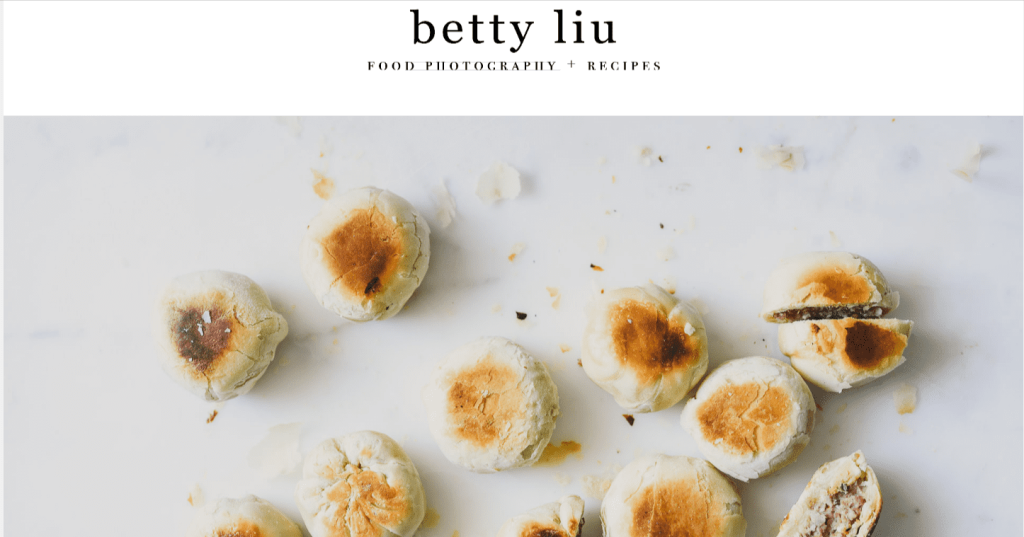 Her special edition, "my shanghai," is a book of her expertise with some of the famous cuisines and recipes of china. Her blog posts consist of various authentic age-old recipes from shanghai that her mother teaches. Even though all her flavors are specially made by her mother and cannot be found in the market, she'll explain every recipe in detail in her blogs for you to get inspired and try on your own.
Her visual storytelling is remarkable in blogs and will hook you to try at least one of her flavors.
3. Cookie and kate
Cookie and Kate is an incredible food blogger that you must add to your bookmark list if you are a vegetarian food lover. All her cooks are vegetarian because she believes in eating good healthy, and wholesome foods. She belongs to the Kansas state of North America and explores all kinds of foods, from breakfast to dessert.
You might wonder what she could explore in vegetarian, but if you look at her website, she has one of the most comprehensive lists of recipes, unlike other food bloggers. She is also famously known for seasonal cooking, where she loves to cook and film different natures of foods that are limited to peculiar seasons.
If you are a food enthusiast who loves to learn various dishes, there are courses available on her blog which are free to learn. Also, her cuisines are mostly Asian, Italian, Mexican, and Indian.
4. Chocolate covered Katie
If you are a chocolate lover and also fond of healthy desserts, this blog can be your best friend to follow very often. Chocolate-covered Katie is one of America's famously recognized top 25 food websites. She has also been featured in many American shows like Fox, CNN, The Today Show, etc.

The notion that desserts are unhealthy is removed by Katie, all thanks to her cooking. Her sole mission to promote healthy desserts became successful with her cooking style. Her healthy recipes include brownies, breakfasts, cookies, bars, meals, and others. Over 8 million people visit her website every month, an incredible number to consider for a famous food blogger to follow.
Katie has a cookbook to buy and read for people interested in her recipes.
5. 101 cookbooks
101 cookbooks is also a vegan blog where the owner and creator, Heidi Swanson, explores various vegetarian foods that are available all-natural in nature. After being fed up with the repetition of cooking the same recipes for over 20 years, she decided to start a blog and share all the experiences she got with vegetarian food enthusiasts like her.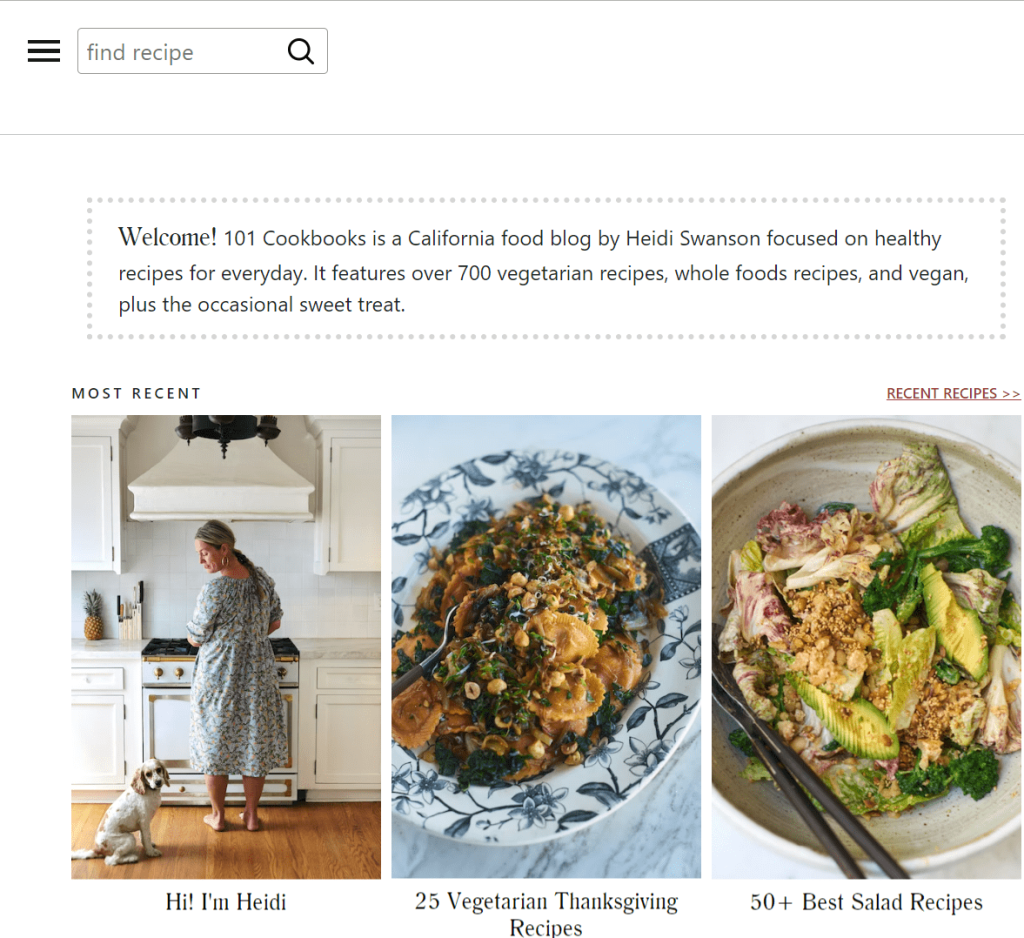 Her blog primarily focuses on healthy recipes that any beginner can cook as an everyday supplement. Featuring more than 700 vegetarian and instant pot recipes, she is widely known over the internet. After collecting numerous cookbooks over the years, she began blogging in 2003. Her recent super hit 'supernatural simple' cookbook is available on amazon.
She also recently began to travel to different parts of the world to explore more about traditional foods. If you are a food enthusiast who loves to look at various cultural food, following her is the best thing you can do to try out some of her dishes.
6. Pinch of yum, Lindsay
From a 4th-grade teacher to becoming of the most successful food bloggers, Lindsay's journey in food blogging is exceptionally inspirational, all you need for today. Being a full-time blogger, she shares recipes that are very natural and genuine for everyday consumption.
Her premium membership, foobloggerpro, will teach you to start, grow and monetize a food blog from scratch. With a team of more than five members, she has been exploring teaching all about food blogging inside out. You can also access her podcast on this blog.
All aside, the reason to follow the pinch of yum is pretty simple. She makes amazing content with beautiful recipes for everyday life. All her practical ideas are simple to implement in your daily cooking, and most importantly, all her food recipes are healthy to eat.
7. Budget bytes
Running by Beth, this blog is simple yet aesthetic to consider and follow. Budget bytes are everything for you if you love to discover different types of food that are both healthy and high in protein. Beth cooks delicious and satisfying food that you can access some of her recipes for free, and meanwhile, some come at a decently affordable price.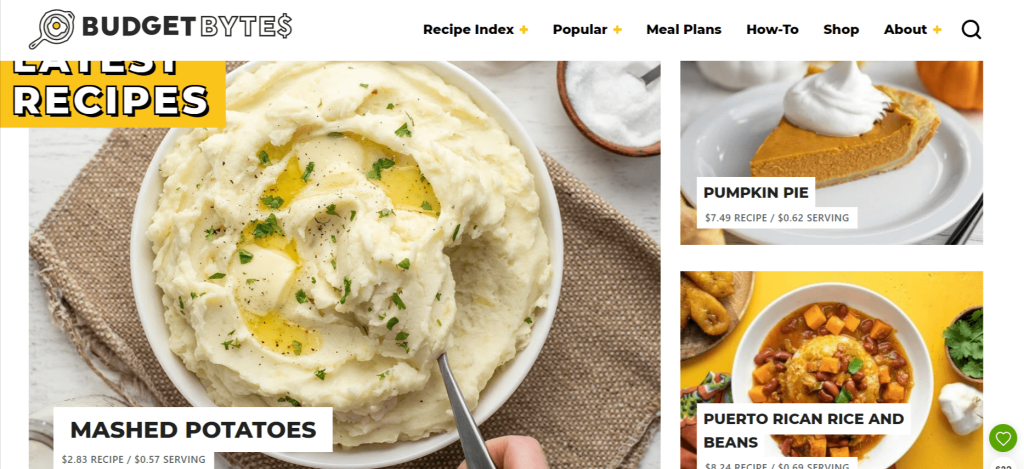 Budget bytes have all the exotic foods and delicious recipes under your budget. There are more than 1000 varieties of recipes which include both veg and non-veg. She is also an expert in suggesting holiday recipes that are quick and easy to make. She even supplies some kitchen tools on her website that is affordable for you.
8. Serious eats
The scientific approach to cooking is the unique USP of serious eats, run by a group of California people who are both creative authors and food enthusiasts. This award-winning website began its journey in 2006 as a leading resource for food and drink.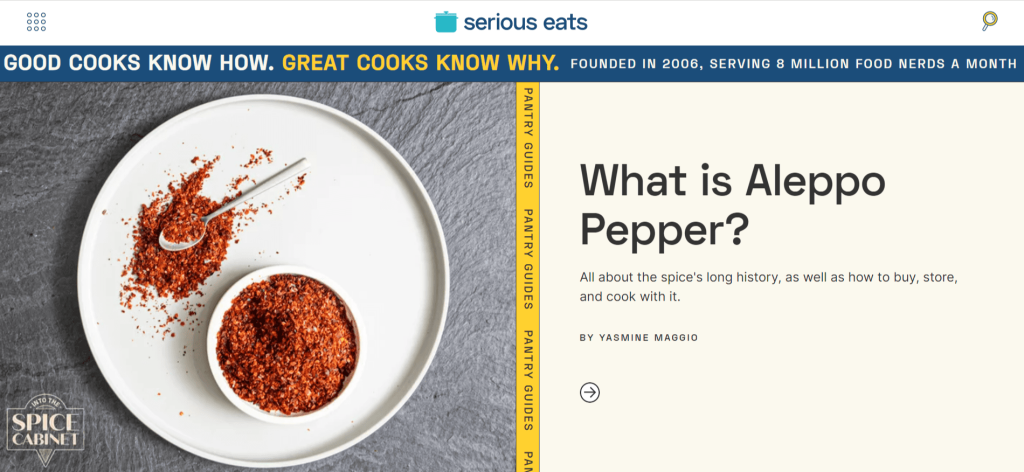 The authors experiment with cooking all the coming-age food and beverages that are tasty and work well in real-time. Their recipes are unlike any other food blogger's. All the blogs are content-rich and contain easy recipes for you to try. Also, there's always an interpretation of science for every cooking technique they involve, and that's the best part. Learning how to cook a unique dish that's both healthy and has scientific facts behind it.
The website has all the world-famous cuisines and their recipes carefully curated by different authors. They also sell different kitchen equipment that can be helpful for your everyday cooking.
9. Smitten kitchen
Deb Perelman is the owner of this exclusively beautiful blog comprising more than 800 recipes with famously known worldwide cuisines. Her delicious recipes contain all three combinations of fruits, vegetables, and meat.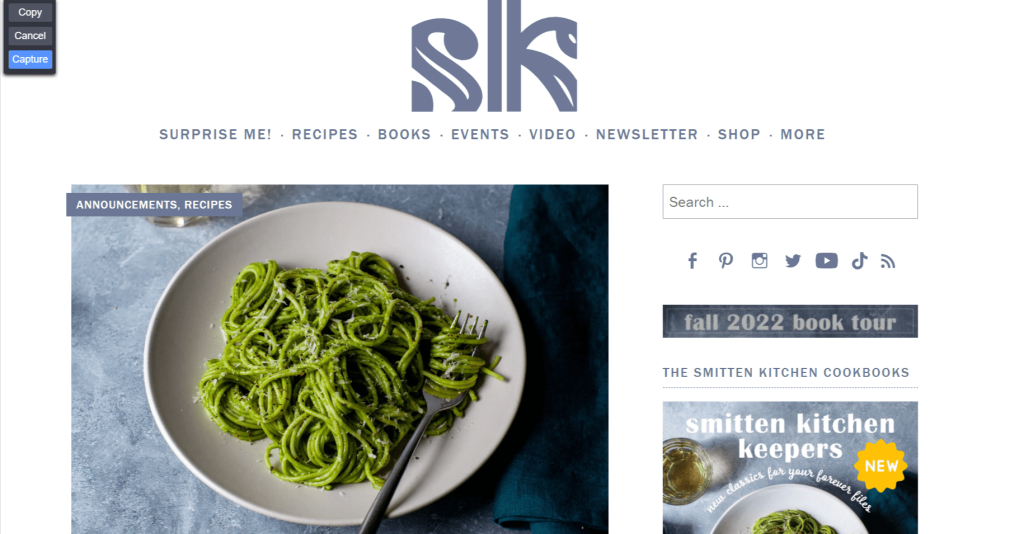 Other than the exclusive content she has been creating. Her excellent food photography skills made the website one of the fast-growing blogs in the industry. Deb curates numerous cookbooks, and there's also a newsletter to subscribe to for all the updates on her releases.
Without consisting of numerous ingredients, Deb's recipes are simple and readily available anywhere. She also offers to tutor you if you want to learn how to cook simple and healthy food.
10. Mark Bittman
Being one of the legends in the food industry, Mark Bittman has been writing about food for more than 30 years. He associated with almost all American tv shows and wrote more than 20 books named 'how to cook everything, 'eat vegan,' and 'including food matters: VB6'. Some even became the #1 New york Times' best-selling books within a short time.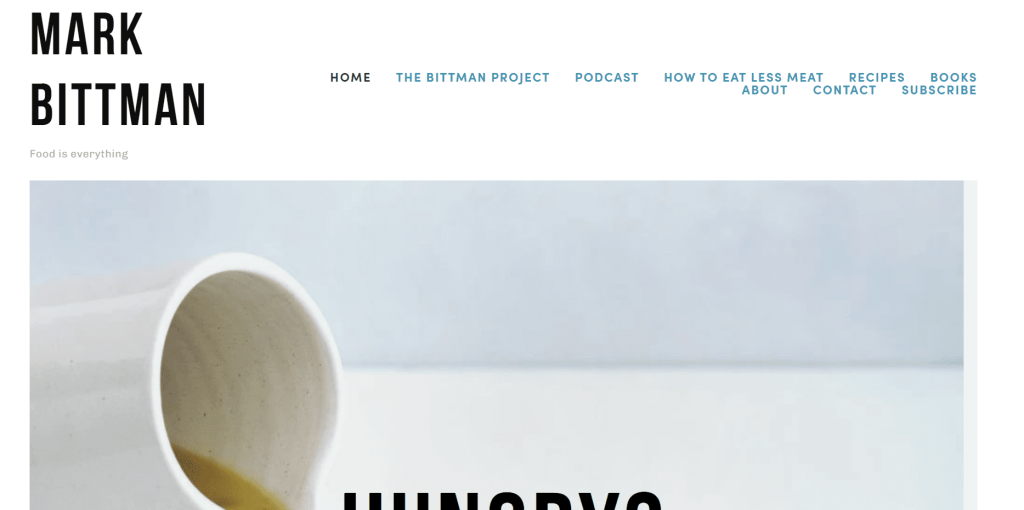 He is the man who knows almost everything about food, what to eat, when and how to prefer according to your health. If you pursue food as a career, this man is a god for you to follow consistently to learn all the insights of food and its industry.
He works predominantly to influence people to consume less meat by adapting his techniques, and he also runs a podcast explaining various consumption of food and beverages to be healthy.
11. Love and lemons
Love and lemons is a vegetarian blog that is super cool to follow. This food blog is established by Jeanine and consists of classic vegetarian recipes. She's versatile in cooking veg recipes and exhibits pride in not consuming meat in every meal.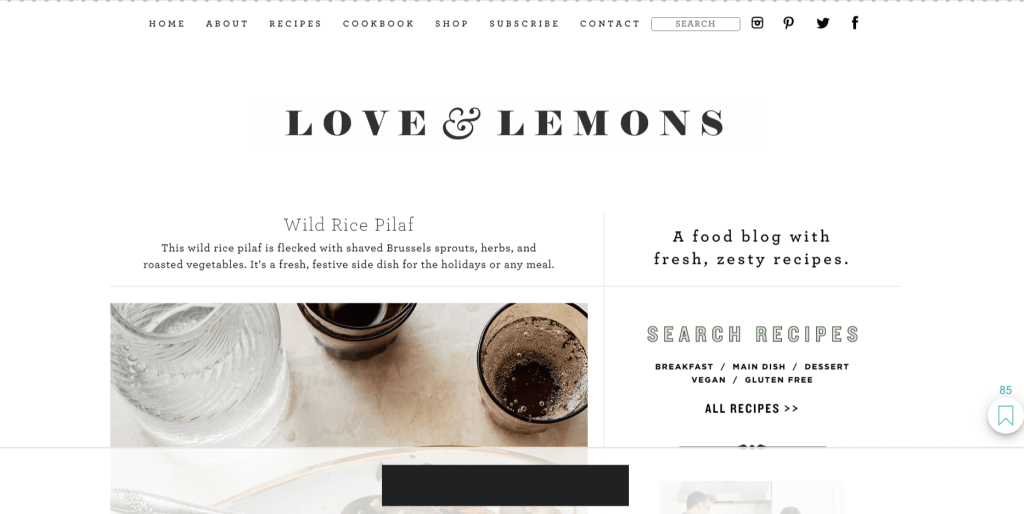 Love and lemons blog will be a perfect fit for you if you are in search of all the healthy vegetarian recipes for breakfast, lunch, and dinner. With an increase in sugar consumption at the end of every meal, she created sugar-free desserts for people to stay fit and healthy.
Her improvisions of gluten-free variations are widely known among her audiences, and she also publishes vegan alternatives and vegan desserts in her blogs. This blog was also featured in many publications and notable magazines such as Oprah, SELF magazine, Food,
and Wine, etc.
12. Food 52
Started as a community blogging around ten years ago to connect people to make friends and exchange food styles, recipes, and tips. This blog has more than 10 million monthly visitors and is extensively known worldwide. Among all the other increasingly successful food blogs, this is best known for cooking all 52 weeks of the year.

Being a community blogger, this website receives more than thousands of recipes that are famously known in different countries. However, the editors of this blog manually cook only some of the well-known recipes they receive and publish. This blog also has an interesting shop from its reader's perspective.
Food 52 cookbooks are new your times best sellers, and some of their articles won several awards. If you are a community learner with some of the best cooking ideas or recipes known from your origin, submit to them on their blog.
13. Minimalist baker
Like the name says, Minimalist baker is well known over the internet for its minimum requirements to prepare quick and healthy foods. Most of them take less than 30 minutes to prepare and require less than ten ingredients. This website is vegetarian, and if you aren't an admirer of veg much, there are plenty of fish in the sea to surf.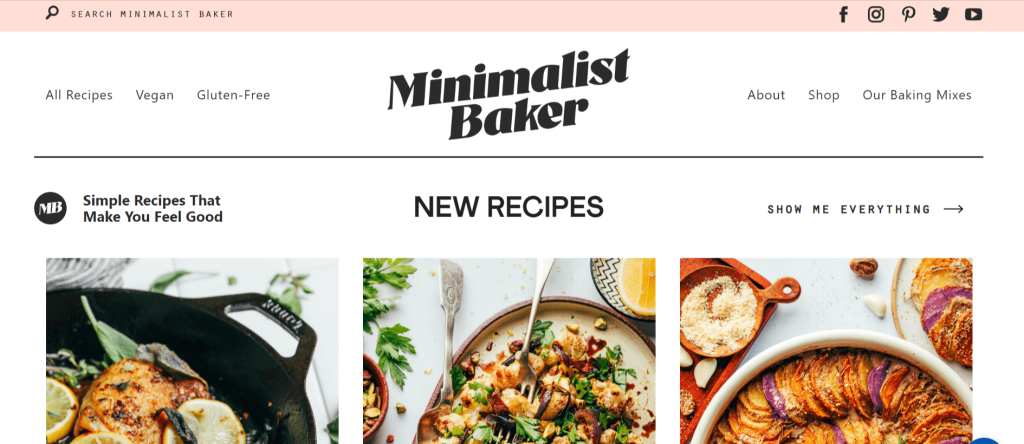 Dana Shultz is the blogger behind this, and she's an incredible recipe maker who learned to be quick in her profession. The bright of knowing this website is that her recipes are also gluten-free. The idea of simple and fast cooking is very sustainable for travellers and diet freaks, among others.
This blog is more like a resource where you can find free tools to create your blog and do business out of it.
14. Balanced bites
Balanced bites are known for natural ingredient consumption for your everyday life. This website can be differentiated into three categories. The first is their delicious recipes, and the other is the meal delivery service and spice blends. Balanced bites are the best way to fix your natural way of diet.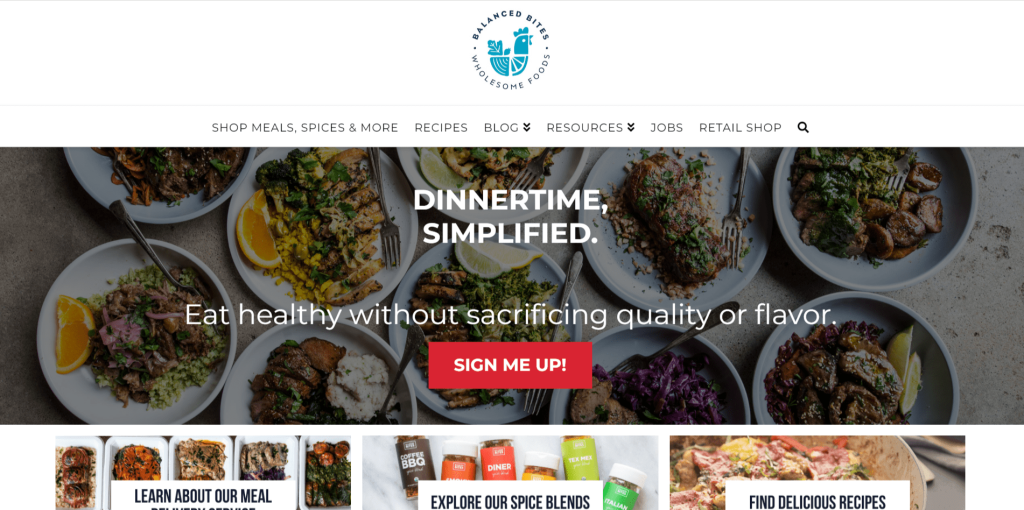 Their meal delivery service is nothing but a supply chain of food delivery to your doorstep. Any nutritional meal will be quickly delivered, so you can eat it just by heating it. They have a newsletter to subscribe to for food updates and a podcast to listen to conversational food recipes.
Balanced diets are famously known for carefully curated spices with only natural ingredients.
15. My name is yeh
Yeh, or Molly is not a traditional recipe maker; unlike others, she is on her adventures making beautiful desserts and loves to bake. She lived on a farm near the Minnesota border and moved from Brooklyn, New york.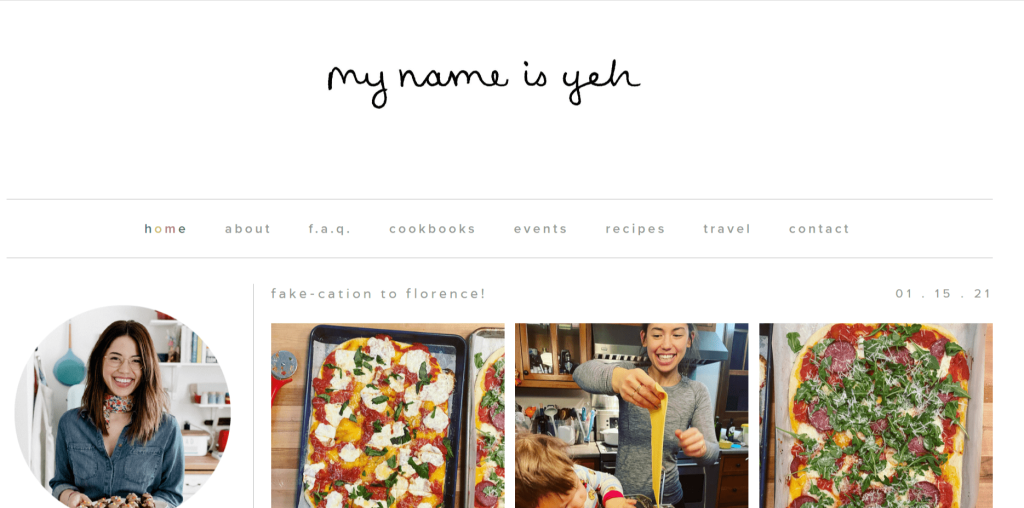 Her food is extremely influenced by her Chinese and Jewish, and she loves experimenting with different cultural foods that are age-old but antique. Molly likes to look around and travel for a while, and her travel food blogging is also why the page has grown tremendously over the years. Her cakes top the list for you to consider, and you'll be settled in an amazing impression just by looking at her website.
Besides her apparent inspiration through the website and cookbooks, she appeared in many magazines, tv networks, and tv shows.
16. Southern Soufflé
Erika Council is the person behind the famous and award-winning website Southern Soufflé. Her passion for creating new recipes, writing food blogs, and photography has made her renowned in food blogging.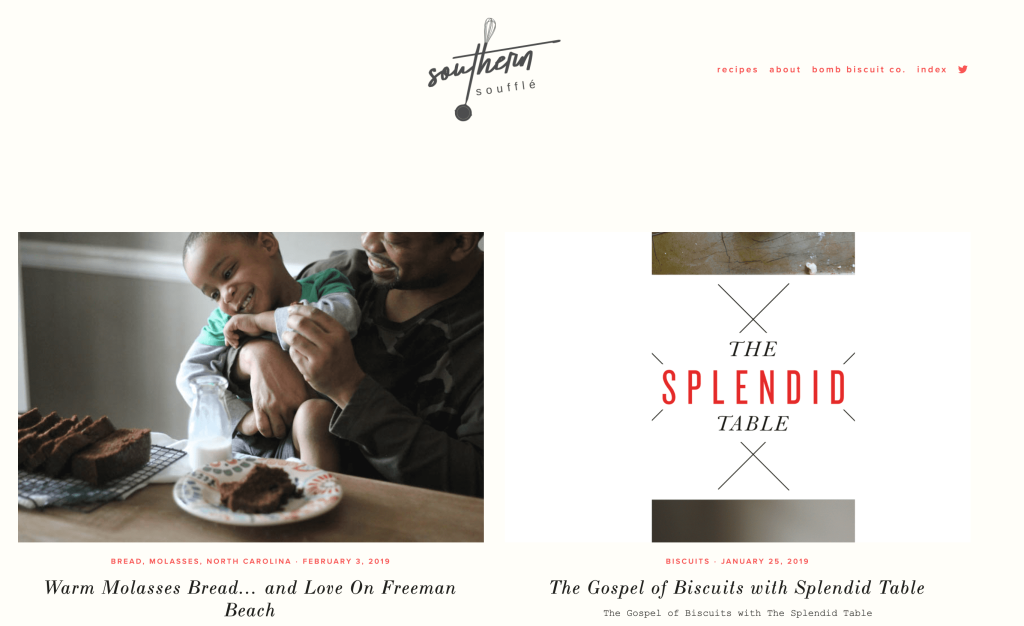 She is an expert in southern delicacies and owns the famous biscuit company Bomb Biscuits, Atlanta. She has even written and contributed to various cookbooks.
Erika's work has been featured in many magazines and articles, to name a few: Sauver, The New York Times, Atlanta Magazine, The Kitchn, and Food and Wine Magazine. She also creates and develops recipes for Nutella, Reynolds Wrap, and KitchenAid.
Related Read:
Final Thoughts on Food Bloggers to Follow (2023)
There you go, some of the best food bloggers to learn, inspire and follow to experience some of the marvelous dishes you are undoubtedly unfamiliar with till now. We advise you to follow bloggers in your interest and get familiar with some of their simple dishes in the beginning to improve your exploration of various kinds of cuisines and desserts. Adios until next time!
FAQs- Food Bloggers To Follow
Who is the most famous food blogger of all time? 
Considering the fame among their fans, the all-time famous food bloggers are Mark Bittman, Kevin Eats, Richa Hingle, Dave Arnold, and David Chang, some of the most famous food bloggers worldwide. 
Can anyone become a food blogger? 
With the help of the internet and your sense of creativity and passion for cooking, anyone can quickly become a famous food blogger.