Are you searching for an all-in-one platform to create & launch your course? You've landed on the right page because I have just the tool for you, and it is called Mighty Networks. I have explained all the aspects of this tool in this Mighty Networks review.
There are plenty of online course creation and membership builder platforms available on the market, and Mighty Networks is one of them. It is also an online community builder, which means you can build your own community on your website with this tool. But you might think, is this tool right for me?
I have brought you this unbiased Mighty Networks review to answer this question, and I have reviewed this tool based on its features, ease of use, and pricing. I will also tell you how you can get started with this tool. Stick to the end to find out if this tool is worth your time & money.
Let's get started.
Mighty Networks: In A Nutshell
Mighty Networks is an online community builder platform that helps you in building & managing an online community on your website. But this platform is much more than an online community builder because, with this platform, you can build online courses, live stream, run events, and more. You can create a group just like Facebook, except for the distractions, and you can also charge for your community.
In this private community, your members can connect with each other and discuss everything under your brand. You can also access features like a member directory, activity feed, quizzes, articles, events, polls, etc. They also give you access to marketing & sales tools to help you create sales pages to boost your sales.
Mighty Networks Features
Here I will explain all the features of Mighty Networks in detail.
1. Online Community Builder
As soon as you finish the signup process, you can access your online community portal on the Mighty Networks dashboard. Before accepting any members, you need to make a few changes there. You can make your community public, private, secret, or paid directly from the privacy settings. To make your community a brand, you can connect the website to a custom domain for free.
One of the best features of this community builder is that it allows you to create personalized content for your members. For that, there are two options available: Quick Posts and Articles. In Quick Posts, you can create short-form content whereas in Articles, you can create long-form content. It also lets you ask questions and create polls in the community.
2. Course Builder
The course builder of Mighty Networks is straightforward to use and understand. You can also customize the visual design of your courses with it. Mighty Networks' course builder is better than Podia's but not up to the level of Thinkific's and Teachable's course builders. The courses on Mighty Networks consist of lessons and sections. In the lessons, you can upload any type of multimedia.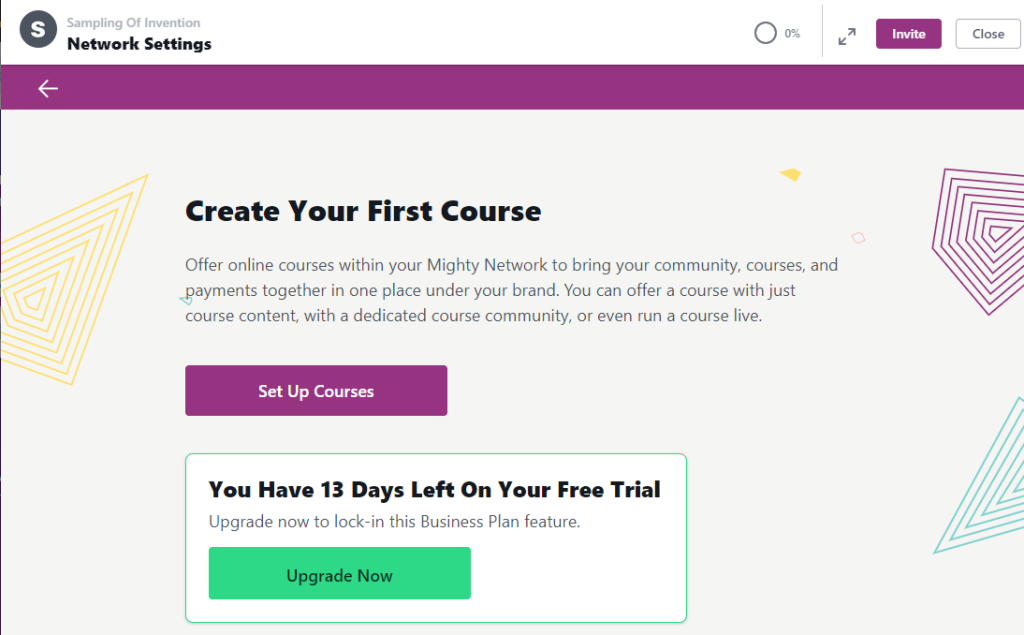 All the elements on the course builder are streamlined so that you can easily access any one of them. But you can not edit the order of the course, so you need to ensure that you're uploading the course in order. You also get the option to align images & videos to the left, centre, or right. You can also change the name of the elements so that they go along with your brand name really well.
3. Course Delivery
After creating the course, you need to decide how you're going to deliver your course to your students. Mighty Networks gives you all the tools to deliver your course seamlessly, interact with your students, and more.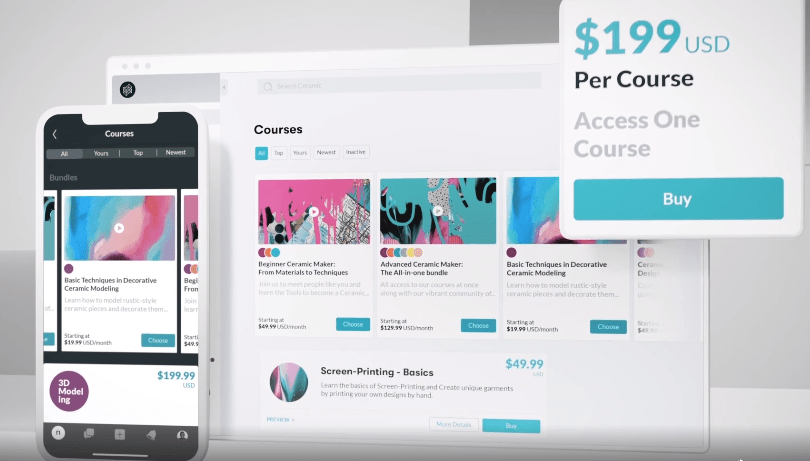 Drip Content Feature
Drip content or Drip schedule feature allows you to set up a timer on when to release certain parts of your course. With this feature, you can ensure that your students don't skim through your course to finish it. There are two methods in the drip schedule feature. In the first method, you can release the lessons & sections over some time, and in the second method, you can release the next lesson when the student finishes the previous lesson.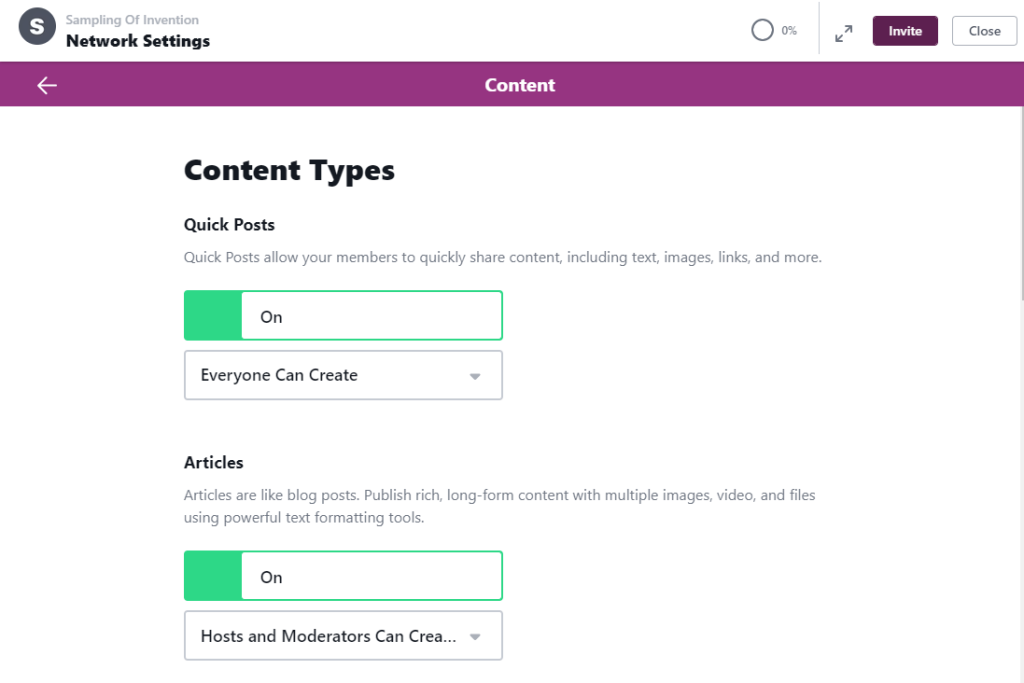 Live Classes Feature
You can host live classes on Mighty Networks with its Zoom integration. With live classes, you can create an effective learning environment and keep in touch with your students. You don't need any coding skills to use this feature. With the live classes feature, you can customize the date & time, set whether the live class is a meeting or webinar, set a password, etc.
| | |
| --- | --- |
| Sr.No. | Live Class Features |
| 1. | Activity Feed |
| 2. | Member Chat |
| 3. | Marketing Features |
| 4. | Website Builder |
| 5. | Course Bundles |
| 6. | Ambassadors Program |
| 7. | Sales Tracker |
| 8. | Email Marketing |
1. Activity Feed
The activity feed feature is for student discussions. Using this feature, students can connect with each other and discuss topics with their fellow peers. As a teacher or student, you can create posts, and these posts can include texts, videos, photos, events, links, or polls. Like Facebook posts, you can also like the posts and leave replies with texts or multimedia.
2. Member Chat
It is an in-built messaging feature where you can send messages to your students directly from here. Creators use this feature to answer their students' queries and guide them through their courses. Students can also talk to each other using this feature.
3. Marketing Features
After finishing up your course, the following action of yours would be to market them. Mighty Networks offers marketing features like email marketing, a sales tracker, and course bundles. With its website builder, you can also design your website to make it look more attractive.
4. Website Builder
Mighty Networks offers only two templates for your website design, which is insufficient. Learning to use all the website builder tools also takes a lot of effort. But once you get the hang of it, you can easily customize the templates according to your brand. You can also create multiple pages of your website, and once you finish designing your website, you can connect it to a custom domain.
5. Course Bundles
Course bundles are a great way to sell multiple courses at once and earn more revenue than usual. You can sell these bundles at discounted prices so that your students can easily purchase them. You can sell these bundles at once or in a subscription model. With Mighty Networks, you can make customizations like naming the bundle, writing a sales pitch, uploading cover images, and more in your course bundles.
6. Ambassadors Program
Mighty Network does not offer an affiliate program, but it does offer an Ambassadors program. In this program, people can promote your courses, and in return, they will get discounts on courses, souvenirs like bags & mugs, and earn bronze, silver, and gold badges. You can not give them any monetary benefits in this program.
7. Sales Tracker
With Mighty Network's sales tracker, you can track the revenue generated by selling your courses. This feature can help you in figuring out which product needs your attention to boost its sales. It also shows you how much fees you need to pay out to payment methods and Mighty Networks. You can also see how many students are past due on payments.
8. Email Marketing
Mighty Networks offers an in-built email marketing tool where you can send standardized emails to up to 100 people. You can use this feature to invite your prospects to join your school or existing students to come back to your school. The email marketing features are minimal, so you should integrate your website with third-party tools like ActiveCampaign or MailChimp.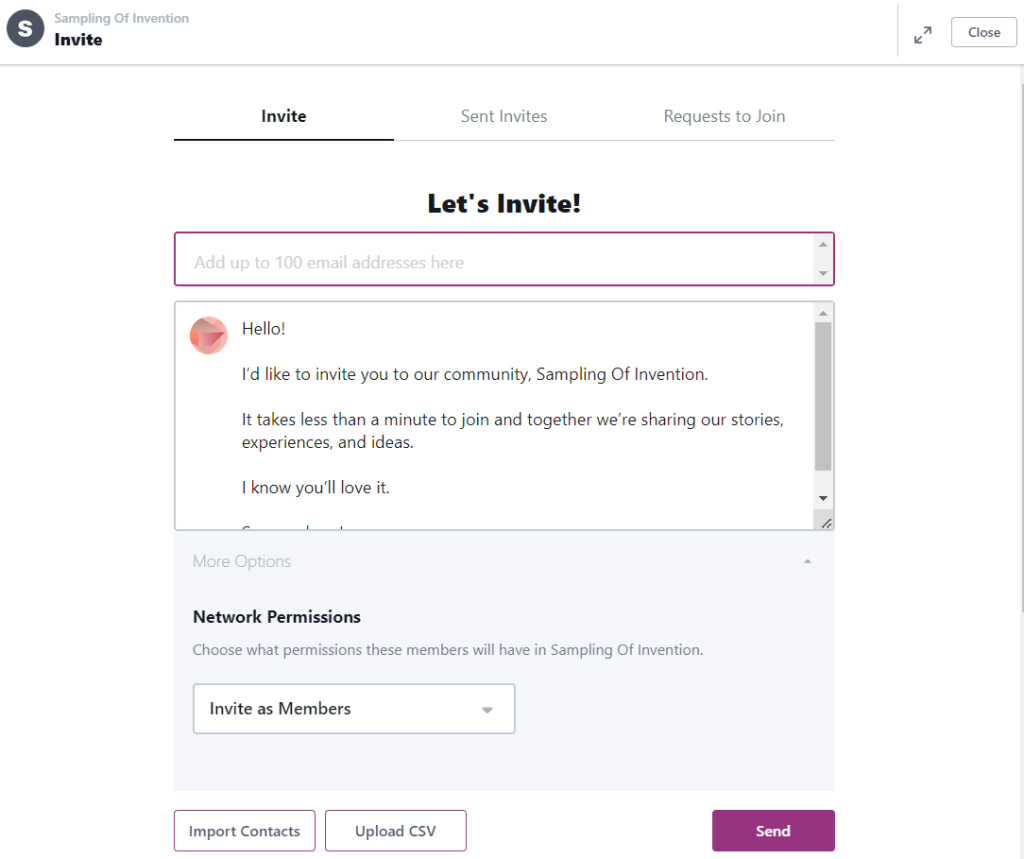 4. Mobile App
Mighty Networks also offers a mobile app for android and iOS. Your students can directly take your courses and learn from them on the app. You can also white-label the mobile app means adding your brand name to the mobile app. This app is best for those who want to take courses on the go.
Mighty Networks Customer Support
The customer support of Mighty Networks is reasonably good but not up to the mark. This is because Mighty Networks does not offer any email support or live chat support to their users. It takes them a day to reply to customer support tickets, so their response time is also not good.
But you can find answers to most of your queries in their help section. You can easily read all the articles and follow the process, as shown in the screenshots. You can contact them through phone calls and support tickets.
Mighty Networks Pricing
Mighty Networks offers three pricing plans, and they are: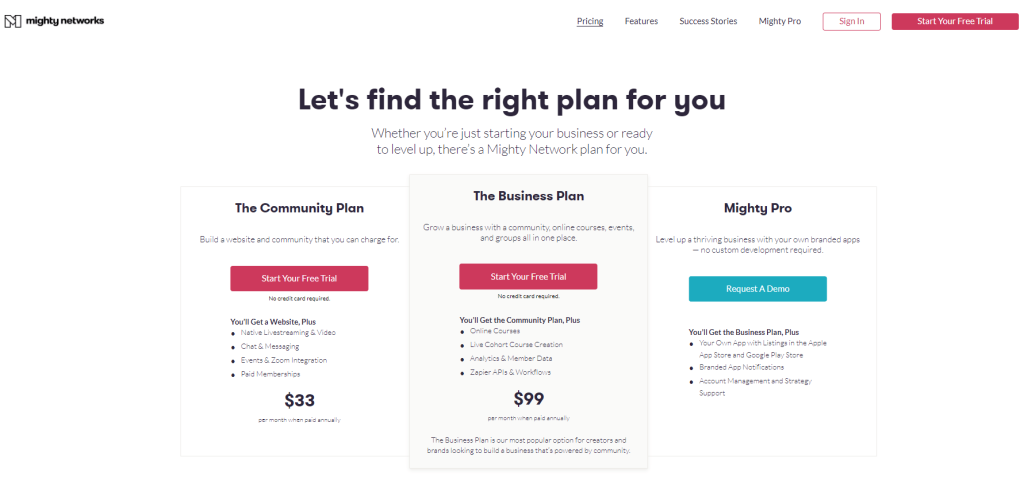 1. The Community Plan
The community plan costs $39/mo or $33/mo annually. With this plan, you can quickly build a website & community and charge for it. With this plan, you will get a website, native live streaming & video, events & Zoom integration, chat & messaging, and paid memberships. You need to pay 3% transaction fees to the Stripe payment method.
2. The Business Plan
The business plan costs $119/mo or $99/mo annually. With this plan, you can grow a business with the community, online courses, groups, and events all in one place. This plan includes all the features of the community plan. With this plan, you will get online courses, analytics & member data, live cohort course creation, and Zapier APIs & Workflows. The transaction fees of payment methods are 2% with this plan.
3. Mighty Pro
You need to request a demo to get the mighty pro plan quotation. It is a custom plan which will be built according to your needs. This plan is best for those businesses that want their own branded mobile apps. This plan includes all the features of the business plan. You will also get features like branded app notifications, your own app with listings on Google Play Store and App Store, and account management & strategy support.
How To Get Started With Mighty Networks Free Trial?
To help you get to know more about the platform, Mighty Networks offers a 14-day free trial that doesn't require you to share your credit card details. Follow this step-by-step guide to claim the Mighty Networks free trial.
Step #1: Visit the official website of Mighty Networks using this link. On the homepage, you will see the pricing option; click on it to see all the pricing plans of Mighty Networks.
Step #2: There are two pricing plans available on Mighty Networks. You can select any one of the plans to start your free trial with. Click on "Start Your Free Trial" to move to the next section.
Step #3: On the next page, you need to create your account using your name, email address, and password. After filling in all these details, you need to agree to their terms & conditions. Click on the Next button.
Step #4: To finish the account creation, you need to give a name to your Mighty Network. You can always change the name later; once you enter the name, click on the "Next" button.
Now you can use the tools of Mighty Networks for 14 days without paying a single penny.
Pros & Cons Of Mighty Network:
In this section, we have listed the pros & cons of Mighty Network. Let's have a look.
Pros:
Ability to create online courses
Compatible with Android and IOS devices
Helps you to create a subgroup
Ability to create polls, articles, and quick posts
Provide Slack integration for the community administration
The ability for the members to personalize notification
The community area has a modern and clean design out of the box
You can charge for access to course and community
Cons:
Charges transaction fees on all its pricing plan
Doesn't support Paypal
Limited design option
Related Read:
Final Verdict: Mighty Networks Review
Mighty Networks is a fantastic community builder platform that also allows you to create online courses & membership websites. Mighty Networks is definitely worth the hype if you think a community-based online course creation platform is best for you. The only issue with this platform is that it offers fewer features than other online creation platforms for the same price.
All-in-all, Mighty Networks can be a good option for you. If you want to know more about Mighty Networks, then you can always sign up for its free trial and take a test drive of this tool yourself. Let me know your thoughts on Mighty Networks in the comment section below.
FAQs On Mighty Networks
Does Mighty Network offer a free trial?
Yes, there is a 14-day free trial available on Mighty Network, for which you don't even have to give your credit card details to get the free trial. So you don't have to worry about cancelling it as well.
Does Mighty Network offer a refund?
No, they do not offer any refund. If you decide to terminate your subscription, you will not get any refund for it.
Is Mighty Network an alternative to Facebook groups?
Yes, Mighty Networks is a good alternative to Facebook groups. Because on famous social media platforms, they control the algorithm and the group members see according to that algorithm. It is also filled with lots of ads so anyone can easily get distracted. Whereas, in Mighty Network, you can create a private community with limited members and control what they see & discuss in the community.
Do I really need to create a Mighty Network community with my online course?
You don't need to create a Mighty Network community with your online course. However, it is always good to give a place to your students to discuss topics with each other in a private space so a Mighty Network community can be good to have.
How can I earn money with Mighty Network?
You can create an online course on Mighty Network and charge for it. You can also create a community and charge an entry-level fee to your visitors to give them access to the community. There are multiple ways to earn money with Mighty Network.
How many members can I add to Mighty Networks?
On my Mighty Network, you can have unlimited members on every tier.
Does Mighty Network offer any discount?
Mighty Networks doesn't offer any discount or coupon code, but you can get 2 months free on any of its annual plans.