Confused whether you should go for LearnWorlds or not? You are at the right place then, read this unbiased LearnWorlds Review and get a clear idea about LearnWorlds. It has proven to be one the most powerful course-building platforms. However, although it has all the exceptional features to build a course from scratch, it is better to go through a reliable review before investing in it. Unfortunately, finding an unbiased and truthful review on the internet can be challenging.
Hence, in this article, we decide to end your misery by providing you with an honest LearnWorlds review based on our experience. We will be covering all the essential details about LearnWorlds, including features, pricing, customer support, etc. In addition, this article will provide you with a step-by-step guide on how to build a course on LearnWorlds.
By the end of this article, you will have a clear picture of how LearnWorlds works and whether it is the correct course-building platform for you or not.
So, let us quickly dive into the details!
LearnWorlds Review: In a Nutshell
LearnWorlds is a robust course-building platform. Whether you want to create, sell or promote your course, LearnWorlds has it all. It provides you with a platform to develop courses from scratch as per your needs. You can upload videos and PDFs, create questionnaires and polls, and establish a personalized landing page for your course.
What makes LearnWorlds stand out is that it offers tools to create and sell courses as well as supports the marketing and showcasing of your courses. It enables you to create a brand and build a community.
Key Features – LearnWorlds Review
After going through the overview, you have a faint idea about the powerful tools that LearnWorlds offers. To study it in detail, let us check out the key highlights of LearnWorlds!
Offers integration with Zapier, ZenDesk, and other marketing tools
Several payment options for students
Social media integration helps in building a community
Customized digital certificates
Flexible course pathways
Add notes and highlights to improve engagement
Create multiple question banks and quizzes for a single course
Helps learners to expand their professional community through networking
User Interface
Initially, you might face an issue navigating through the LearnWorlds website as it is challenging to figure out even before accessing its dashboard. In addition, the operating system is advanced. But once you get used to it, you will have everything at your fingertips.
Hence, do not be overwhelmed by the challenges you face initially because, in time, you will realize LearnWorlds is the best platform for course building.
You can navigate through the LearnWorlds dashboard to understand each move has a textual and visual indicator. For example, you can check the number of current students for your course by opening the 'Active Learners' tab, and like that, gradually, you will get the hang of it.
How to Build a Course on LearnWorlds
After knowing the unique key elements and easy-to-use interface, let us see how you can build a course on LearnWorlds in some easy steps.
1. Create an outline of the course using the Contents section present on your dashboard
While researching, you should consider ideas about the sub-headings and secondary topics included in the course. And to align all those sub-headings create an outline so you have a proper layout of your course.
To begin with, assembling the content of your course, head to the 'Contents" section provided in your LearnWorlds dashboard. Then, create sections like Introduction followed by the contents covered in the first week of the course.
2. List down goals and set permissions for each section
Considering your goals and objectives for the course, list down all the necessary vital takeaways, the time of each section, and long tram and short term results. It is essential to decide what your audience will take away after finishing your course. After determining the goals, head to the 'Acess' section displayed on the dashboard.
As for setting permissions on the course, Learworlds liberates you to give specific access to each section of your course. Head to their Access tab has assigned alerts like draft, coming soon, and permissions like free and paid on the released units of the course.
3. Customize the course ingredients
The final important step is to create the material for your course. Again, it is essential to have high-quality material for your course. If you stick to a plan while creating the content, things will go much smoother.
Once you have decided on all the material for your course, add your content to the subheadings you created earlier. In addition, you can also edit your content sequence using the 'Edit' icon present in the top left corner of each subheading.
You can preview, add or delete the learning activities in each section using the drag and drop feature and reorganize them. Moreover, you can switch the positions of specific sections or remove them. The best part is saving all these changes and continuing your work whenever you want.
4. Create an entire E-learning website with LearnWorlds website builder
LearnWorlds not only provides you with a course building and selling platform, but you can also create your E-learning website. Using its incorporated Site-Builder, you can create a dynamic and engaging e-learning website without prior web development knowledge.
This feature will help you create a good interface for your school's storefront by attracting new users and increasing course enrollment. To start building an e-learning website, go to their side menu and click on the 'Site-Builder' options.
From Sign in/up forms to theme explorer to custom code, you can find all the essential tools to build a user-friendly and appealing e-learning website.
Intuitive Page Builder
LearnWorlds intuitive page builder offers a unique, superfast, block-based arrangement of your pages resulting in a mobile-friendly and good SEO ranking website.
The page builder is an inbuilt website creator that allows you to create an excellent online school that is pleasing to the eyes. It also saves you money, as you d not have to hire or pay any third-party page builder to create a website for you. This tool alone is sufficient to build a holistic front page for your online school.
On top of all this, Learworlds has a team of expert engineers who keep improving and updating their Page Builder to make it more efficient and user-friendly.
LearnWorlds Review: Community Tool
Each user has a personal account, and if the arrangement of the course permits user can exchange messages on a personal level with others because of the Community Tool. It also offers individual invite-only channels for restricted individuals, convenient for organizing a conversation between instructors or creating a study group for students.
Furthermore, LearnwWorlds also offers its user gamification and rewards to encourage interaction. All you have to do is turn on the gamification feature, and LearnWorlds will reward your students with badges for their participation.
Affiliate Marketing Tools
LearnWorlds Affiliate Marketing tool is quite popular and is used by 81% of the companies to market their products and services. Learnworlds has inbuilt affiliate resources to start an affiliate program for your online school.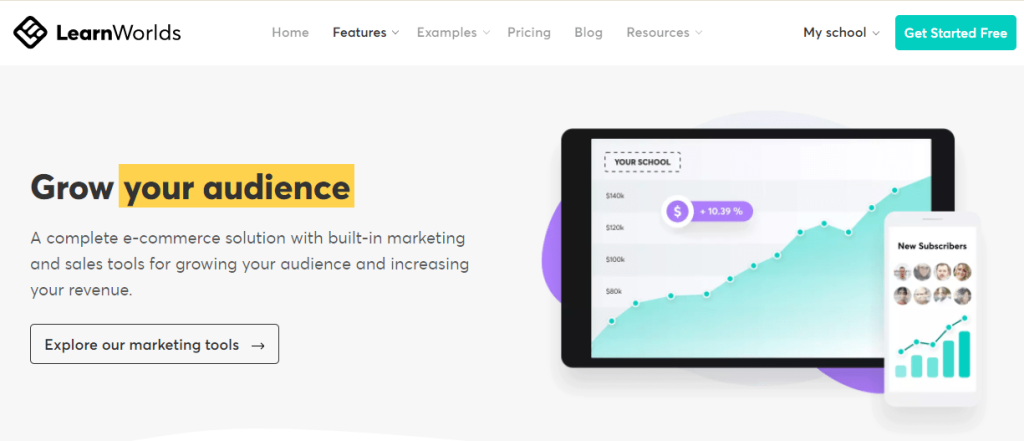 From selecting the products you want your associate to advertise to setting the percentage of profit they will receive, you can adjust everything according to your needs.
What are the payment options?
Offering payment plans to your students can hike your sales up. For example, you can set an option to make a one-time payment for each course, or they can pay in installments. In addition, it will increase the payment flexibility and result in a good image.
You will have to set up your online school with Stripe or utilize PayPal buttons to access the payment plan.
LearnWorlds Affiliate Management System
LearnWorlds offers a very responsive affiliate management system. It allows you to create, launch and direct a successful affiliate campaign. In addition, it provides customization of pre-build Terms and Conditions.
You can set a standard commission price for everyone or set different prices for different affiliates as far as the pricing is concerned.
Integration – LearnWorlds Review
LearnWorlds integrate with many marketing apps and tools so that you can take care of everything under a single roof. LearnWorlds integrates with the following tools and apps:
Convertkit
Hubspot
Intercom
Zapier
Google Analytics
Zoom
FreshChat
MailChimp
Tawk To
Olark
Facebook-Pixel
ActiveCampaign
Zendesk
Fomo
Google Search Verification
ReferralCandy
AWeber
Google Tag Manager
Customer Support – LearnWorlds Review
Each LearnWorlds plan comes with responsive and interactive customer support. Their team is 24/7, 365 days a year, at your service via email, chat, and phone calls. In addition, you can reach out to them on Facebook, where they will respond to you as soon as possible.
Learworlds also offers a personalized service where you can interact with experts and professionals directly and get advice.
LearWorlds Pricing Explained!
LearnWorlds offers a 30-day free trial to its users where you can experience the platform and then decide whether it is suitable for you or not. However, it does come with some restrictions. Once you choose to upgrade to their premium version, you will have three options.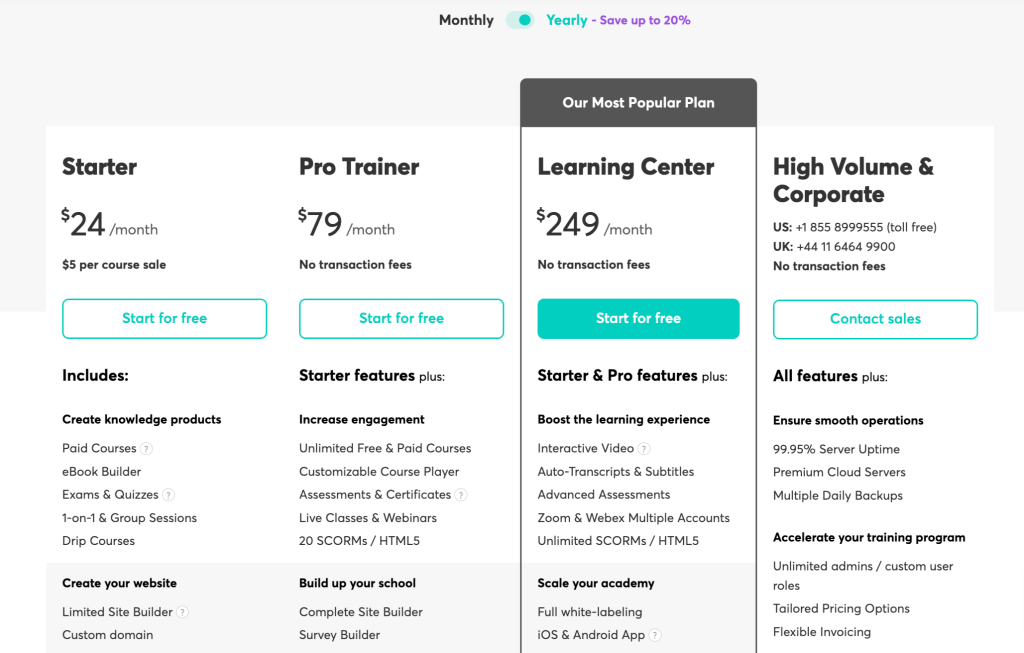 Starter- This course is perfect for beginners and newbie trainers. It starts at $29 per month and $24 per month if billed annually.
Pro Trainer – This course is best suited if you are a professional trainer. It starts at $99 per month and $79 per month when billed annually.
Learning Center – This is their most popular plan and lets you unlock all of Learworlds powerful tools and features. It starts at $299 per month and $249 if planned annually.
High Volume & Corporate – You will have to contact the sales team for this plan.
LearnWorlds Pros and Cons
All the qualities above of LearnWorlds make it an excellent platform for course building. However, nothing in this world is perfect. So before we head towards the end of our article, let us discuss some pros and cons of LearnWorlds.
Pros:
You can create a personalized connection with the audience.
Enables you to build websites and landing pages.
Exceptional customer support
LearnWorlds is mobile-friendly
Offers courses in multiple languages
Provides unlimited course creation
Cons:
The Starter package does not provide 24/7 customer support.
Users reported a few typing glitches on their website builder.
Who is LearnWorlds Ideal for?
LearnWorlds is ideal for anybody who possesses a passion for teaching. LearnWorlds provides powerful tools that can come in handy for any teacher to create an online course. It is ideal for;
Bloggers, influencers, and content creators
Professional coaches
University professors
Physical trainers
E-learning professionals
Is LearnWorlds Worth Your Penny?
After using LearnWorlds, we can easily say that this platform will help you in creating a learning experience with students who love this platform more in comparison to other platforms in the market. It is the best way to utilize the knowledge and boost your online business.
It also helps you in course creation by offering you strategies, tricks, and tips to become a successful edupreneur. With its inbuilt templates, you can easily create a dedicated website for your organization without knowing any coding knowledge.
So it's no doubt that LearnWorlds is worth every single penny; you can try this platform for 30 days for free.
Related Read:
Final Thoughts On LearnWorlds Review (2023)
That was our take on an honest LearnWorlds review. Our overall experience with LearnWorlds has been satisfactory. It is a robust course-building platform that would make it an excellent choice for anyone willing to teach. LearnWorlds is a one-stop destination for all your requirements to build a successful online course.
You opt for their 30-day free trial to get an experience of it. Then, if you like the platform, you can buy its premium plan and unlock all the powerful tools and functionalities. So what are you waiting for? Go and give LearnWorlds a shot today!
We hope our LearnWorlds review helped you understand whether LearnWorlds fits your needs or not. So, are you giving LearnWorlds a try? Let us know in the comment section below!
Frequently Asked Questions: LearnWorlds Review
Does it charge any setup fee?
Learnworlds doesn't offer any kind of setup fees on any of its pricing plans. 
Does it offer any money-back guarantee?
Learnworlds offer 30 day of money-back guarantee, so you have 30 days to decide whether this platform is right for you or not.
Can I cancel or upgrade my plan anytime?
Absolutely, you can cancel or upgrade your plan at any time when you want. For more information, contact its customer support team at hello@leranworlds.com.
How do I get paid for the course that I have sold?
Learnworlds supports three payment gateways which are Shopify, Stripe, and PayPal. You can use any one of them to accept payment via debit or credit cards.
What is the uptime guarantee? 
You will get a 99.99% of uptime guarantee on the LearnWorlds Starter, Pro, and learning center plan, but on the Corporate plan, you will get a 99.95% of uptime guarantee.
Can I offer free or unlisted courses?
Yes, you can create and provide free or unlisted courses with pro and learning center plans.