Family travel blogs have emerged as the new passion for those sick of being cooped up inside during the lockdown. Family travel sounds enjoyable, but picking the appropriate destination takes a lot of thought, and without the right advice and information, the trip will end up being exhausting and pointless.
We carefully selected the top family travel bloggers and their blogs to make your vacation less stressful and more enjoyable.
With that, let's get into the details below!
11 Best Family Travel Blogs In 2023 (In-Depth)
Here is a table showing the best family travel blogs in 2023 for you to read:
| | |
| --- | --- |
| Blog | Author |
| Kids On a Plane | Cheryl |
| Baby Can Travel | Cerline and Dan |
| Travel Dads | Chris and Rob |
| Out With The Kids | Jeff |
| Travel Mamas | Colleen Lanin |
| Mumpack Travel | Evie |
| Our Globetrotters | Keri |
| Wanderlust Storytellers | Andrzej and Jolene |
| Travel Babbo | Eric Stoen |
| Adventure And Sunshine | Rachel and Matt |
| The Bucketlist Family | Garrett, Jessica, Manilla, Calihan, and Dorothy |
Have a look over the best family travel blogs divided into different categories below.
Kids Travel Blogs:
Kids are the most crucial aspect of family traveling, so here are the best family travel blogs and bloggers.
1. Kids On A Plane:
Blogger: Cheryl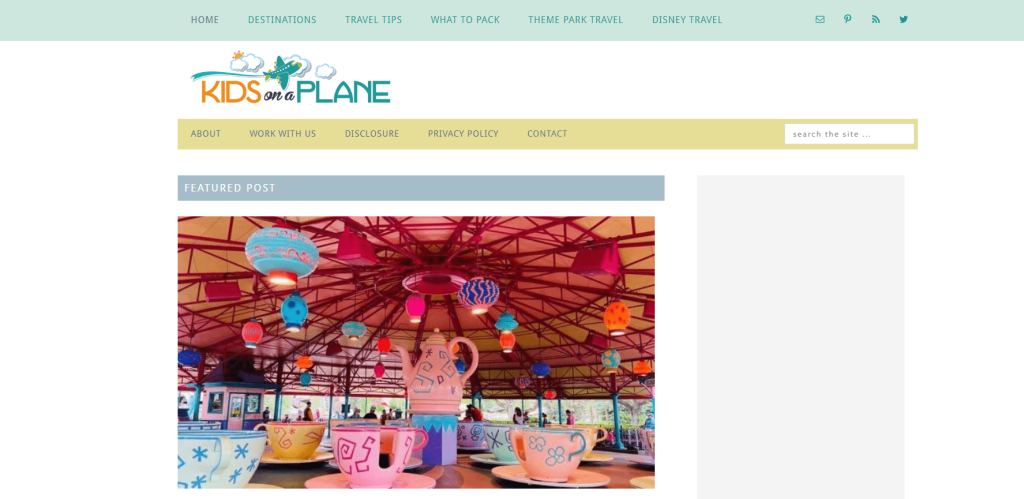 Kids on a plane is a blog website created by Cheryl for parents to teach their children about the world through traveling. Cheryl is the mother of two elementary school-going kids, with whom she travels the world, mainly in North America and Asia. Kids on a plane has many blogs related to travel reviews, Disney travel tips, destination guides, etc.
The blogs of kids on a plane reduce the stress of parents willing to travel with their kids with minimal migraines and are helpful for kids just as much as they are to the parents.
2. Kids Are A Trip
Blogger: Kristen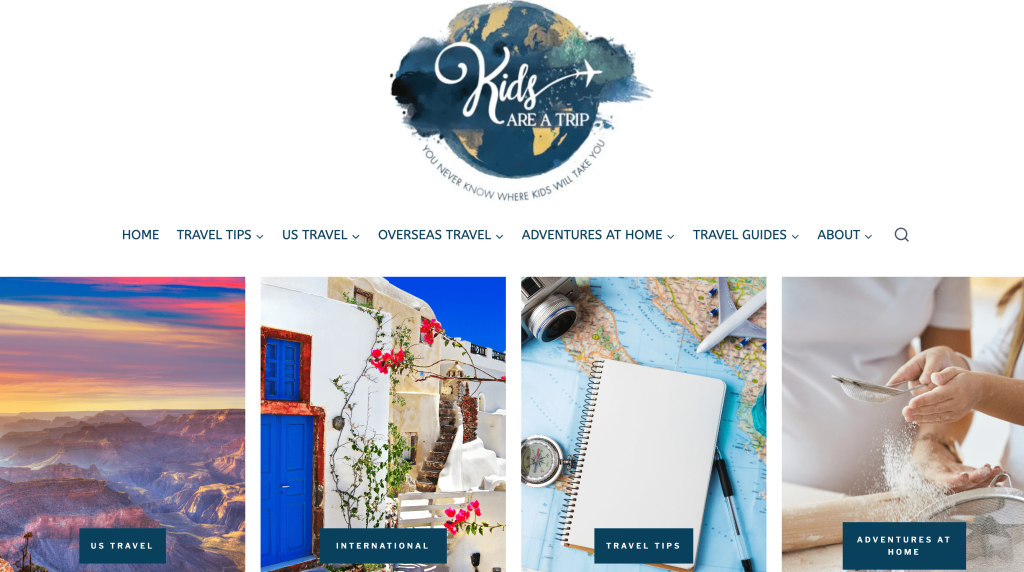 It was launched by Kristen, a mother of three young boys. She pens down all their travel hacks, hidden gems, and favorite destinations. Kristen's vision is to educate kids with travel, unplug them from daily chores, and bond with each other and nature. This blog specifically caters to families with teenage and a bit older kids.
Dads Travel Blogs:
Dads are often taken for granted in family traveling. Here, you will find the best dads' travel blogs and bloggers.
1. TravelDads:
Blogger: Chris and Rob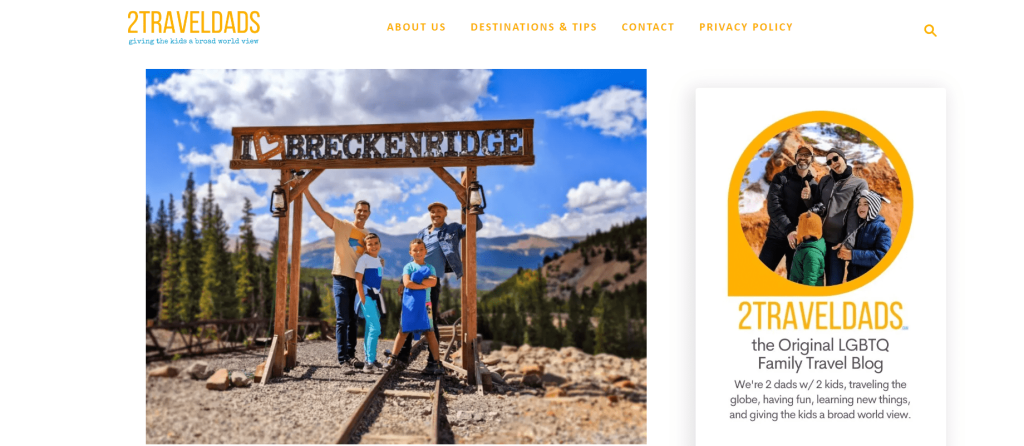 2TravelDads covers various blogs related to travel guides, destinations, food, different cultures, etc. Founded by Chris and Rob Taylor, listed as the world's top male travel bloggers, the 2TravelDads is a website with some fantastic blogs for dads traveling with their kids with the motto of giving the kids a broad worldview. Chris and rob are a gay couple who wish to explore the world with their two sons. 2TravelDads provides a view of brands and destinations ideal for all kinds of families.
2. Out With The Kids:
Blogger: Jeff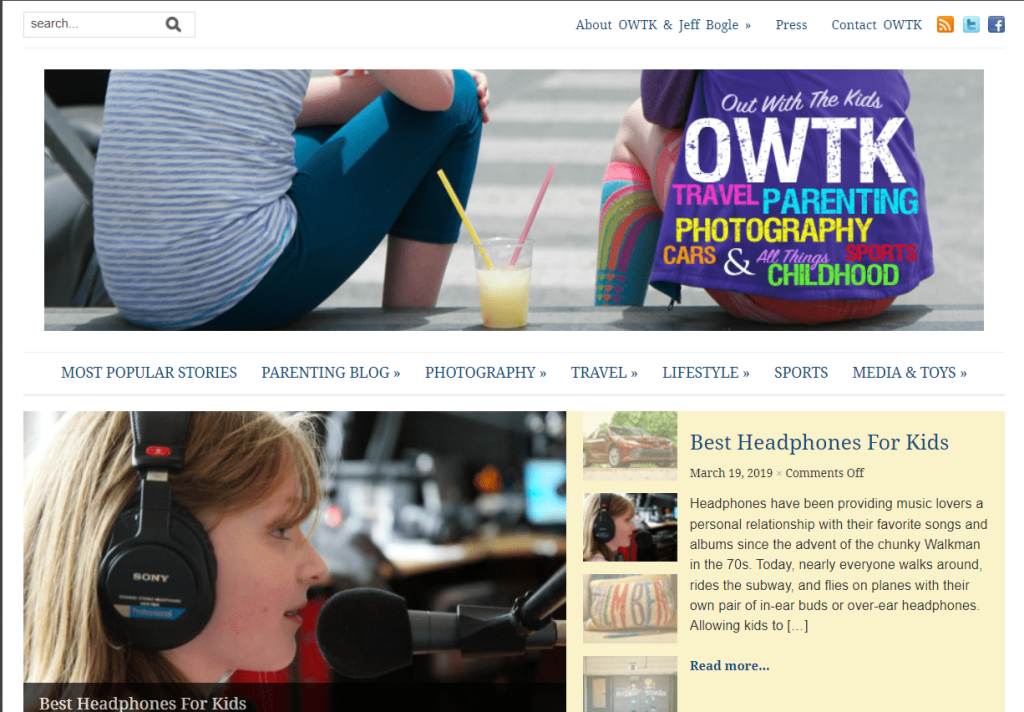 Out with the kids, founded by Jeff, is the award-winning best dad blog consisting of travel stories of Jeff with his two teen and tween daughters. Out with the kids feature traveling dad blogs as well as photography work by Jef following his passion for photography and traveling. You will find many parenting blogs, stories, and travel guides on the kid's website.
Moms Travel Blogs:
Here are the best moms' travel blogs and bloggers for moms Stepping into the family traveling world.
1. TravelMamas:
Blogger: Collen Lanin

TravelMamas founded by Collen Lanin, has a collection of blogs and articles on family travel tips, stories, and guides. She is a mother who loves sharing family travel blogs for parents to make traveling with family more fun and easier than ever.
You will find many helpful blogs on travel mama related to travel destinations, tips, etc., for families who want to explore the world. Her motto is to help people discover the world through traveling and beyond.
2. Mumpack Travel:
Blogger: Evie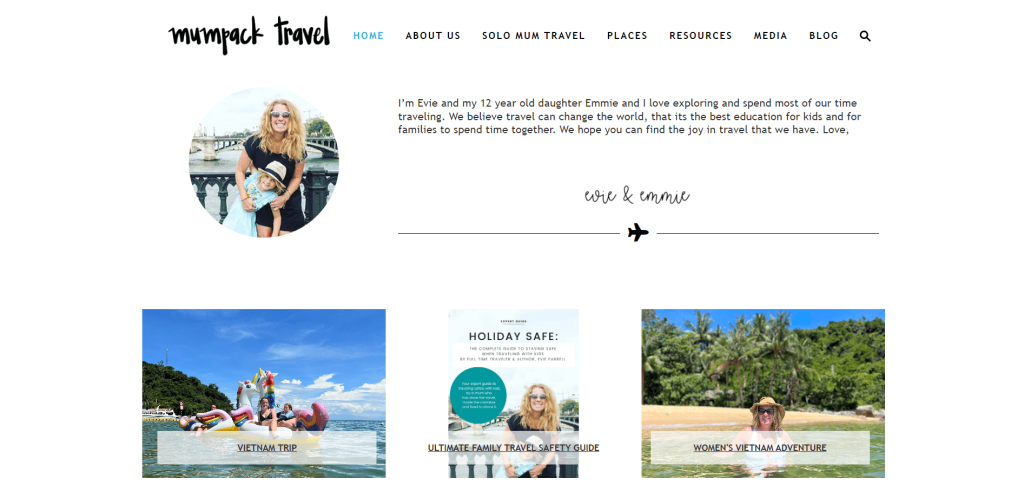 Mumpack travel is a blog website with many blogs for solo parents deciding to travel with kids. Mumpack is founded by Evie, a single mother who travels with her twelve-year-old daughter Emmie. Evie quits her full-time job to travel the globe with her daughter as she realizes the time spent with her daughter is more precious than any luxury she might be able to give her daughter by staying away from her doing her job.
Evie has various blogs on family traveling to motivate single parents to start traveling with their kids. She shares many travel stories and tips of hers.
Big Family Travel Blogs:
Who says big families can't travel? Have a look over the big family travel blogs and bloggers here.
1. Our Globetrotters:
Blogger: Keri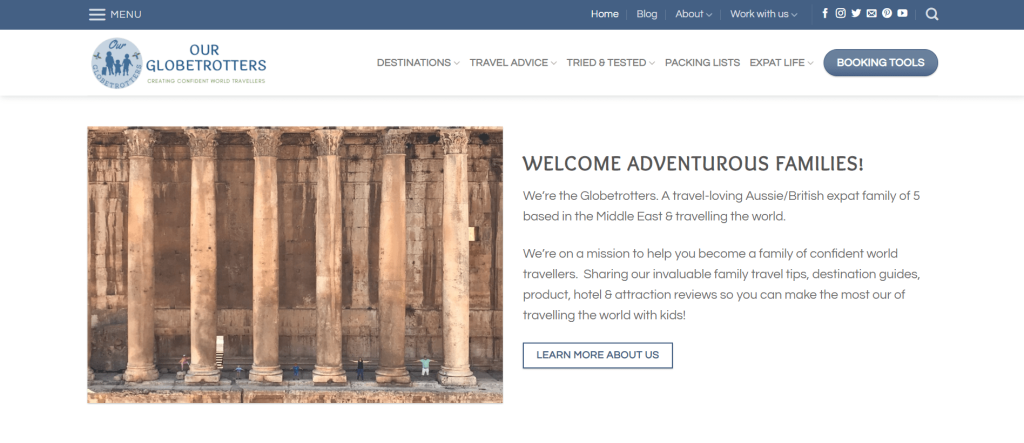 With the motto of creating confident world travelers, Our Globetrotters has many informational blogs and stories of Keri, her husband, and her three kids traveling the world to explore new locations, cultures, etc. Our Globetrotters inspire parents to travel with kids around the globe instead of doing the regular 9-5 job.
Through her blogs, Keri shares her travel experiences and family travel advice. Keri left her job as a CA to travel and created her website to share her stories of good as well as bad moments as a parent traveling with kids.
2. Wanderlust Storytellers:
Blogger: Andrzej and Jolene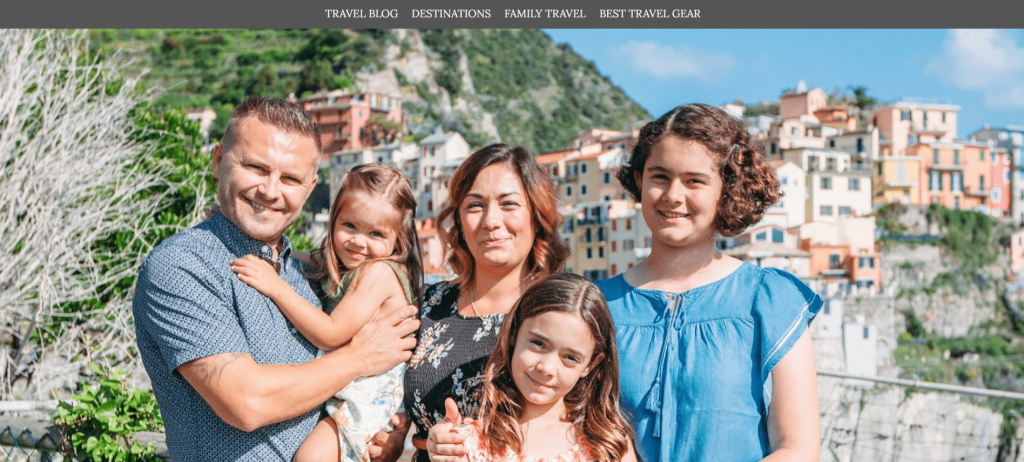 Wanderlust storytellers founded by Andrzej and Jolene help to figure out the next family vacation with informative blog posts. Andrzej and Jolene travel the world with their three daughters and share blogs to ease the travel struggle of parents Travelling with babies. Jolene and Andrzej have traveled to 23 countries, and their blogs provide in-depth information and travel guides to plan your new trip with all essentials to carry and remember while traveling with kids.
Adventurous And Inspirational Family Travel Blogs:
Dedicating your life to traveling isn't an easy decision to make, but it is indeed an adventure ride. Here you will find the best adventure and inspiration for family travel blogs and bloggers.
1. Travel Babbo:
Blogger: Eric Stoen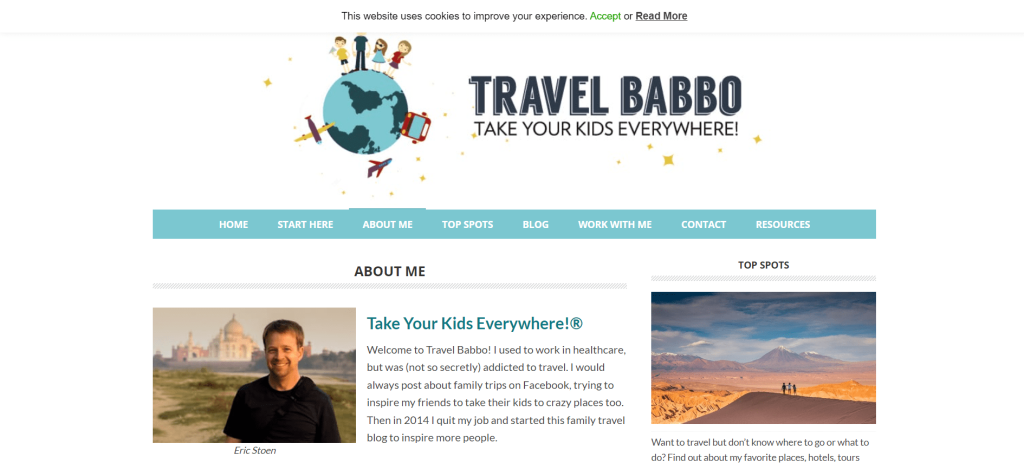 Eric Stoen founded Travel Babbo to inspire people to take their kids to different places and let them explore the world. Eric started his journey towards becoming a travel blogger after quitting his Healthcare job, and taking his kids to different destinations to travel. He created Travel Babbo with the motto to "take your kids everywhere."
He travels with his wife and three kids, currently (12, 14, and 16), and has been to 100 countries and 7 continents. He shares his travel experiences, tips, and travel guides through his blogs. Eric allows his kids to pick their favorite travel destinations. Most of the destinations are crazy, making their traveling experience adventurous and thrilling.
2. Adventure And Sunshine:
Blogger: Rachel and Matt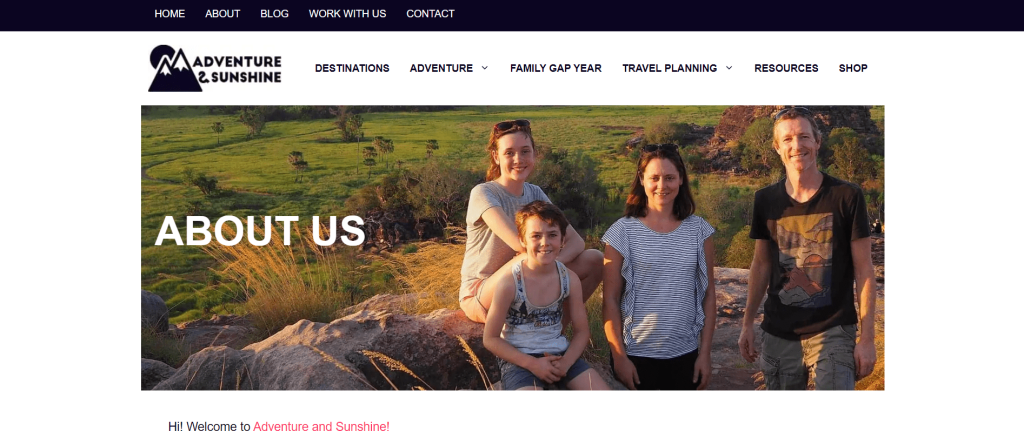 Rachel and Matt founded adventure and sunshine to explore the world and get the most out of life. They have traveled to over 55 countries and 6 continents, out of which they have traveled to 32 countries with their kids. They share stories of their adventurous traveling trips. Matt and Rachel ditched their jobs in their twenties to follow their passion for traveling and doing adventures. Stepping off a plane in a foreign country, exploring new locations and cultures.
3. The Bucketlist Family:
Blogger: Garrett, Jessica, Manilla, Calihan, and Dorothy.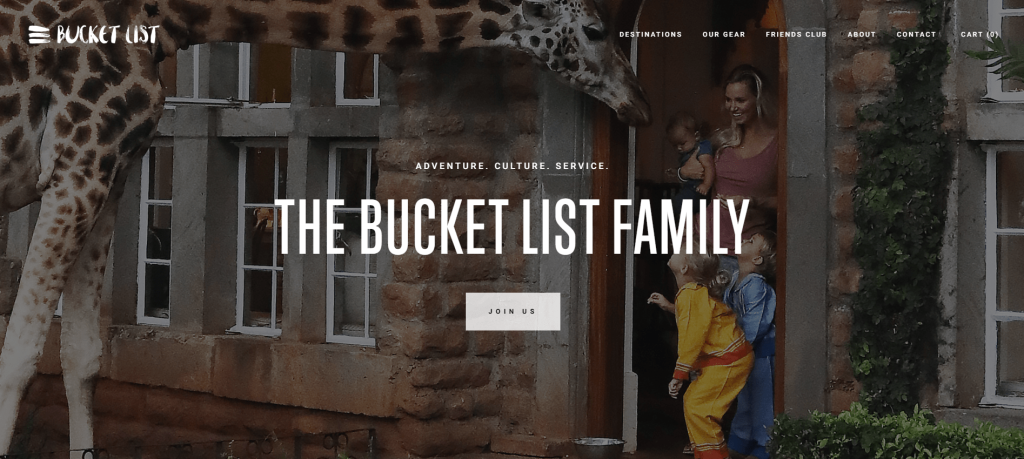 Garrett and Jessica founded the bucket list family with their three kids, Dorothy, Manilla, and Calihan. The bucket list family, aka the gee family, is one of the most inspirational families in the world of family travelers. On 15th August 2015, they sold everything they had to follow their passion for traveling worldwide.
Furthermore, they created their Instagram page and youtube channel to inspire more people to follow their passions. As family travel journalists, they create blogs focusing on the best travel destinations, tips, stories, etc. They motivate people to step out of the norms of society and follow their dreams.
Baby Travel Blogs:
1. Travels With Baby
Blogger: Shelly Rivoli
Travels With Baby is the ultimate travel blog committed to help parents traveling with toddlers.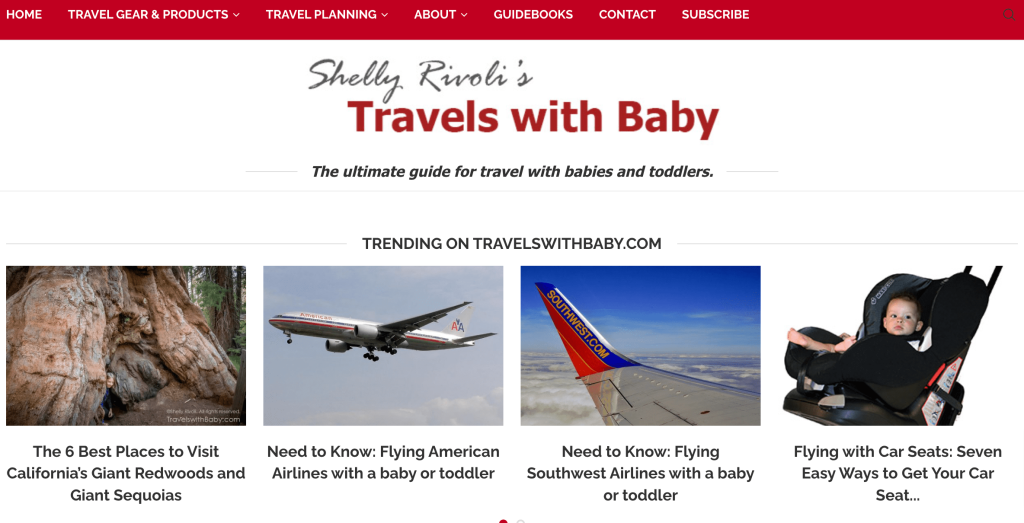 Shelly Rivoli started Travels With Baby to answer fundamental questions that parents face while on vacations and motivate people to travel with their babies and toddlers. Her blogs offer great help as she mentions all the travel gear, checklists, and guides you need while traveling with babies. She is also the author of many award-winning travel guidebooks.
2. Baby Can Travel:
Blogger: Cerline and Dan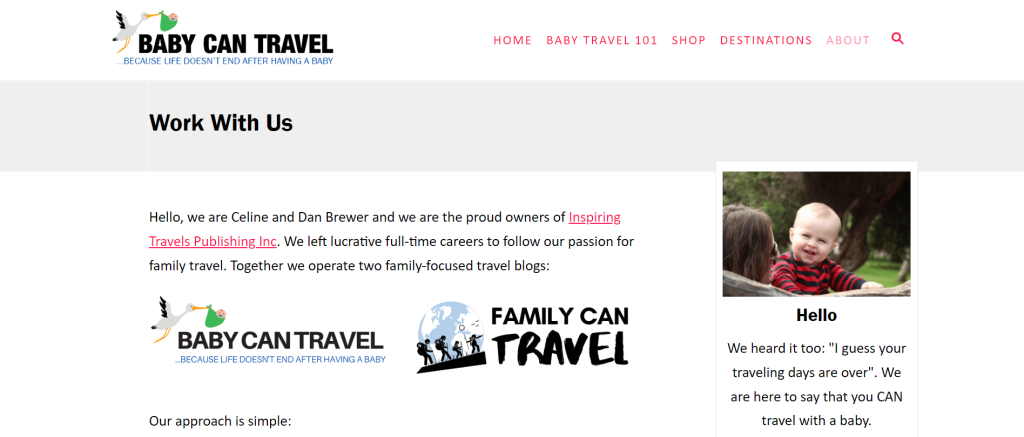 Baby can travel was founded by Cerline and Dan brewer, who decided to quit their full-time career to follow their passion for traveling. Their motto is to tell people that life doesn't end after having a baby. Cerlin and Dan didn't quit traveling even after they had a baby. They inspire people to travel with their babies through their blogs. Baby can travel has many blogs to provide readers with essential resources and information while traveling with babies, including baby travel sleep tips, baby travel gear, flying tips, etc.
Related Read:
Wrapping Up!
This is the conclusion of the list of family travel bloggers. The aforementioned article provides a thorough review of travel blogs and bloggers, but to summarize focuses on the family bucket list blogs for motivation, educational, and intriguing blogs. For fun and exciting blogs, go for "Adventure and Sunshine" and "Travel Babbo."
Following the conclusion of the pandemic, travel bloggers are incredibly popular all around the world. People are eager to travel, and by selecting the best ones after thorough study, your journey will go smoothly, and you will feel confident.