Instagram is currently one of the most popular social media platforms. It lets you share photos, videos, and news and even promote your business free of cost.
Almost every famous person, be it a movie star, an athlete, or a painter, has an account on Instagram nowadays. It has become easier for fans to follow their favorite celebrities on social media and be up-to-date with their activities.
Not only that, but people who are not celebrities can also gain popularity through Instagram using their talents, such as dancing, singing, etc. Thus, the platform provides a good opportunity for talented people to get exposure and recognition for their work.
That being said, some of the most popular Instagram accounts belong to female celebrities. It is only natural for one to wonder which women are the most followed on the platform. In today's article, we will talk about the world's most popular celebrities on Instagram.
Without further ado, let's dive in!
Top 11 Most Followed Women On Instagram: A Quick List!
Too lazy to go through the entire article? We understand that not every one of our readers will have the time to read our article word-by-word. Looking for a quick list with the names of the top-most followed women on Instagram? That's exactly what we have for you here!
| | | |
| --- | --- | --- |
| Sr. No. | Account name | Number of followers |
| 1. | Kylie Jenner (@kyliejenner) | 372 Million |
| 2. | Selena Gomez (@selenagomez) | 355 Million |
| 3. | Ariana Grande (@arianagrande) | 338 Million |
| 4. | Kim Kardashian (@kimkardashian) | 333 Million |
| 5. | Beyonce (@beyonce) | 281 Million |
| 6. | Khloe Kardashian (@khloekardashian) | 279 Million |
| 7. | Kendall Jenner (@kendalljenner) | 263 Million |
| 8. | Taylor Swift (@taylorswift) | 231 Million |
| 9. | Jennifer Lopez (@jlo) | 226 Million |
| 10. | Nicki Minaj (@nickiminaj) | 204 Million |
| 11. | Kourtney Kardashian (@kourtneykardash) | 203 Million |
Did you see any names that surprised you? Some names may be surprising, while others may be obvious. In any case, if this quick list has piqued your curiosity, continue reading to find out more details.
Most Followed Women On Instagram In 2023
We have reached the very heart of our article. Without wasting any more time, let us look in detail at the top 11 most followed women on Instagram.
1. Kylie Jenner– 372 Million
With a whopping 372 million followers, Kylie Jenner comfortably sits at the top of our list. Kylie Jenner is so famous that anyone aware of pop culture knows about her. She is the most-followed woman on Instagram and the second-most followed person after Ronaldo.
Kylie is a famous American personality and has several businesses of her own. She is the founder of her own brand, "Kylie Cosmetics." She appears in the popular television series "Keeping Up With The Kardashians" and started her own series called "Life of Kylie" in 2017.
In 2018, Kylie was called the most influential celebrity in the fashion industry. Then, in 2019, Forbes called her the world's youngest self-made billionaire. Unsurprisingly, she is the most popular female celebrity on Instagram right now!
2. Selena Gomez– 355 Million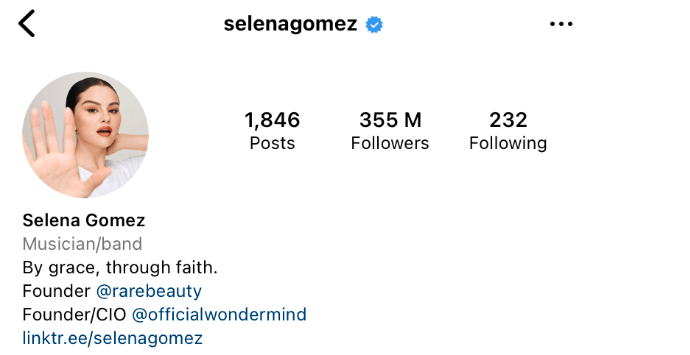 An American singing sensation and actress, Selena Gomez, takes the second spot on our list with 355 million followers. Some of Gomez's most popular hits include Tell Me Something I Don't Know, The Heart Wants What It Wants, and Good For You, among many others.
Selena Gomez is best known for her lead role in the American fantasy sitcom series, mainly popular among teenagers, called Wizards Of Waverly Place. However, her acting career had actually begun with Barney & Friends. Gomez herself sang the theme song for WOWP.
Selena is now the proud owner of her cosmetic brand, Rare Beauty. She was named "Woman Of The Year" by Billboard in 2017, and Time Magazine included her in their list of the top 100 most influential people in the world in 2020.
3. Ariana Grande– 338 Million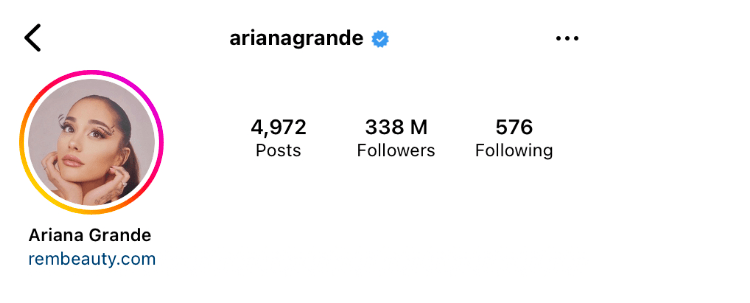 Ariana Grande, third on our list with 338 million followers, is another American singer, songwriter, and actress. She has a successful music career, evidenced by her 2 Grammy Awards, 27 Guinness World Records, one Brit Award, and more. Grande began her singing career at the young age of 13 and soon rose to fame.
Some of her best-known works that you may have heard of include The Way, Love Me Harder, Dangerous Woman, Into You, etc. Grande's voice has been compared to that of Mariah Carey. She achieved global success with singles like Problem, Bang Bang, and Break Free.
Grande was named the Woman Of The Year in 2017 by Billboard. She actively works with various charitable organizations and advocates for animal rights, mental health, and LGBT equality. She also has a successful cosmetic brand called r.e.m. beauty.
4. Kim Kardashian– 333 Million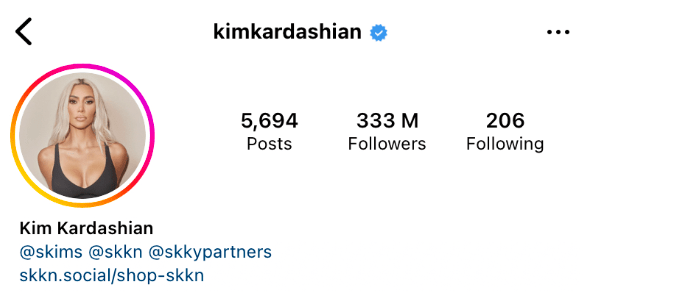 If you're aware of pop culture and celebrities like Kylie Jenner, you must know who Kim Kardashian is. She is an American media personality and a successful businesswoman. She is a step-sister to Kylie Jenner and the reason behind the popularity of the Jenner and Kardashian family.
Kim K's scandalous past made her gain media attention in 2007, and her popularity has been growing ever since. Using attention to her advantage, she appeared in many television series and started several of her own businesses, most of which are running successfully today.
Time magazine included Kim on their list of the 100 most influential people in the world in 2015. As of 2023, she is estimated to be worth $1.8 billion. Her marriage and divorce with rapper Kanye West received much media coverage, adding to her popularity.
5. Beyonce– 281 Million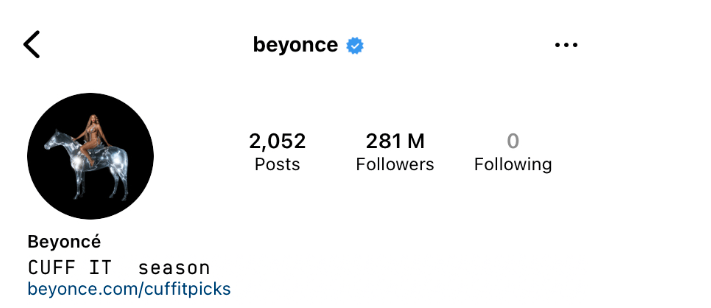 Beyoncé Giselle Knowles-Carter, more popularly known as Beyoncé, is number five on our list with 281 million followers. She is an American singer, songwriter, and actress. She is more famous for her singing career, where her vocals have made her one of the most influential musicians of the 21st century. This has led her to earn the title of "Queen Bey."
Beyonce's most famous hits include Single Ladies (Put a Ring on It), Formation, and Run The World (Girls), among many others. She has also starred in many well-known Hollywood movies, such as Dreamgirls (2006), The Pink Panther (2006), Obsessed (2009), and The Lion King (2019).
It is not surprising to have her on our list since Beyonce is one of the world's best-selling recording artists. The 28 Grammy Awards and 26 MTV Music Video Awards are evidence of her talent. In 2014, Billboard named her the "Highest earning black musician of all time."
6. Khloe Kardashian– 279 Million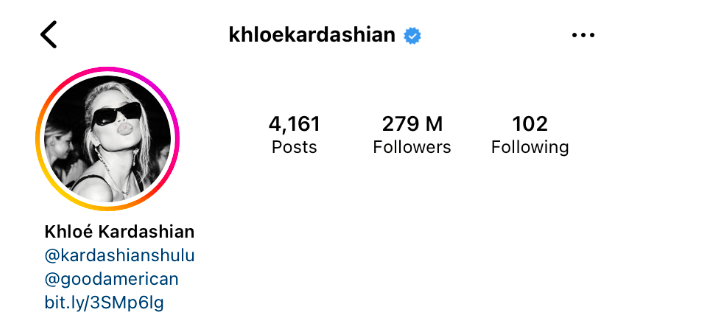 Sister to Kim Kardashian and step-sister to Kylie Jenner, Khloe Kardashian belongs to the popular Jenner-Kardashian family and has 279 million followers on Instagram. She has been seen in the television series "Keeping Up With The Kardashians." Later, she also appeared in spin-offs like Kourtney and Khloé Take Miami and Kourtney and Khloé Take The Hamptons.
Like her sister Kim K, Khloe is also involved in the retail and fashion industry. The sisters have collaborated and launched various clothing collections and fragrances. In 2016, Khloe started her own television show called Kocktails with Khloé.
7. Kendall Jenner– 263 Million

Another Jenner sister on our list is Kendall Jenner, with 263 million followers. Daughter of Kris Jenner and Caitlyn Jenner and sister to Kylie Jenner, Kendall is a model and American media personality. Like her sisters, she appeared in the famous "Keeping Up With The Kardashians."
Jenner began her modeling career at 14 and soon walked the runways for big designers during the Milan, New York, and Paris fashion weeks. She has been seen on the cover page of various international Vogue editions and is the brand ambassador for Estée Lauder.
In 2015, Kendall made it to Forbes' top-earning model's list. Again, in 2017, she was named the highest-paid model by the same.
8. Taylor Swift– 231 Million
We have all heard the popular Taylor Swift song "Love Story," haven't we? Taylor Alison Swift is an American singer and songwriter. Her songs are often inspired by her personal life, which is why she also receives much media coverage and criticism. The songs "Love Story" and "You Belong With Me" topped the US charts.
Among her other hits is Bad Blood, Shake It Off, Blank Space, Look What You Made Me Do, and more. Swift is among the best-selling musicians of all time, having sold over 200 million copies worldwide. She has won 11 Grammy Awards, 34 American Music Awards, and 29 Billboard Music Awards, and she holds 84 Guinness World Records.
Taylor Swift has been honored with titles like Artist of the Decade and Woman of the Decade. She is commonly featured in Time, Billboard, Forbes, and Rolling Stone rankings.
9. Jennifer Lopez– 226 Million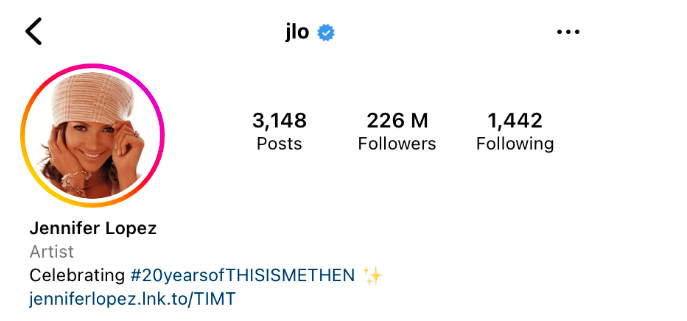 Popularly known as JLo, Jennifer Lopez is an American singer, songwriter, and dancer. She began her acting career in 1993 and has appeared in Selena (1997), Anaconda (1997), Out Of Sight (1998), etc. She was successful in establishing herself as the highest-paid Hispanic actress in Hollywood.
Lopez has a strong presence in the music industry as well. Some of the most famous works include On The Floor, Love Don't Cost A Thing, Dance Again, Ain't Your Mama, etc. She is considered a pop icon and the most influential Hispanic entertainer.
Besides making an imprint in the entertainment industry, Jennifer Lopez has her own beauty and clothing lines, fragrances, charities, etc.
10. Nicki Minaj– 204 Million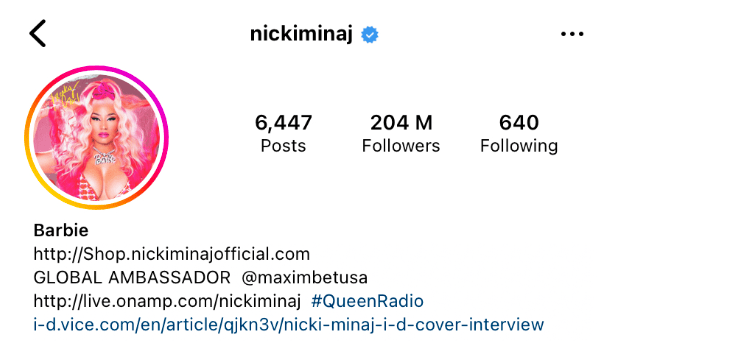 Onika Tanya Maraj-Petty, popularly known as Nicki Minaj, is a rapper, singer, and songwriter. Her album "Pink Friday" topped the Billboard 200 chart, and its "Super Bass" track reached number 3 on the Billboard Hot 100. Minaj is one of the most popular female rappers in the US.
Several media outlets have awarded her the title of "Queen of Rap" and "Queen of Hip Hop" because she is one of the best-selling musicians of all time. She has won various important awards, including the American Music Awards, Billboard Music Awards, a Brit Award, etc.
11. Kourtney Kardashian– 203 Million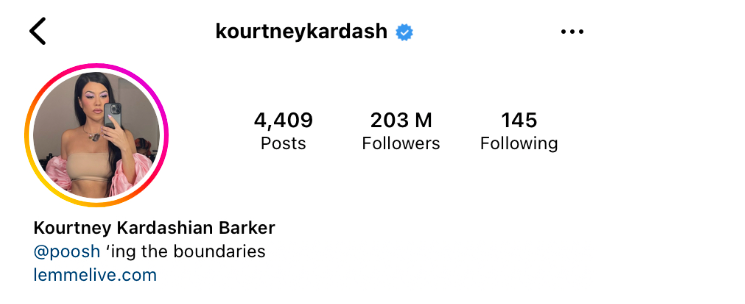 The last on our list is another Kardashian sister, Kourtney, with 203 million followers. Like her sisters, Kourtney is also an American personality and socialite and has starred in the series "Keeping Up With The Kardashians."
Kourtney and her sisters, Kim and Khloe are also involved in the fashion industry. She has launched clothing lines and fragrances with her sisters and published their book Kardashian Konfidential in 2010. Later, in 2019, Kourtney launched her own website called Poosh.
Related Read:
Conclusion: Most Followed Women On Instagram (2023)
So, these are the most followed women on the social media platform Instagram. We're sure you must have heard the names of at least some of them, if not all. These women are highly successful in their respective fields and have created an Internet imprint.
With 372 million followers, Kylie Jenner sits at the top of our list. Not only is she the most followed woman, but she was the first to reach 300 million followers on Instagram. She had conquered the #1 spot long ago, proving that it is not easy to beat her in the Instagram game.
It is certainly no wonder these female celebrities have hundreds of millions of followers, given the variety of content they offer for their fans to enjoy.
We hope you liked our article on the most followed women on Instagram. We made sure to keep our list up-to-date as the numbers keep changing every day.
FAQs
Who is the most influential woman on Instagram currently?
Media personality, socialite, and businesswoman, Kylie Jenner currently holds the crown of being the most influential woman on Instagram, with a follower count of 372 million. 
Is the highest-paid Instagrammer a woman?
No. The Instagram account with the most followers belongs to the Portuguese footballer Cristiano Ronaldo (495 million). Naturally, he is also the highest-paid Instagrammer. 
Which woman holds the record for reaching the most followers in 24 hours?
Jennifer Aniston holds the record for reaching the most followers (8.6 million) within 24 hours of creating her Instagram account. She was later surpassed by the Korean singer and member of the Korean boyband BTS, V, who broke her record. V exceeded 10 million followers within 4 hours and 47 minutes of creating an account. 
What is the most liked photo on Instagram?
Surprisingly, the most-liked photo on Instagram does not belong to any celebrity but to an egg. The account handle @world_record_egg posted a picture of an egg with the motive of becoming the most-liked picture on Instagram and was successful in doing so. The post currently has over 55 million likes. 
Why are the Kardashians so famous on Instagram?
The Kardashians are among the most famous families, with a collective net worth of $2 billion. The Kardashian sisters are models, businesswomen, and popular social personalities who have been involved in several scandals from a very young age. Nowadays, everybody knows them, and they have become trendy on social media platforms.